Faculty & Staff News
The Piper is CMU's news source for faculty & staff, where you'll find out about many exciting and interesting things happening at the university. If you have news of interest please pass it on to Internal Communications. Stay Posted!
Keep abreast of what's happening with the 8.5 x 11 News, Carnegie Mellon's official weekly newsletter for faculty and staff. Read the latest issue. And find out about upcoming events on our calendar highlights page.
This Week's 8.5 x 11 Headlines: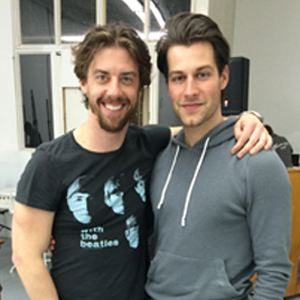 * Student, Alum Star in "Sound of Music" Tonight (Dec. 5)
* Music's Holiday Concert Tonight and Tomorrow (Dec. 5-6)
* CFA Presents Open Studio Day Friday (Dec. 6)
* Alumna Wins Rhodes Scholarship
* Garfield the Cat Joins CMU's Alice Project
Read about these stories and more in this week's 8.5 x 11 News.
Christian Borle (A'95) and senior musical theater major Michael Campayno star in NBC-TV's live production of "The Sound of Music" at 8 p.m. tonight (Dec. 5). Read more in this week's 8.5 x 11 News.
What's Happening