Faculty & Staff News
The Piper is CMU's news source for faculty & staff, where you'll find out about many exciting and interesting things happening at the university. If you have news of interest please pass it on to Internal Communications. Stay Posted!
Keep abreast of what's happening with the 8.5 x 11 News, Carnegie Mellon's official weekly newsletter for faculty and staff. Read the latest issue. And find out about upcoming events on our calendar highlights page.
Alumna Earns Rhodes Scholarship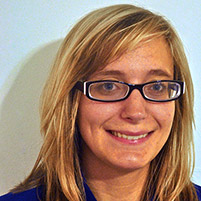 Carnegie Mellon alumna Courtney T. Wittekind (A'13) was awarded a Rhodes Scholarship making her the fourth student from CMU to win one of the oldest and most prestigious international study awards.

The Rhodes Trust noted Wittekind's work in art, activism and anthropology on behalf of displaced persons and refugees as the main reason for her selection.

"Courtney represents the best of all that we offer at Carnegie Mellon," said Stephanie Wallach, assistant vice provost of undergraduate education and director of the Fellowships and Scholarships and Undergraduate Research offices. "She holds the promise of a leader who can help reshape how we consider cross-cultural communication and policymaking."

Wittekind, one of 83 scholars from around the world and one of 32 American students to be chosen, earned a Bachelor of Humanities and Arts degree as part of the BXA Intercollege Degree programs.

"Carnegie Mellon has been, and continues to be, not just a launching point in regard to my future career, but also a valuable system of support in terms of helping me prepare to pursue my ambitions," Wittekind said. "The flexibility and advising offered by the BXA Interdisciplinary Program was key. Being a part of an interdisciplinary community that was constantly pushing the boundaries of various fields and of the wider limits of academia transformed the way I thought about my own research and its potential impact."
The scholarship program covers the full cost for recipients to study at the University of Oxford in the United Kingdom, covering two to four years of tuition. Wittekind will study at Oxford beginning next fall and plans to pursue a doctorate in anthropology.
_________________________________________________________
This Week's 8.5 x 11 Headlines:
* Subra Suresh the "Perfect Combination" for CMU
* $67 Million Gift To Create Tepper Quad
* CMU Partners with Steiner Studios, NYC To Create New Integrative Media Masters Program
* It's How Kids Count That Counts
Read about these stories and more in this week's 8.5 x 11 News.
Pictured above is an artist's rendering of the Tepper Quad, a new academic hub funded in part by David Tepper's $67 million gift, the largest gift by a CMU graduate in university history. The quad will include a new home for the Tepper School of Business. Read more in this week's 8.5 x 11.
What's Happening