Faculty & Staff News
The Piper is CMU's news source for faculty & staff, where you'll find out about many exciting and interesting things happening at the university. If you have news of interest please pass it on to Internal Communications. Stay Posted!
Keep abreast of what's happening with the 8.5 x 11 News, Carnegie Mellon's official weekly newsletter for faculty and staff. Read the latest issue. And find out about upcoming events on our calendar highlights page.
This Week's 8.5 x 11 Headlines: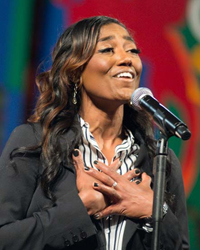 * Stars To Shine at Drama's NYC Celebration
* D.C. Panel Focuses on Cybersecurity Solutions
* Social Media and the Mexican Drug Wars
* CMU Alert App Now on Android
* Read about these stories and more in this week's 8.5 x 11 News.
Patina Miller (A'06), winner of a 2013 Tony Award, will be performing at the School of Drama's 100th anniversary celebration this Monday, March 10 at Steiner Studios in the Brooklyn Navy Yard. Joining Miller (pictured above) will be award-winning alumni Stephen Schwartz (A'68) and Patrick Wilson (A'95).  Read more in this week's issue.

What's Happening