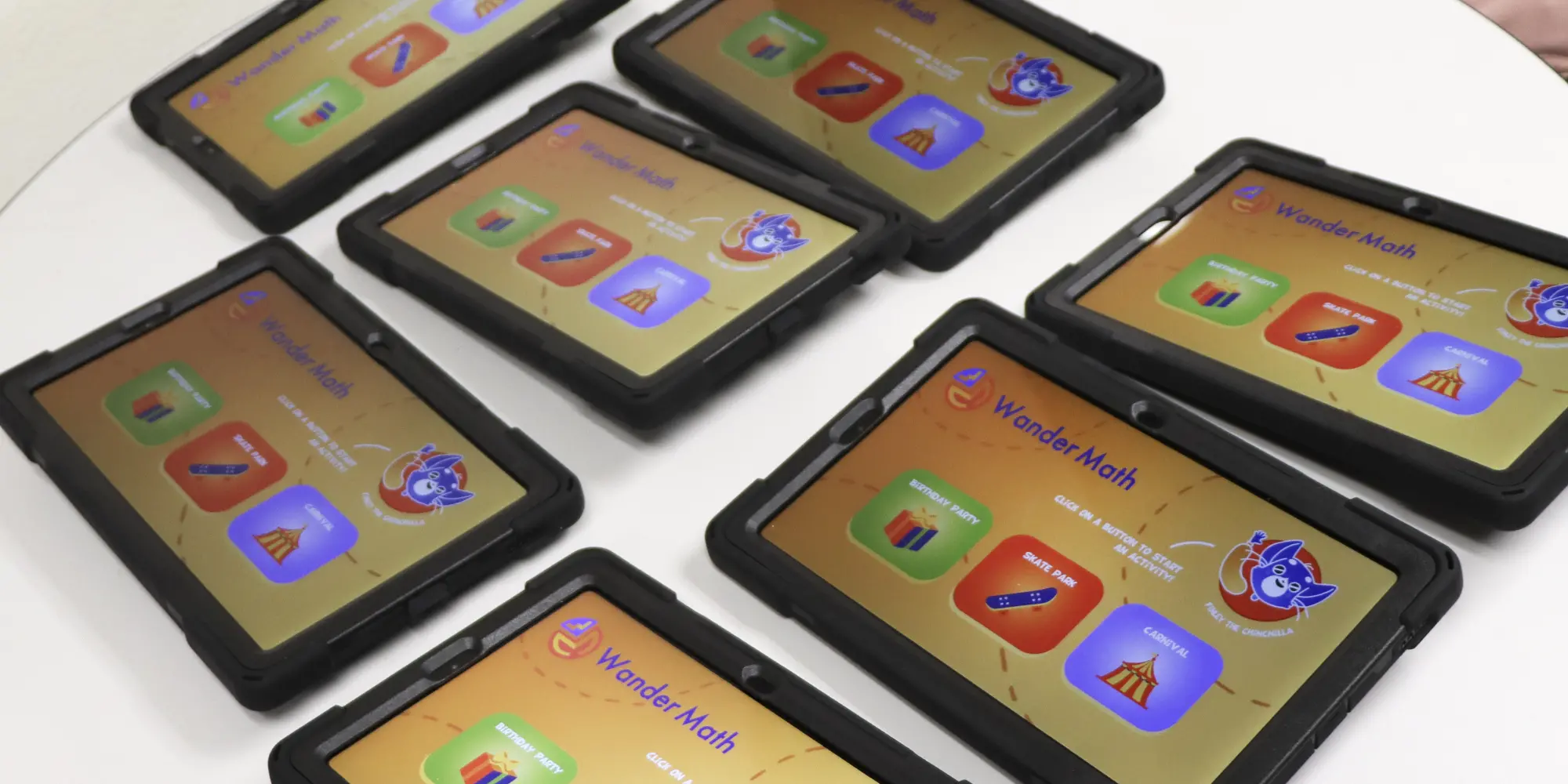 January 3, 2022
ETC Game Helps Middle Schoolers See Math in New Ways
Media Inquiries

Name

Shilpa Bakre

Title

University Communications & Marketing

Name

Ryan Scarpino

Title

University Communications & Marketing
Consider the world through the eyes of Finley, a friendly, blue, skateboarding chinchilla. They need help wrapping birthday gifts. They need a ramp to practice their skateboarding skills. And they would love a companion to try out their new carnival game.
The challenges Finley needs help to overcome are part of a new gaming app created by second-year master's students at Carnegie Mellon University's Entertainment Technology Center(opens in new window). Now available in the Google Play(opens in new window) and Apple App(opens in new window) stores, WanderMath(opens in new window) invites middle schoolers to solve math problems using augmented reality.
From inspiration to playtesting, co-producer Katherine Wheeler said it has been a whirlwind semester.
"We had to understand open-ended math and consider how a kid might think about it," she said. "Then we designed around the realities of a public school and the kinds of devices they might have available."

Finley, a skateboarding chinchilla, walks users through math problems in WanderMath.

WanderMath is an augmented reality (AR) experience that helps students engage in open-ended math adventures.
The ETC immerses students in interactive, project-based learning experiences, often in partnership with regional nonprofits, companies or community groups. Students provide much-needed changes or innovations, and in return, they gain hands-on experience with real-world projects in the entertainment industry.
This semester, the WanderMath cohort partnered with Lou Karas, director for the Center for Arts and Education(opens in new window) at West Liberty University. Initially, Karas was open to virtual or augmented reality. She and others at the ETC had been inspired by Math Walks(opens in new window), a playful, public math project started in the early days of the pandemic, in which secondary teacher Traci Jackson wrote out practical math problems in sidewalk chalk to engage kids in her San Diego neighborhood.
Karas said she loved the visual nature of the idea and wondered whether ETC students could gamify it. It was a perfect pairing, ETC Teaching Processor Mike Christel(opens in new window) said.
"That client relationship really worked," he said. "She gave the team math books, which led them to their birthday party activity, introduced them to elementary education stakeholders to bounce ideas off and made herself available for weekly, hour-long conversations. She made it possible for us to teach kids something without also burdening teachers."
The WanderMath team included artist Sophia Videva, co-producer Leslie Jing, and programmers Jacob Li and Yuanqin Fan, plus Wheeler.
Their first obstacle was to choose a device to program for, since the client schools lacked technology with rear-facing cameras. They ultimately landed on Android tablets to make AR possible.
They also needed ideas for the app's activities, so the team asked Karas' educators: What should they know about motivating fourth and fifth graders? What games do kids like? What age-appropriate math concepts might AR technology be used to illustrate? What should the teacher's role be while students are engaged with the app?
Wheeler brought in decorations from Target, and soon the bright blue walls of their project room inside CMU's Technology Drive campus were covered in primary colors and Post-it notes. Videva landed on the character of Finley, which would beckon players to "help" them complete different challenges. Li and Fan picked up AR programming tips anywhere they could — from professors to fellow ETC classmates to YouTube. Jing recorded and managed it all.

ETC student Yuanqin Fan demonstrates WanderMath.
After several rounds of review and an opportunity to playtest at the Children's Museum of Pittsburgh's Tech Playground, the team had a fully functional prototype and printed teachers' materials ready to share with two dozen students at West Liberty Elementary School.
Collectively, they made a buffet of AR experiences for fourth and fifth graders and learned a lot through a fruitful semester, Jing said. She added that it has been a great experience and opened her mind to different professional roles.
Karas was pleased, too. She's already signed on to be a client for a new ETC project in the spring.
"I love the real-world experience, support and resources the ETC graduate students get as they try things like this project. The WanderMath group was so enthusiastic about what they were working on," she said. "It's an experience I look forward to having again next semester with another team."