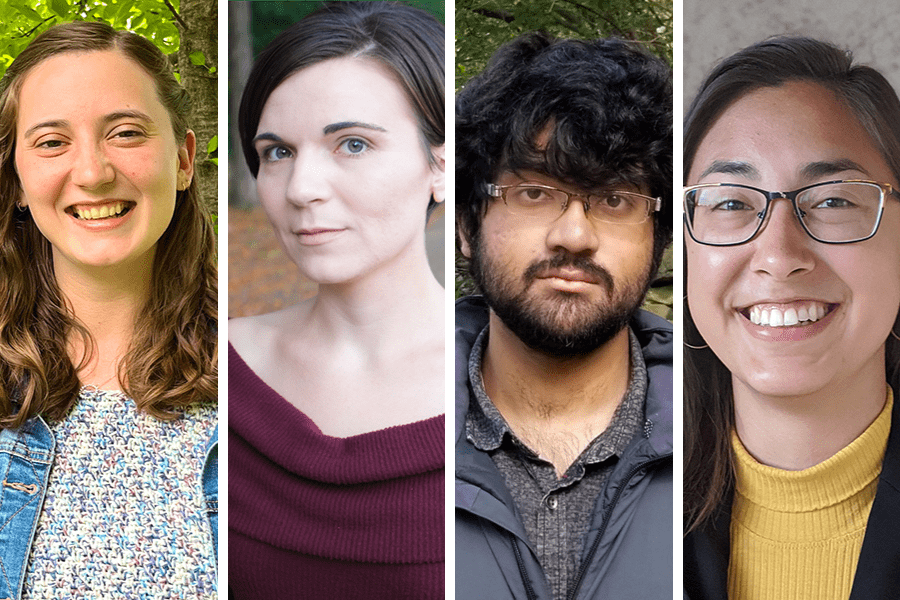 June 29, 2022
Four Modern Languages Students Named Fulbright Scholars
By Heidi Opdyke opdyke(through)andrew.cmu.edu
The Fulbright U.S. Student Program has awarded grants to nine Carnegie Mellon University students and recent alumni to teach English or pursue research on four continents. Four of the awardees are Modern Languages students.
Richelle Bernazzoli, director of the Office of Undergraduate Research and Scholar Development, said that the process for Fulbright applications begins with informational sessions in the spring, and crafting competitive submissions throughout the summer, fall and winter. Faculty and staff from across the university sit on Fulbright interview committees for each candidate, allowing applicants to discuss their plans with subject matter and area experts.
"It is incredibly gratifying to see these students and alumni receive grants after nearly a year of hard work on applications, interviews and correspondence with overseas affiliations," Bernazzoli said. "These grantees are to be commended for the immense effort they poured into their applications. We are so proud that they will be representing CMU!"
Counting this year's recipients more than 100 Tartans have been earned Fulbright awards.
The following four Modern Languages students have been accepted into the Fulbright Program:
Julia Conti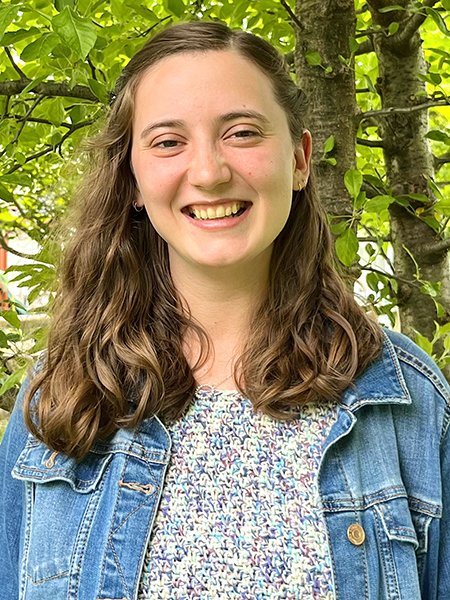 Julia Conti, who graduated with a bachelor's degree in 2021 in professional writing with an additional major in Hispanic studies, was awarded an English Teaching Assistantship to Bucaramanga, Colombia.
"In researching for the application, I learned a lot about the Colombian education system, and there's a focus on using education as a form of peace," Conti said. "I'm very excited to see how this is playing out in everyday classrooms and to use the techniques."
For her supplementary project, she aims to work with immigrants living in Colombia. As of 2021, some 1.7 million migrants from Venezuela have concentrated into about two dozen cities.
"It's an interesting opportunity to examine an immigration system and see how people living in cities are reacting to the changes," Conti said. She said she hopes the work will lay the foundation for future projects related to immigration in the United States. Upon returning from Colombia, Conti aims to use her communication skills to support underrepresented communities through advocacy work.
Conti previously traveled to South America on a study abroad experience in Chile, which was cut short because of the COVID-19 pandemic. She also traveled to the Dominican Republic twice through Juntos, a service organization in which Conti served as co-president that works to create sustainable connections between Pittsburgh and Latin American countries.
"I was able to get that hands on experience in other countries through Juntos as well as learn some things about myself that I didn't necessarily know before I went to college," she said. "CMU offered me so many different opportunities to travel and get out of my comfort zone as well as to be a teacher and connect with other people through education and language."
Emily Gallagher
For Emily Gallagher, who graduated with a bachelor's degree in fine arts in music performance in 2019, a second time was a charm. Gallgagher took several German courses in the Department of Modern Languages to improve her language skills.
Gallagher, a professional singer and part-time staff member of CMU's School of Music, was awarded a community-based combined award for English Teaching and and a community-based project in Vienna, Austria, on her second Fulbright application.
"It was the connections I made with the previous application that ended up leading to the successful Fulbright application," said Gallagher. She worked closely on her Fulbright application with Talespin, a woman-owned, Vienna-based production company.
Starting this fall, Gallagher will work on "Morgiana and the 40 Thieves," a retelling of a classic fairytale centering on a strong, female protagonist. The show, composed by Jason Gray, comprises a soloist, pianist and violinist and will begin performances in 2023 in German, French, English and Arabic. Talespin will release an accompanying storybook illustrated by Rima Al-Juburi. Gallagher will work on preproduction, coordinating printing and managing artists. She also will perform in the show's English version.
In Pittsburgh, Gallagher volunteers for Hello Neighbor, a nonprofit that supports refugees and immigrant families. She said she is excited to continue similar work through Talespin's outreach opportunities with Vienna's Arabic-speaking immigrant population.
"This ended up being the perfect set of circumstances," said Gallagher who will teach English at an international school and take courses at the University of Music and Performing Arts Vienna. "Johanna Lacroix and Chanda VanderHart [Talespin's artistic directors] needed an extra set of hands, but they didn't have a budget to support hiring an additional person. This partnership helps the company and speaks to my interests in a way that combines my passion for music and volunteer work." 
Haider Nazir
Haider Nazir, who graduated with majors in global studies and Chinese studies and a minor in religious studies in 2020, is getting a second chance at a Fulbright experience. In 2020, he was awarded an English Teaching Assistantship to Taiwan but declined. Instead, he accepted a Yenching Scholar award to study law with a concentration in politics and international relations at Yenching Academy of Peking University.
Nazir was an Andrew Carnegie Scholar and a Phi Beta Kappa inductee at CMU. He also served as president of the Lambda Sigma National Honor Society, participated in the Emerging Leaders Program and founded The Chinese-English Third Space, a club that provided opportunities for students to work on English and Chinese speaking skills while playing games.
Nazir said that CMU broadened his scope of knowledge through his academic and extracurricular activities.
"It awakened my passion for global affairs, politics and diplomacy," Nazir said. "With the help of the History Department as well as Richelle and the Office of Undergraduate Research and Scholar Development, I have been able to explore and find various amazing opportunities to realize my ambitions in these fields."
Nazir spent the summer of 2019 in Taiwan as part of the U.S. State Department's Critical Language Scholarship program. He called the experience "incredible."
"The Taiwan issue has always been significant from the lens of U.S.-China relations and thus the international balance of power," he said. "With recent events shaping up the way they have, Taiwan has become increasingly relevant, which has pushed me to see which ways I could contribute most to the issue."
In 2017, he received a Freeman Asia Scholarship to study in China through CMU's Shanghai International Studies University program.
Jenna Stanislaw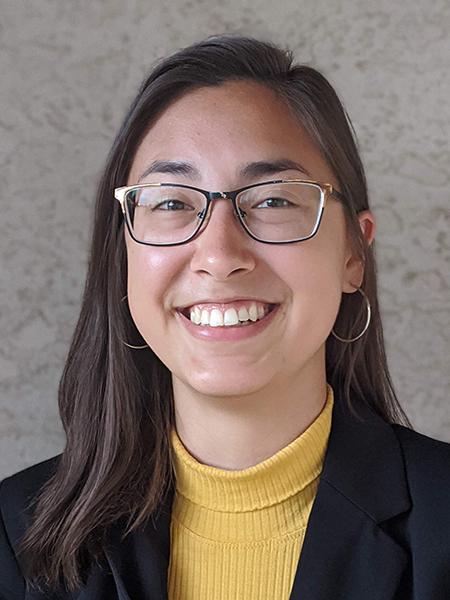 Jenna Stanislaw, who graduated in 2022 with a bachelor's degree in biological sciences and a minor in German studies will be conducting computational biology research in the Khmelinskaia Lab of the Life and Medical Sciences Institute (LIMES) of the University of Bonn.
"I had hoped to study abroad during my time as an undergraduate, but did not get the chance, and I planned to take a gap year after finishing undergrad to gain more research experience before going to graduate school," Stanislaw said. "A Fulbright seemed to be the perfect opportunity to allow me to accomplish both of these things."
Stanislaw, who is of German heritage and has been studying the language since high school, said a serendipitous connection made the research possible. In 2020, she started doing computational biology research with the King Lab at the University of Washington.
"My mentor from UW moved to the University of Bonn in the summer of 2021, providing me with an unexpected connection to a lab in Germany," she said. "I was thrilled at the opportunity to do research in Germany, where my interests in biology research and German culture could align."
Her research project will lay the foundations for an original platform to design two-component biosensors for detecting a molecule of interest, such as a viral antigen.
Stanislaw said she plans to apply for doctoral programs in immunology or computational biology after her Fulbright experience.
"Although I do not have extensive hands-on lab experience because my undergraduate research was remote, I am especially thankful for the chemistry and biology laboratory courses at CMU," Stanislaw said. "Though challenging, I believe these courses prepared me with the skills to learn quickly in a lab setting, taught me how to troubleshoot unexpected results, and introduced me to techniques that I will likely encounter during my research abroad."