June 26, 2020
Recent Graduate Awarded Yenching Academy Scholarship
By Heidi Opdyke opdyke(through)andrew.cmu.edu
Media Inquiries
Abby Simmons
Dietrich College of Humanities and Social Sciences
Jason Maderer
Marketing & Communications
Recent Carnegie Mellon University graduate Haider Nazir has been accepted to the Yenching Academy of Peking University.
The Yenching Academy works to build bridges between China and the rest of the world by bringing together high-achieving students who have demonstrated a talent for leadership and innovation. This year 119 students were chosen for the award, and Nazir is the first student from CMU to receive this honor.
With the award, Nazir, who graduated with majors in global and Chinese studies and a minor in religious studies, will embark on a fully funded two-year interdisciplinary master's program in China studies. He plans to study law with a concentration in politics and international relations with the aim of becoming a public diplomacy officer for the U.S. State Department.
"Peking is a very unique place in China's history. It's been home to many democratic movements," Nazir said. "What resonates with me the most is that social movements begin at the bottom with students and grassroots efforts. Peking and Yenching have leading scholars in their fields along with technology and resources. You have access to one of the largest libraries in the world. The students who come in are coming from different interdisciplinary backgrounds."
The Yenching honor is one of two Nazir had to choose between this year. He also was awarded a Fulbright Award to teach English in Taiwan but declined.
"The Fulbright is also an amazing opportunity, and I hope to apply for a Fulbright award again in the future," he said. "One of the reasons I chose Yenching over Fulbright was that I felt I could learn more about Chinese public and foreign policy, which would serve me more in the long run in terms of pursuing my goals."
Nazir spent the summer of 2019 in Taiwan as part of the U.S. State Department's Critical Language Scholarship program. In 2017 he received a Freeman Asia Scholarship to study in China through CMU's Shanghai International Studies University program.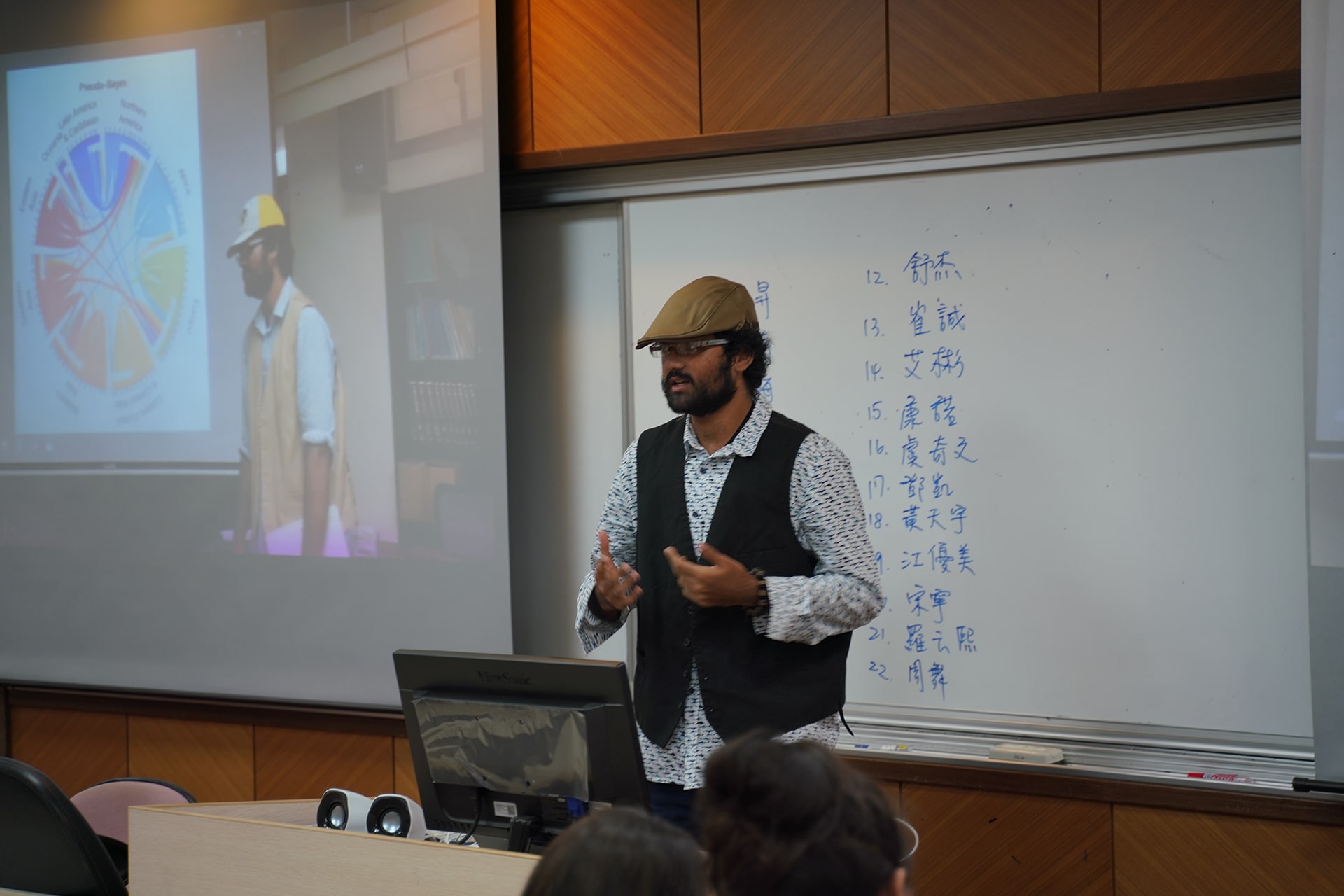 Nazir traveled to Taiwan in 2019 as part of the Critical Language Scholars program.
"Haider Nazir is a person in love with China," said Yueming Yu, a teaching professor and coordinator of Chinese Studies. "With these learning experiences he greatly expanded his perspective on the world by analyzing person-to-person interactions through a philosophical and humanitarian lens. He helped communities surmount economic inequalities when he volunteered at under-resourced elementary and middle schools in Pittsburgh and rural Taidong, the center of the indigenous people of Taiwan."
Richelle Bernazzoli, associate director of Undergraduate Research and National Fellowships at CMU, worked with Nazir on applications and as an adviser to the Mortar Board National Honor Society, where he was co-membership chair.
"Haider truly stands out as a student leader and scholar," Bernazzoli said. "He is always willing to lead, but also to listen to and learn from others, which stands him in excellent stead for his career goal of eventually working in international education or diplomacy. I have been thoroughly impressed by his motivation to seek out opportunities to gain ever more linguistic and cultural proficiency."
Nazir's interest in China has grown throughout his college career. In his senior honors thesis, he combined ethnography, theater and historical research to create short plays to represent collective memories of 20th and 21st century Chinese and Taiwanese history among people who lived through events like the Cultural Revolution and its aftermath.
Benno Weiner, an associate professor of history, advised Nazir on his thesis and said he was a joy to be around. Nazir recently was awarded the Eugene D. Levy award, which is given to the most outstanding graduate of the Department of History.
"Haider is ambitious in all the right ways. He has an insatiable intellectual curiosity, a wonderful sense of adventure, and a personal investment in bringing diverse people together," Weiner said. "Haider deserves all the accolades that he has received. I have no doubt that he will continue to impress as he takes the next steps on his journey," Weiner said.
Nazir said that CMU has helped him develop and move forward on his personal and professional goals.
"I've been able to really build relationships with people," Nazir said. "And my professors in the history and philosophy departments, especially, made my classes so enjoyable through intellectual discussions."
As a Tartan, Nazir served as a leader in many capacities. He participated in the Emerging Leaders Program and was president of the Lambda Sigma National Honor Society. An Andrew Carnegie Scholar, Nazir also served as a resident assistant for CMU's Summer Academy for Math and Science Program and served as a Chinese Language Teaching Assistant.
His greatest accomplishment, he said, was founding The Chinese-English Third Space, a weekly club that helps international students practice English speaking skills and native English speakers work on Chinese while playing games. The goal, he said was to make a safe space where everyone was comfortable and could learn more about each other.
The group, which met in person and online through the WeChat social media platform, has a network of more than 400 students, staff, faculty and alumni from CMU, the University of Pittsburgh and Duquesne University. Nazir said the group has helped him make connections beyond Pittsburgh through meeting classmates and their friends while traveling abroad.
"When people play games, they feel more open minded and comfortable to talk about issues," Nazir said. The group plays both Chinese and English games such as Mahjong or Pictionary, but the most successful ones were role games, where people had a secret role and others had to guess who they were.
"The games were based on communication and deception and each round was 15-20 minutes," Nazir said. "They were super effective."
Since the pandemic has changed how people connect, group meetings have transitioned to Zoom.
"We all call in from different countries, and are still able to play many games online and meet up every week," Nazir said.