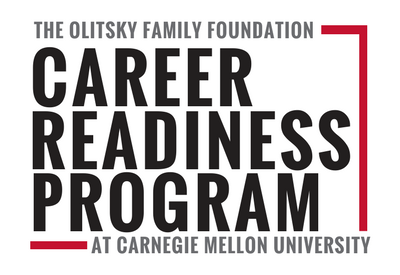 Carnegie Mellon University is dedicated to providing a culture of inclusion and breaking down barriers that inhibit our students, of all needs and abilities, from reaching their full personal, academic and professional potential. 
The goal of The Olitsky Family Foundation Career Readiness Program is to break down the barriers-of-entry for students with emotional and cognitive differences in their career-search process.  The program takes a unique, 3-pronged approach by engaging our 1) students, 2) local campus community and 3) employer partners in various events to achieve long-term, sustainable success for students.
Students
---
1-on-1 Student Coaching
---
At this time, we are not able to offer 1-on-1 student coaching through the Olitsky Career Readiness Program. Please check back in the near future for updates. 
---
Career Readiness Workshops
---
More to come soon!
 Please contact Caedyn Busche with any questions at cbusche@andrew.cmu.edu 
---
Student-Employer Connect Event
---
The Student-Employer Connect Event is an annual event that allows for low-stakes networking with a variety of employers in an environment that promotes one-on-one conversation between professional representatives and students. Please contact Caedyn Busche with any questions at cbusche@andrew.cmu.edu 
Employers
---
Student-Employer Connect Event
---
The Student-Employer Connect Event is an annual event that allows for low-stakes networking with a variety of employers in an environment that promotes one-on-one conversation between professional representatives and students. Please check back in the future to see scheduled dates and times for the next Student-Employer Connect Event. Please contact Caedyn Busche with any questions at cbusche@andrew.cmu.edu 
Campus Partners
---
Neurodiversity Competency Trainings
---
More information will be shared soon. Please contact Caedyn Busche with any questions at cbusche@andrew.cmu.edu 
If you are interested in learning more about the program or would like to participate in any future events, please email Caedyn Busche at cbusche@andrew.cmu.edu