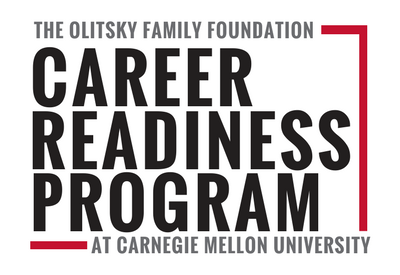 Carnegie Mellon University is dedicated to providing a culture of inclusion and breaking down barriers that inhibit our students, of all needs and abilities, from reaching their full personal, academic and professional potential. 
The goal of The Olitsky Family Foundation Career Readiness Program is to break down the barriers-of-entry for students with emotional and cognitive differences in their career-search process.  The program takes a unique, 3-pronged approach by engaging our 1) students, 2) local campus community and 3) employer partners in various events to achieve long-term, sustainable success for students.
Students
---
1-on-1 Student Coaching
---
Receive individualized career coaching from a dedicated team member who specializes in career development for neurodiverse students. 1-on-1 appointments will be offered through Zoom/by phone beginning October 16, 2020, which can be scheduled through Handshake.  
Appointment topics can include but are not limited to:

Develop an individualized career plan/strategy.
Build the skills needed to write a resume/cover letter.
Learn about self-advocacy and acommodations in the workplace.
Receive support in finding a job and/or internship.
Practice your interviewing and networking skills.
To schedule a coaching appointment with Zihui Hua, please log in to Handshake (https://cmu.joinhandshake.com/), click on the "Career Center" tab, select "Appointment", click on the "Schedule A New Appointment" button, and then choose the "1-on-1 Career Coaching (Workplace Disclosure and Accommodations)" category. You can also email Zihui at zihuih@andrew.cmu.edu directly if you have any questions or concerns!
---
Career Readiness Workshops
---
Job Search Strategies: Neurodiversity Alumni Panel 
Wednesday, March 10 (4:00pm-5:00pm ET)
Click here for details and to register.
Additional workshops will be added soon!  For details regarding this opportunity, please email zihuih@andrew.cmu.edu
---
Student-Employer Connect Event
---
Friday, March 26 (10:00am-12:00pm ET). This virtual networking event will be a great opportunity for engaging 1-on-1 with employer representatives regarding job opportunities, workplace accommodations, job search advice, and more. More information will be shared soon. For details regarding this opportunity, please email Zihui Hua at zihuih@andrew.cmu.edu 
---
Interface Social Group
---
Every student deserves to feel a sense of belonging in our campus community. Connect more deeply with peers through activities and conversations. Learn and respect each other's differences while celebrating similarities and building meaningful relationships. Anyone and Everyone is welcome!
 Group features:
On and off campus activities
Deep discussion dives
Making connections
Free food!
 Contact Miranda Mlincek at mmlincek@andrew.cmu.edu for additional information.
Employers
---
Student-Employer Connect Event
---
Save the date! Friday, March 26 (10:00am-12:00pm ET). This virtual networking event will be a great opportunity to mentor and recruit neurodiverse talent through 1-on-1 conversations. More information will be shared soon. For details regarding this opportunity, please email zihuih@andrew.cmu.edu
Campus Partners
---
Neurodiversity Competency Trainings
---
Strategies for Supporting and Coaching Students with Learning Disabilities 
Friday, February 12 (9:00am-10:00am ET)
Presented by the Learning Disabilities Association of Pennsylvania
More information will be shared soon. For details regarding this opportunity, please email zihuih@andrew.cmu.edu
If you are interested in learning more about the program or would like to participate in any of the above events, please email Zihui Hua at zihuih@andrew.cmu.edu