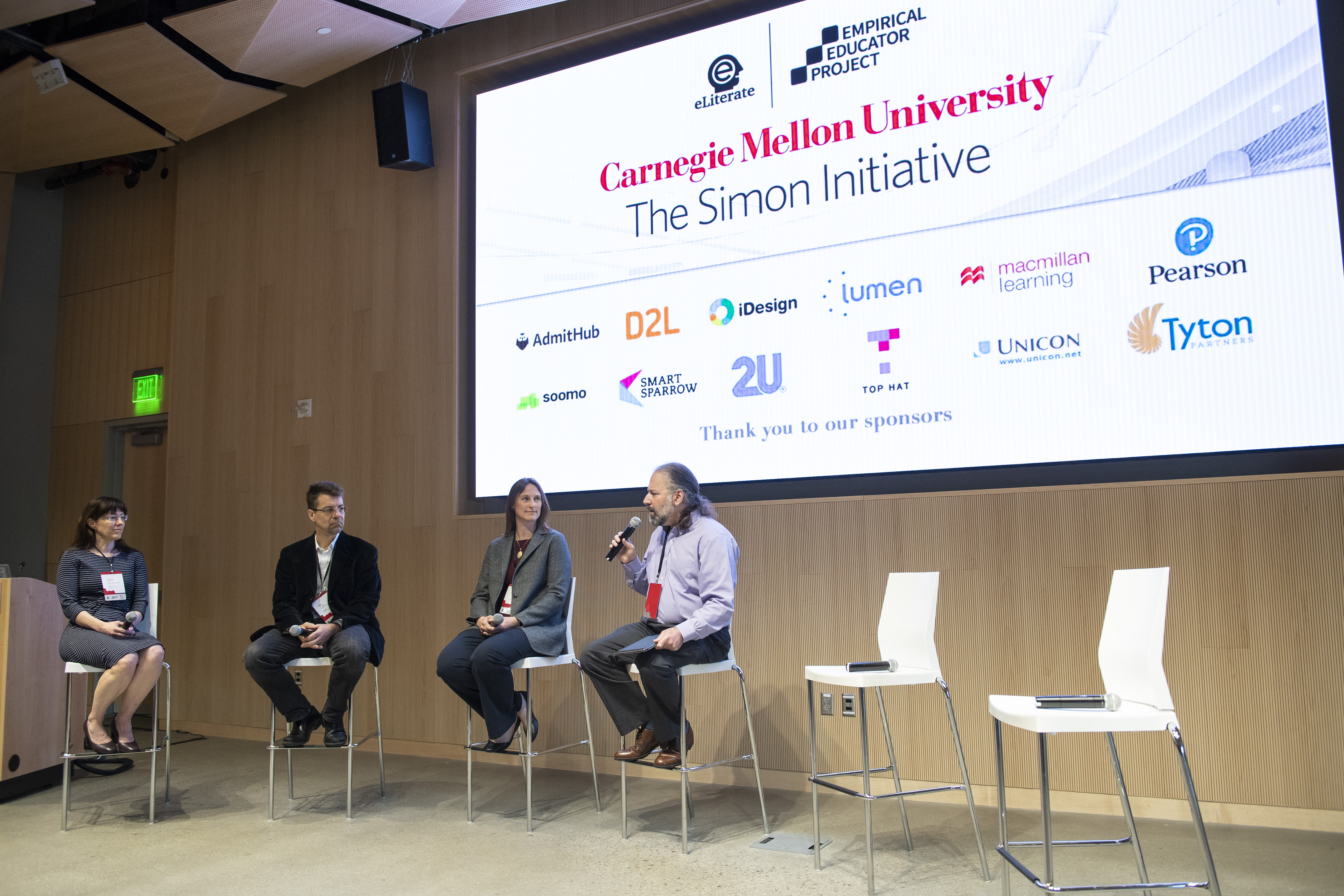 July 16, 2019
Experts Discuss Best Practices To Improve Teaching Through Data
During the Empirical Educator Project (EEP) Summit in May at Carnegie Mellon University, Herbert Simon's ongoing influence was honored with the release of software and content intended to increase educational effectiveness.
The Simon Toolkit is designed to improve student learning outcomes. Part of CMU's Simon Initiative, a cross-disciplinary learning engineering ecosystem, the first release of the toolkit — $100 million of learning science research, tools, content and technology — is accessible to post-secondary and K-12 institutions.
From 1949 until his death in 2001, Simon was a fixture at Carnegie Mellon. An economist, political scientist and cognitive psychologist who won the Nobel Prize for Economics in 1978, Simon's expertise included pioneering work in artificial intelligence and helping to develop one of the first theories of learning to be executed by way of a computer program.
"The toolkit is the culmination of decades of exceptional interdisciplinary collaborations at our university," said James H. Garrett, provost and chief academic officer for CMU.
"This work has encompassed our pioneering efforts in adaptive learning, to develop software and analytics tools that leverage Carnegie Mellon's learning technology, computer science, and psychology expertise, and research and learning engineering enterprise," Garrett said. "We aspire to make learning something that you can observe, a real experience that uniquely follows a cycle from theories of learning to instructional design and practice, from data analysis mined to discovery and back again." 
The second annual EEP Summit was attended by about 140 people on May 6-7 at CMU's Pittsburgh campus. It is the brainchild of founding coordinator and director Michael Feldstein. The Empirical Educator Project is a network of post-secondary institutions, vendors and individuals collaborating to improve learning and student success using evidence-based, iterative approaches. The project is designed to help people become "social empirical educators," Feldstein said.
Feldstein defines educators as anyone — teachers, administrators, product designers or classroom aides — who feels a personal responsibility to help students learn.
"The empirical part is that you learn from your students how to help them learn better," Feldstein said. "You try things with your students, you see what happens and adjust what you do based on what happens. If you're not learning from your students, if you're not trying and adjusting, you can't really be an educator. You can lecture, you can profess, but you can't educate."
The summit featured a broad range of stakeholders and thought leaders seeking to refine and improve empirical education methodology. The theme of many of the presentations was how best to observe, engage and react to students to make classroom experiences more meaningful.
Marsha Lovett, director of Eberly Center for Teaching Excellence & Educational Innovation, associate vice provost for Educational Innovation and Learning Analytics and co-coordinator of the Simon Initiative, said that by paying attention to how students are engaged, educators can use that information to "tweak and adjust in a way to get better teaching strategies."
The Simon Toolkit can be used to address many of the issues discussed at the EEP Summit. Dietrich College of Humanities & Social Sciences Dean Richard Scheines cited a quote by Simon as the toolkit's guiding principle: "Improvement in post-secondary education will require converting teaching from a solo sport to a community-based research activity."
"Universities customarily engage in two activities, research and education," Scheines said. "They sometimes conflict because people who are doing a lot of research don't want to spend the time required to teach.
"Herb's idea was, we need to get them to communicate and come together so we think of learning education as the bridge that takes research activity and applies it to educational activity and makes educational activity subject for research. That's really the perspective we want to get across."
To receive more information about OpenSimon, click here.
Related Articles:
OpenSimon Toolkit To Make Every Classroom a Learning Laboratory
https://www.cmu.edu/news/stories/archives/2019/may/open-simon-toolkit.html
Carnegie Mellon, Lumen Learning Partner To Expand Support for Evidence-based Learning Materials
https://www.cmu.edu/news/stories/archives/2019/april/simon-initiative-partnershp.html
Foundation President Says Unprecedented Change Calls for New Approaches To Learning
https://www.cmu.edu/news/stories/archives/2019/march/simon-lecture.html
Carnegie Mellon Announces Release of Toolkit To Kickstart Global Revolution in Educational Effectiveness
https://www.cmu.edu/news/stories/archives/2019/march/global-revolution-educational-effectiveness.html