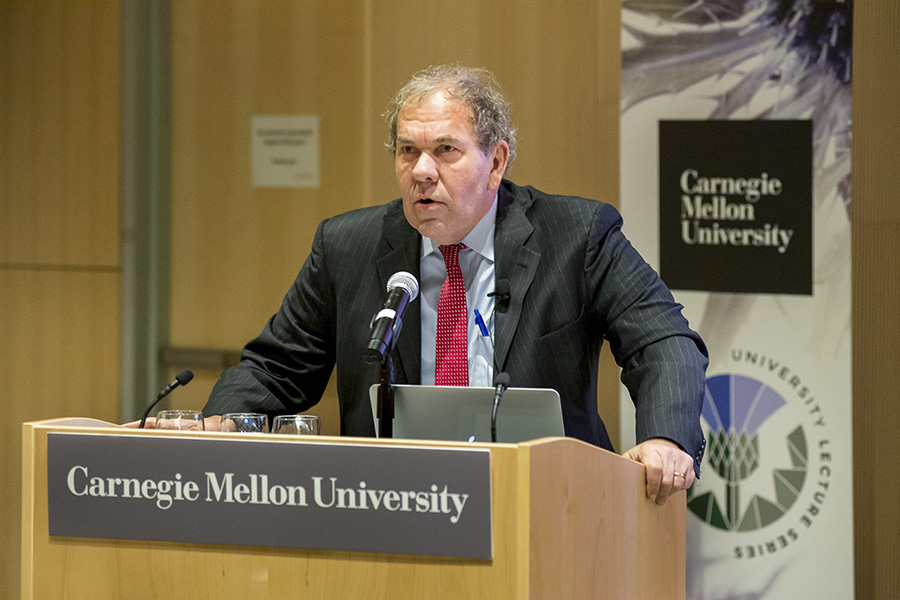 March 22, 2019
Foundation President Says Unprecedented Change Calls for New Approaches To Learning
Arthur Levine, president of the Woodrow Wilson Foundation, said changes in demography, economy and technology will demand changes in higher education.

Wilson's delivered the remarks at the 2019 Simon Initiative Distinguished Lecture, titled, "The Future of Higher Education: Three Forces with the Capacity to Transform America's Colleges and Universities" at Carnegie Mellon University in March.

Levine cautioned that the disruptive changes occurring in present-day society haven't been seen since the Industrial Revolution.

"One of the consequences of this kind of change is that all of our social institutions - it's not just colleges, it's government, it's healthcare, it's media - all appear to be broken," Levine said. "They were all built for a different time, and they don't work as well as they once did."

Named for the late CMU professor and Nobel Laureate Herbert Simon, the Simon Initiative connects and accelerates the university's leading work at the intersection of learning research and educational technology. Central to the initiative is an approach that Simon dubbed Learning Engineering: combining learning research, data and the affordances of technology to design, deliver, improve and investigate educational innovations. Using the learning engineering ecosystem as a foundation, the initiative is building a broader community of educators, researchers and practitioners that will improve outcomes for all students while advancing our understanding of human learning.

Levine's lecture said Carnegie Mellon could be the leader of a modern educational revolution.


"I really do applaud the Simon Initiative," Levine said. "I think it really charts direction that higher education needs to move in the years ahead. In terms of its interdisciplinary focus, and its focus on learning."

Carnegie Mellon Provost James Garrett introduced Levine and the Simon Lecture Series.

"[Herbert] Simon was an esteemed scientist, researcher, CMU faculty member and founding father of several of today's most important scientific domains, including artificial intelligence," Garrett said. "His impact on the worlds of science and economics and also on our university's own academic mission is far-reaching and unparalleled."

Levine remarked on Simon's legacy in his lecture.

"It's an extraordinary honor to give a lecture in Herbert Simon's name," Levine said. "I'm an organizational sociologist. And there aren't many figures who are of greater importance or who have made larger contributions to my field than him."