August 23, 2018
CS-STEM Network: Changes in appearance and premium options
Dear educators, students, hobbyists, and learners. 
We've been busy making CS-STEM Network even better. The start of the school year is here, classes are starting, lessons plans are taking into affect, and we here at Carnegie Mellon Robotics Academy are excited to show you all of the things we've been working on over the past few months with the CS-STEM Network. 
We have had lots of great feedback over the years about our system, the Groups feature, and our activities. We truly appreciate all of the feedback we receive as it helps us to continue to improve our system which, in turn, helps all of the users. Over the past few months, we have dramatically made improvements to our site. 
You will find that we have made improvements to:
Groups Area - The Groups area had a major facelift! Teachers can now see more of their groups on one page, and also all users can filter out the groups that they have either joined or own (created).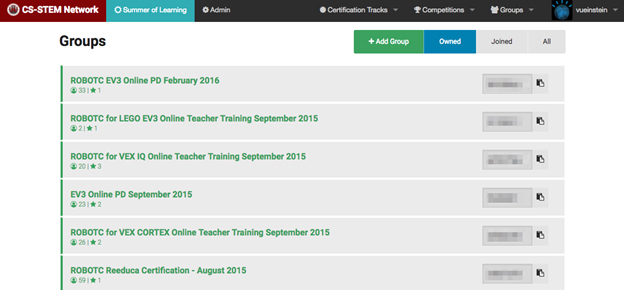 Group Details - The Group details page now makes it easier to add group members, and also add activities!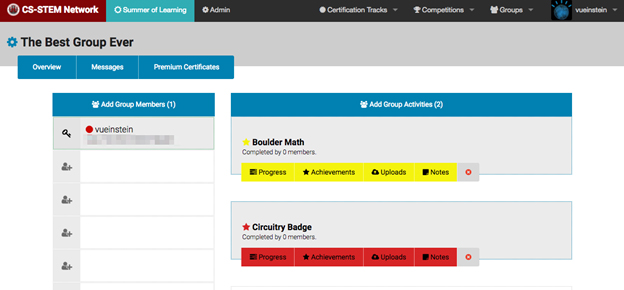 Certification and Badge Pathway - Certifications and Badges are now in a Catalog-like style so you can see what tracks are available to you.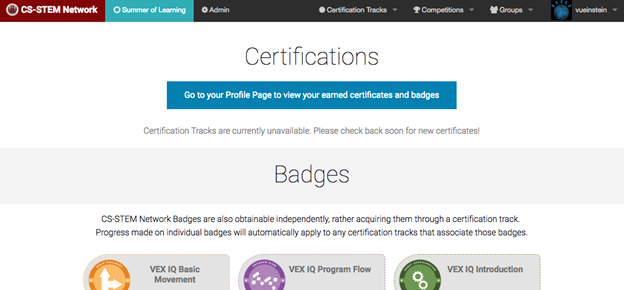 Progress Tracking - Tracking member progress of your Group has been revamped to make it clearer to see individually progress. You also have the option of exporting a spreadsheet, and jumping to other pages to award achievements or see uploads!
We have also added features like:
Creating/generating student accounts - Students no longer require email addresses! Teachers can import/create accounts using a provided standard spreadsheet template. 
Awarding achievements - Teachers can manually award achievements. This is especially useful in situations where students are completing challenges using a real-world robot (not using a Virtual Robot), and need to award an achievement.
Viewing Artifact Uploads - Teachers can view the programs, images, etc. that students upload in the badge tracks. 
Teacher Notes - There are now "Teacher Notes" which are links to helpful teacher resources that are a part of badge tracks. 
Assigning Tracks to students - Teachers can now ensure that when students log in, the student is assigned the proper "track". Students' will be directed to the badge track for their home page. 
Resetting students' passwords - Teachers can now reset students' passwords directly from the Member List on the Group details page. 
Free versus Premium access
Our goal is to continue to provide tools for teachers to make it easy to teach computer science and STEM through our activities on the CS-STEM Network. We also want to make sure that we are able to sustain our organization. We have had long discussions regarding this and felt that our decision gives everyone the ability to continue to utilize the CS-STEM Network while allowing or organization to be sustained.
CS-STEM Network features and activities that are free
Access to Badge tracks
Creating Groups (limited to three groups and 30 students per group)**
Activities in Groups (no limits to the number of activities)
Resetting student passwords
Generating/importing student accounts
Viewing member progress
Awarding achievements
Viewing uploaded artifacts
Users who choose to upgrade to Premium access (at $300 annual cost) will get
Unlimited Group Creation (no limit on students)
Assigning tracks to a whole group
**If you already have more than three active Groups, you will already be at the limit. Please contact us at support@cs2n.org if you have any questions. 
To purchase Premium Access, go to our Online Store. 
This means that even with a free account, you can still have the same access to an entire Introduction to Programming set of badges to continue to track your students throughout the school year (See this page for more information). 
We want to thank you to all users (and beta users!) for providing the very helpful feedback so that we can continue to make the CS-STEM Network better. If you have any questions regarding this change, please contact us at support@cs2n.org.
Thank you! Your friends at the Carnegie Mellon Robotics Academy