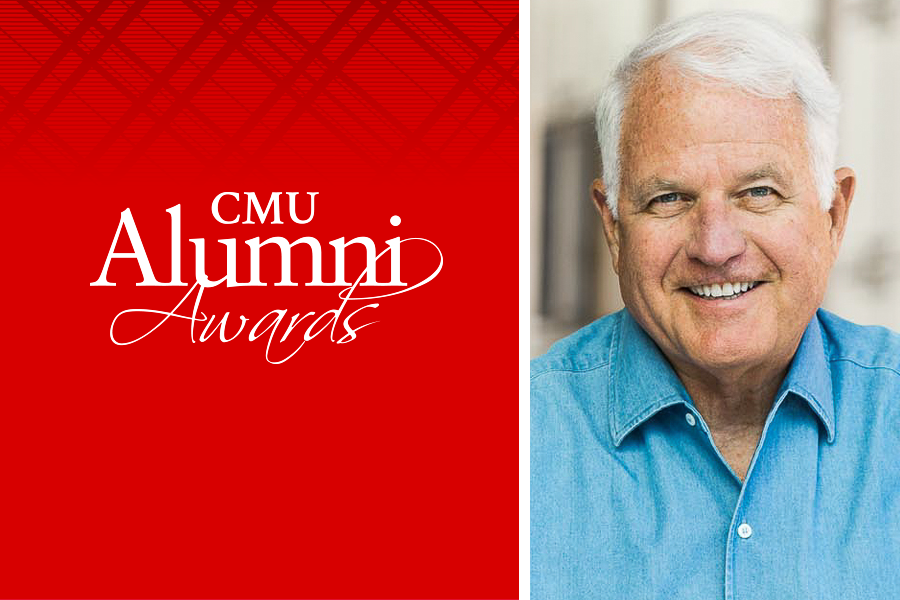 Founders Medal 2018 Inaugural Recipient: James R. Swartz
Envisioning and Investing in the Future
James R. Swartz (TPR 1966, H 2016) has an uncanny ability to intuit the future and back the innovations that define it ― and the people behind those innovations. With a name synonymous with venture capital, Swartz is dedicated to strengthening Carnegie Mellon University's preeminence in entrepreneurship education. For his distinguished career achievements and remarkable commitment to CMU, he has been chosen as the inaugural recipient of the Founders Medal for Outstanding Service and Exceptional Achievement.
Born in Coraopolis, Pennsylvania, Swartz was a competitive student-athlete who "religiously did homework assignments" and wanted to be the best. He was admitted to Harvard University, where he studied engineering sciences and applied physics.
In the spring of his senior year, he read a magazine article that led him back home, to Carnegie Mellon's Graduate School of Industrial Administration (GSIA).
"I'd gotten exposed to digital computing and saw that as the future," he said. "I wanted an analytical, operations research, computer-based management education. There was a very prominent Time magazine article in the spring of 1964 which talked about Carnegie Mellon's being on top of the world, and that was very influential."
Swartz earned a master of science degree in industrial administration (MSIA), Carnegie Mellon's version of the MBA, which he found intriguing for its use of a course-based curriculum and its computer-based Management Game.
Beginning his career at a large corporation, he moved into consulting at one of the most prestigious firms of the 1960s. After three and a half years, small companies had captured his attention as the way he could "drive something as opposed to just being an employee." And he formed a life-altering friendship with one of the pioneers of venture capital, Mort Collins, who also became his mentor.
"'Entrepreneurship' was never mentioned in my coursework," Swartz said. "And 'venture capital' did not exist as a term, either. Mort helped me get started in venture capital, and I never looked back."
Energized by the intellectual challenge and complexity, Swartz became one of the world's most successful and respected venture capitalists. A founding partner of Accel Partners, the firm concentrated its investments in technology firms, including industry giants Dropbox, Etsy, Facebook and Veritas Software.
More recently, he has devoted attention to supporting the arts, co-founding Impact Partners, which funds documentary films on important societal issues. Films produced by Impact Partners have gone on to win Emmy and Peabody awards. He co-produced the 2018 winner of the Academy Award for Best Documentary Feature, "Icarus," which revealed Russia's doping program of its Olympic athletes.
Swartz has made incomparable differences at Carnegie Mellon, sharing the power of entrepreneurship by fostering education and mentoring.
As the recipient of a four-year scholarship from Harvard and a fellowship from Carnegie Mellon, Swartz is "a big believer in helping people get someplace." He established the Swartz Entrepreneurial Fellows Program to develop the leadership and business acumen of highly talented graduate students pursuing entrepreneurship in the technology industry.
The Swartz Entrepreneurial Leadership Series sponsors nationally recognized investors, innovators and entrepreneurs to speak to the Carnegie Mellon community on topics central to entrepreneurial leadership.
Swartz also demonstrates his commitment to CMU through his longtime membership on the Tepper Business Board of Advisors, as a member of the Swartz Center Advisory Board, and as chair of the President's Global Advisory Council, of which he is a founding member.
Recognizing that Pittsburgh was raising its profile as a hub for entrepreneurship, in 2015, he and his wife, Susan, donated $31 million to support entrepreneurship education at Carnegie Mellon and the Tepper School of Business. The Swartz Center for Entrepreneurship is CMU's center for support and financial resources for the research-based ideas and innovations of "researchers, hackers, hustlers and designers" across every school and discipline.
Swartz has fused his love for Carnegie Mellon with his passion for entrepreneurship.
"I get great satisfaction from doing things that aren't obvious and that, with a little bit of energy and time and some money, I can make a difference. That's the way I've built my career and approached my investments and philanthropic activities. You go through life, and opportunities pop up. I see some of them and think, 'This is something I can make a difference with.' And I have fun doing it. It's what I love to do."