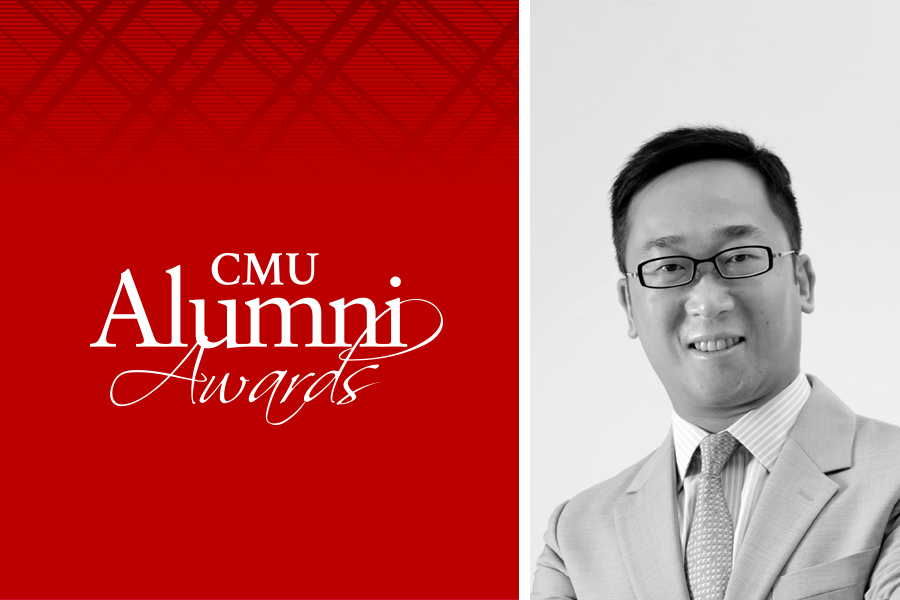 2018 Alumni Service Award: Thomas Yeung
Forming Friendships that Strengthen CMU
Thomas Yeung (TPR 1998) has a natural gift for engaging with people, especially when the people are Carnegie Mellon University's students and alumni. He has been the driving force in building the Hong Kong Alumni Network into one of CMU's most outstanding regional groups.
As a student, Yeung wasted no time getting involved at Carnegie Mellon, co-founding the Hong Kong Student Association (HKSA) as a first-year. The organization was designed to create a sense of community among other students from his home country. Yeung's six years in U.S. boarding schools taught him early lessons in how important friendships are to a student far from home.
"Young people go through many tough times when they face a new environment and new challenges, and at the same time, have to deal with a tough academic program," Yeung said. "If they are able to engage with a group of friends with similar background and experiences, they will be able to help each other."
He continued to grow this community after he graduated by creating the Hong Kong Alumni Network (HKAN) with three CMU friends and classmates. But by 2012, with Yeung as the only remaining volunteer, he recognized that the network needed a major revitalization. He re-dedicated himself to the effort, and the results speak for themselves. Today's network features more than 450 members; a committed core of volunteers from the classes of 1983 through 2012; frequent events and workshops that attract alumni from varying age groups and industries, and sometimes even parents and current students; and robust fundraising. The HKAN has won the Network of the Year Award twice.
CMU alumni praise Yeung for helping them transition to life beyond the university. Responding to an undergrad's suggestion, he instituted an annual networking event in 2010, connecting graduating seniors with alumni who offer them information and guidance.
Yeung accomplishes all this while maintaining a demanding career as an entrepreneur, business owner, and civic and charitable force in Hong Kong.
A colleague who nominated him for the 2018 Alumni Service Award describes him as "always responsive, reliable and passionate," but Yeung added that what he learned at Carnegie Mellon has influenced his volunteer style.
"I learned to take on challenges with a positive attitude, and to just do it and not worry about unexpected results," he said. "At CMU, I learned that there is always a solution to a problem, and therefore nothing is impossible."