November 30, 2022
Carnegie Mellon Adds Virtual Mental Health Care as Part of Community Health and Well-Being
By Sarah Abrams sabrams(through)andrew.cmu.edu
At Carnegie Mellon, community health and well-being can take many shapes like pushing a buggy up Tech Street, painting a miniature bodega for Booth with the Latino Student Graduate Association (LGSA), walking for therapy and connection with Pittsburgh Parks Conservancy, scheduling an appointment at the CMU Pantry, falling asleep to a Headspace bedtime story, or routinely seeing a culturally-responsive therapist at Counseling and Psychological Services (CaPS).

Similarly, CMU's health and well-being resources do not have any singular home or point of contact. Like CMU, they are interdisciplinary in nature, existing within all facets of campus life. To embrace the collaborative Tartan experience, CMU's Community Health and Well-Being (CHWB) team launched a website that pulls together well-being resources from across the university for undergraduate and graduate students, staff, faculty, alumni, families, friends and anyone part of the CMU community invested in their individual and collective well-being.

The CHWB team encompasses CaPS, Religious and Spiritual Life Initiatives (RSLI), Student Support Resources (SSR), University Health Services (UHS) and Wellness Initiatives. Well-being services are also supported by Athletics and Recreation, the Center for Student Diversity and Inclusion (CSDI), the office of Student Leadership, Involvement, and Civic Engagement (SLICE), and the Student Academic Success Center.

"At CMU, Community Health and Well-being is both a department and a fundamental priority. While the website shares an incredible collection of well-being resources, programs, and opportunities, it also reflects our community's well-being values and stories. It caters to the individual at any stage of their well-being journey," says Mandi Semple, director of Student Affairs Marketing and Communications. Semple and her team led the creation of the website.

One undergraduate student, Erin Chen, says "the new website is a good reference point to direct people to the resources they need." Chen is the president of Here For You CMU, a mental health advocacy club which serves as an advisory student organization for CaPs. Chen, a junior majoring in neuroscience and philosophy, resonates with the website's goal of centralizing resources for easier access.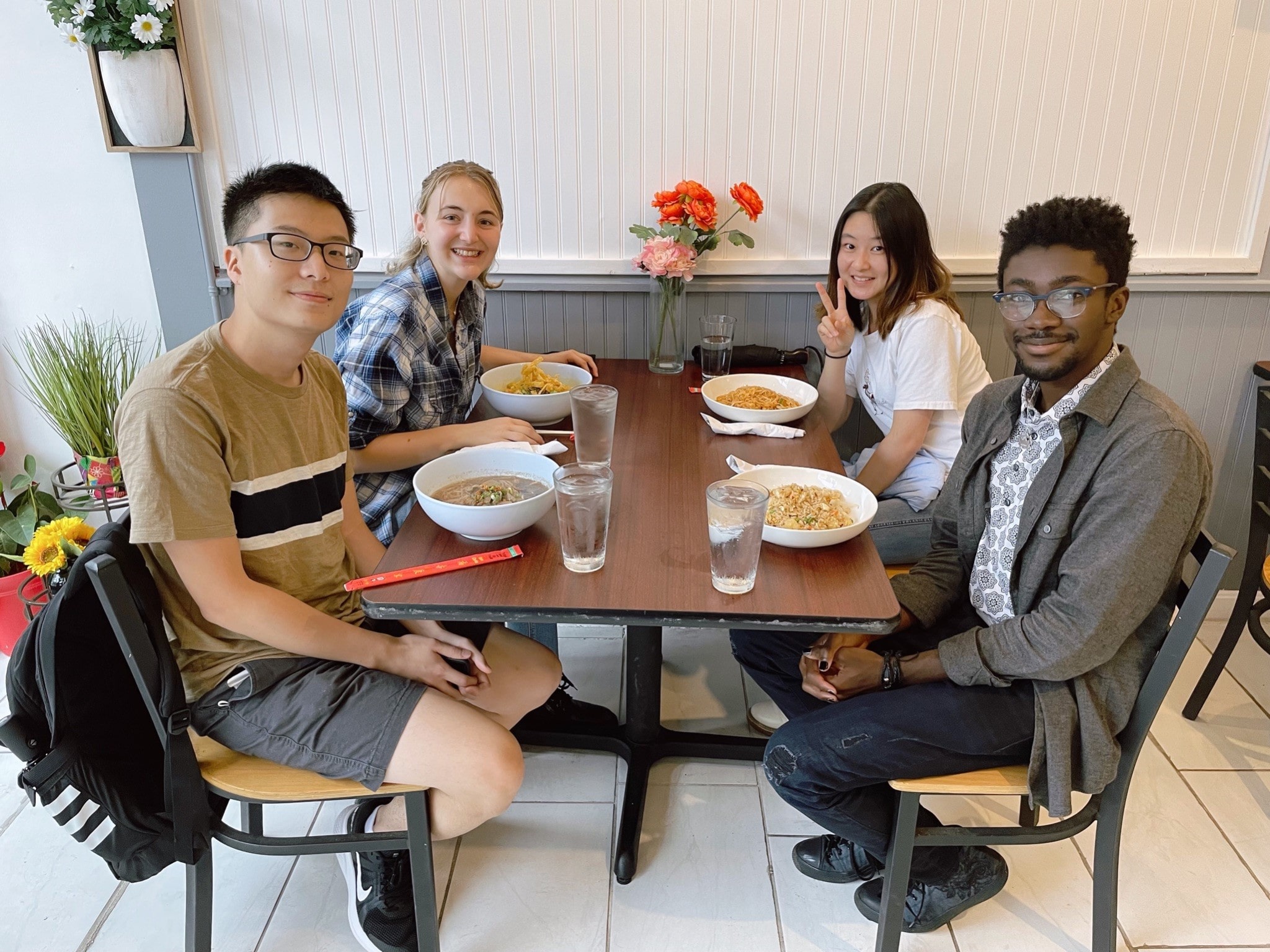 Chen, along with Here For You CMU executive board members, brainstorm ideas for future events over Thai. Pictured in the top left is Ashley Gelber (social media manager), top right is Aiwen Chen (president), bottom left is Justin Lam (vice president), and bottom right is Melvin Ofosu-Koranteng (treasurer).
In addition to resources, the site lists ways to make a variety of health and well-being appointments, compiles well-being spaces on and around campus, and highlights well-being events and the many ways to connect and be connected at CMU. Along with its new online presence, CHWB expanded its services, in partnership with CaPS, to launch the new mental health virtual platform, TimelyCare.

Shane Chaplin, executive director for CaPS and Maureen Dasey-Morales, associate vice president for Community Health and Well-Being, were key players in the decision to implement TimelyCare, a product of a larger company called TimelyMD.

"TimelyMD is a company that offered us a way to expand mental health services … virtually," says Chaplin. The company was created a few years before the COVID-19 pandemic, and as demand for counseling centers nationwide grew, so did telehealth.

At Carnegie Mellon, demand for CaPs' services has increased by about 40% throughout the past few years. As a result, Chaplin began researching and vetting different telehealth companies. TimelyMD stood out to Chaplin as a leader in the telehealth field and it provides services exclusively focused on higher education.

TimelyMD is also used at a number of peer institutions including Johns Hopkins University, Emory University, Duke University, University of Notre Dame, and the University of Virginia.

Dasey-Morales explains, "We are always looking for ways to supplement mental health services for students. We take feedback seriously, and we were hearing that students wanted more flexible times and more options. CaPs wanted to give them a range of options."

When CMU students get on the app, they can access one of four different services. Dasey-Morales emphasizes the "talk now" service, which is a 24/7 on-demand service allowing users to access a mental health professional.

Students can be connected to a professional through their choice of communication medium. Whether on video, similar to a Zoom meeting, or through voice conversation, students can talk one-on-one with professionals and receive support at any time throughout the day.

"Scheduled counseling offers a wide range of providers with different identities and clinical specialties," says Chaplin, continuing, "Students can access providers and their schedules, schedule sessions through the app, and can begin meeting with them, for free."

Health coaching is another TimelyCare service. Students can meet with licensed providers for exercise, nutrition and sleep advice, as well as to discuss other ways to live a healthy and balanced lifestyle.

Students are eligible for twelve free counseling sessions a year. The app also allows students to sign up for group activities including yoga, mindfulness, and meditation.

Chen says "TimelyCare is a really great opportunity for students to get emergency psychiatric care without long wait times and endless documentation … it's more convenient and accessible for students."

It was important to Chaplin and the rest of the CaPs team that the service could be used at any time. Dasey-Morales furthers, "The service is holistic in nature. It doesn't just provide crisis care or care when students are reacting to a difficult situation. It is being proactive in one's own care, something we encourage in Community Health and Wellbeing."

Angela Lusk, program director for Wellness Initiatives, adds, "I'm hopeful students will check out the wellness coaching that is available on Timely Care. This free service is a great addition to the group programs we offer on campus and offers a personalized approach to each student."

Chaplin urges students to download the app and explore the available features. Awareness, he says, is key "so students can take the good care of themselves and we can take good care of our student community."