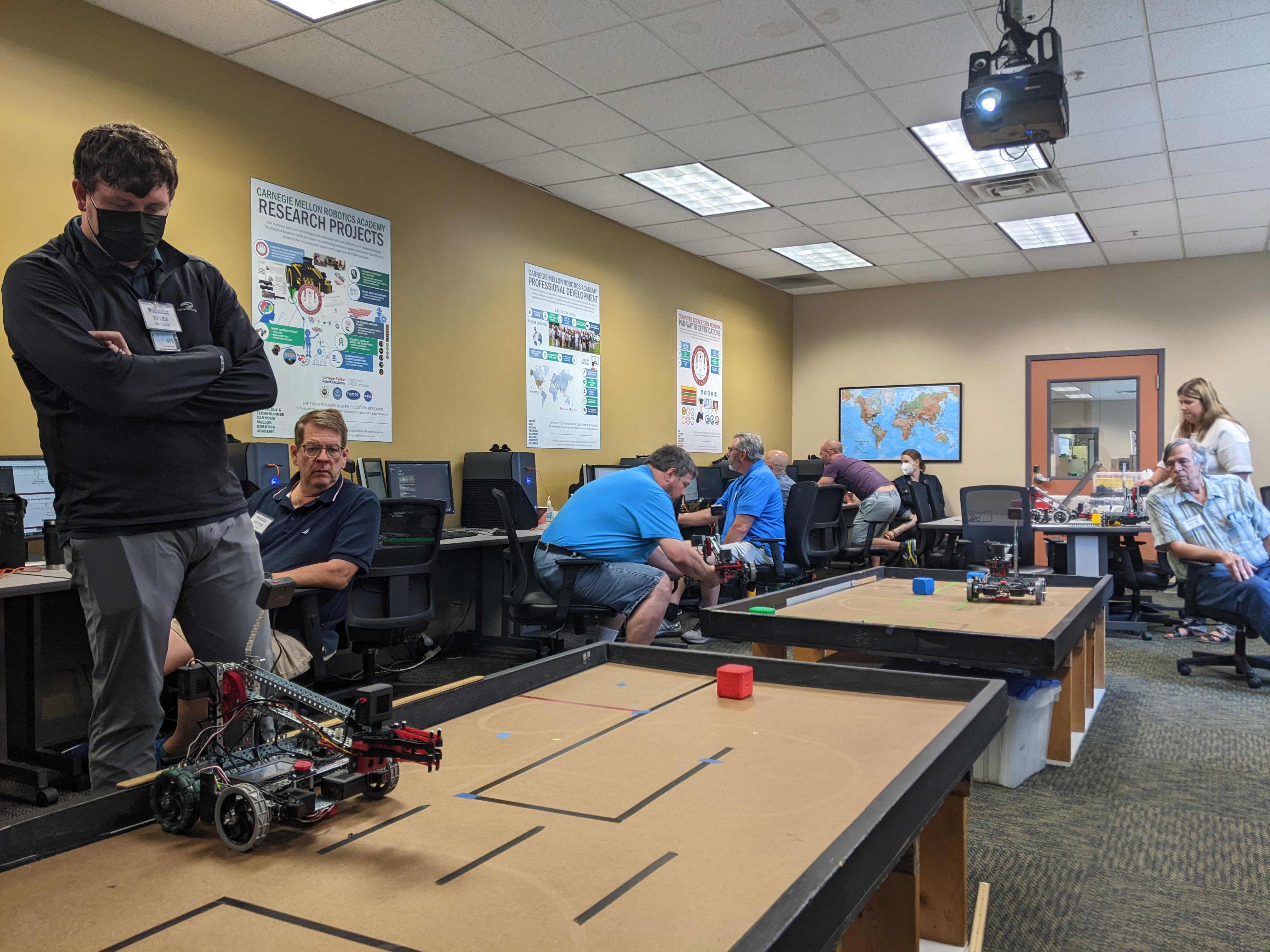 August 15, 2022
Summer Training with CMRA
Sixty educators from around the country traveled to the Carnegie Mellon Robotics Academy headquarters in Pittsburgh this summer with a vision of bringing robotics back to their schools. 
Available hardware and software were provided for platforms including: Shield-Bot, LEGO Spike Prime, VEX IQ, or VEX V5, and upon completion of the 5-day training, teachers received certification, continuing education credits, and new connections with a network of motivated education professionals. 
"Attending the week-long Carnegie Mellon Robotics Academy [training] in Pittsburgh completely exceeded my expectations. I had so much fun learning about the sensors and code for the LEGO Spike Robot and dramatically improved my programming skills in a relaxed setting. I frequently experienced the 'magic' that occurs after pinpointing and fixing the problem in your code and the joy that follows as you witness the robot successfully complete the mission," shared Sarah Hathaway, STEM Teacher at Middlesex Middle School. 
Each session focused on learning how to program specific robots using basic software, identifying common student errors and how to resolve bugs, and gleaning techniques on how to successfully implement STEM concepts in their classrooms. Instruction with certified CMRA trainers provides unique hands-on learning, and tailored, personal feedback. The CMRA team is housed in the National Robotics Engineering Center (NREC) in Pittsburgh, where robotics applications for business, government, and industry are designed, prototyped, and tested just outside their classroom doors.
"I'd recommend CMRA classes to any STEM teacher... I'm excited to share these skills with the next generation of engineers, innovators, and change-makers." — Sarah Hathaway
"Our classroom was located in the National Robotics Engineering Center and we were surrounded by real world projects and robotics innovation. We also enjoyed exploring Pittsburgh when class ended for the day," said Hathaway. "I'd recommend CMRA classes to any STEM teacher considering implementing a robotics program. I'm excited to start the school year this fall and share these skills with the next generation of engineers, innovators, and change-makers." 
Conversations during down time and over meals naturally morphed into sharing best practices, gaining knowledge from both experienced veteran teachers and recent graduates new to the profession. Whether a school district sponsors an established robotics department or first-time educators plan to introduce curriculum in the upcoming school year, summer training with CMRA equips teachers to create an engaging atmosphere which facilitates student curiosity and exploration in the fields of computer science and robotics.
"Our teachers' enthusiasm for robotics inspires their students, but their dedication is an inspiration to all of us at Carnegie Mellon Robotics Academy," said Jesse Flot, Co-Director of CMRA. "Thank you for spending part of your summer with us."
CMRA has conducted both online and in person summer training since 2005. Nearly 200 teachers have completed remote, online training courses so far this year.