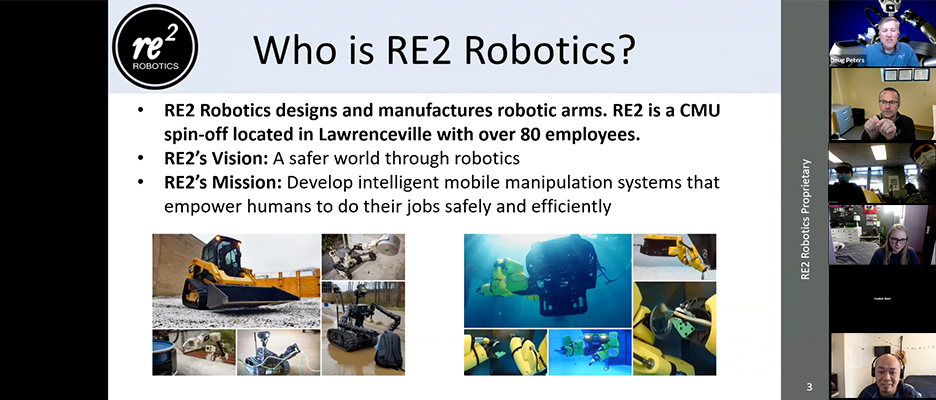 April 14, 2021
Virtual Site Visit Series: RE2 Robotics
By Vu Nguyen vnguyen(through)cmu.edu
April 7, 2021 - PITTSBURGH, PA:
As we are still in the midst of the pandemic, CMRA is still working with local Pittsburgh Robotics and Technology companies to help provide site visits for youth looking to get into the career of Robotics. While site visits are typically done in-person, offering them through virtual formats still allow the same elements as in-person visits (e.g., a demonstration of the company's products, time to speak with technicians and/or hiring managers at the companies, and a walk-through of the facilities).
On April 7th, RE2 Robotics is the first company in the virtual series to volunteer their time to talk to students from around Pittsburgh about who they are, and topics like what the difference is between human-like robots vs industrial robots, and top 10 skills  for a career in Robotics.
RE2 Robotics typically designs and manufactures robotic arms. Their vision is to create a safer world through robotics by having robots do things that would typically be dangerous to humans. Their robotics solutions in several industry sectors. For instance, one of their latest solutions features an underwater robot that has articulating arms to perform complex tasks while navigating the sea.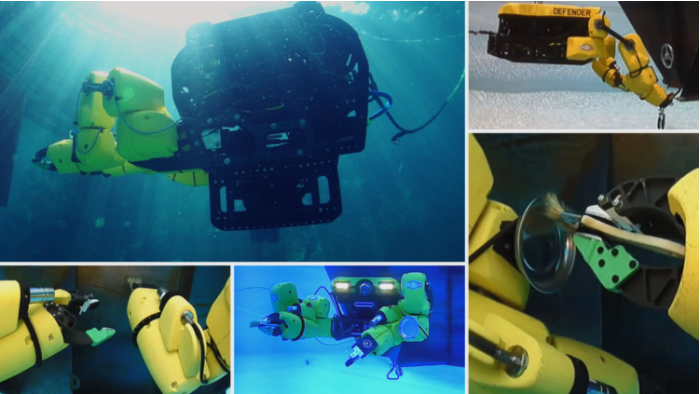 RE2 Robotics actually was able to offer a virtual tour of their facilities as well to give students a feel of what it would be like to work in their building.
RE2 Robotics also offered a list of the top 10 skills that are important when thinking about going into Robotics. Those skills are:
Systems Thinking

That Robots are very complicated systems that require knowledge in a varied set of disciplines such as mechanics, electronics, electrics, programming, sensing, and even psychology and cognition

The Programming Mindset

Programming is an essential skill for robotics

Active Learning

Every time you begin a new project, you most likely will need to learn new skills on the job

Mathematics

To succeed in robotics you need a good grasp of algebra, calculus, and geometry

Science or other Applied Mathematics

A roboticist needs to have the ability to decide when the result of a calculation is "good enough to actually work."

Judgement and Decision Making

Being a good roboticist means continually making engineering decisions using Analytical and Critical thinking

Good Communication

Communication skills are vital and being able to use your Speaking and Writing skills effectively is important

Technology Design

Being proficient at Technology Design means being able to design systems that actually work

Complex Problem-Solving

If you enjoy solving problems, you will enjoy robotics by Foreseeing and then Troubleshooting problems

Persistence

Trying to find the solution to a particularly difficult problem by being knowledgable, dependable, and adaptable
To learn more about RE2 Robotics and their robotic solutions, visit
www.resquared.com
. 
CMRA will be offering more virtual site visits to participants of the
SMART
program. To learn more about this program, or specifically the outreach extension of the program (
SMART-ER
), you can go to our Research area. Email us at
cmra@nrec.ri.cmu.edu
 for more information.