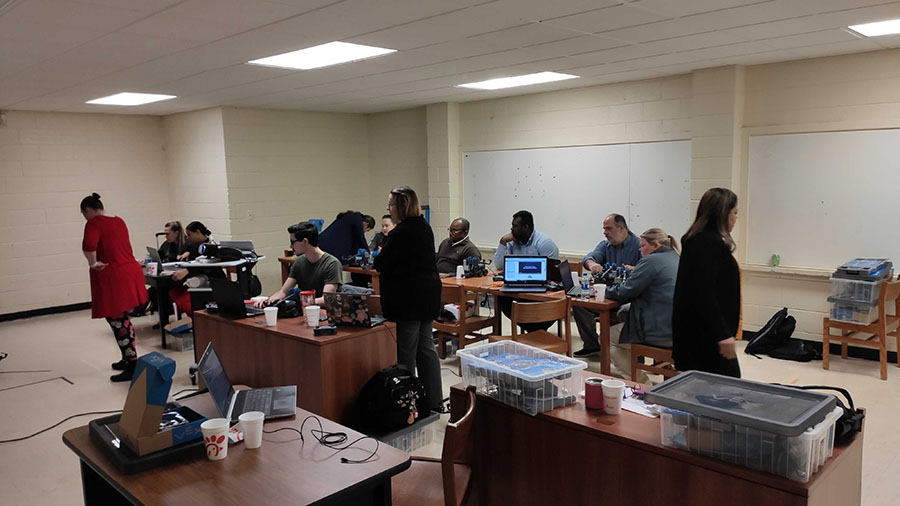 February 20, 2020
Robeson County shows true southern hospitality during CMRA robotics training
February 11 - 13, Robeson County, North Carolina
- Carnegie Mellon Robotics Academy was recently down south, out and about in the great Robeson County, North Carolina! Tom and Curtis held simultaneous professional development training at St. Pauls Middle School and Littlefield Middle School, working with a total of 24 teachers altogether. Craving to bring STEM to their students with VEX IQ robots, everyone worked hard through two days of training, with very little to no prior knowledge.
Going from figuring which ports to use, adjusting motors and axles, to programming sensors to detecting and avoiding collisions, and picking up color in just two days was rigorous! However, the teachers were so determined, not even the predicted forecast of rain, lightning and potential flooding could stop their progress!
While short, the time spent in Robeson County was memorable, with southern hospitality in full effect. We are grateful to be a part of their growth teaching STEM and bringing it to their students, and absolutely looking forward to continuing our support, as many of them are finishing out the rest of their training online, all at their convenience and hopefully away from sketchy weather.