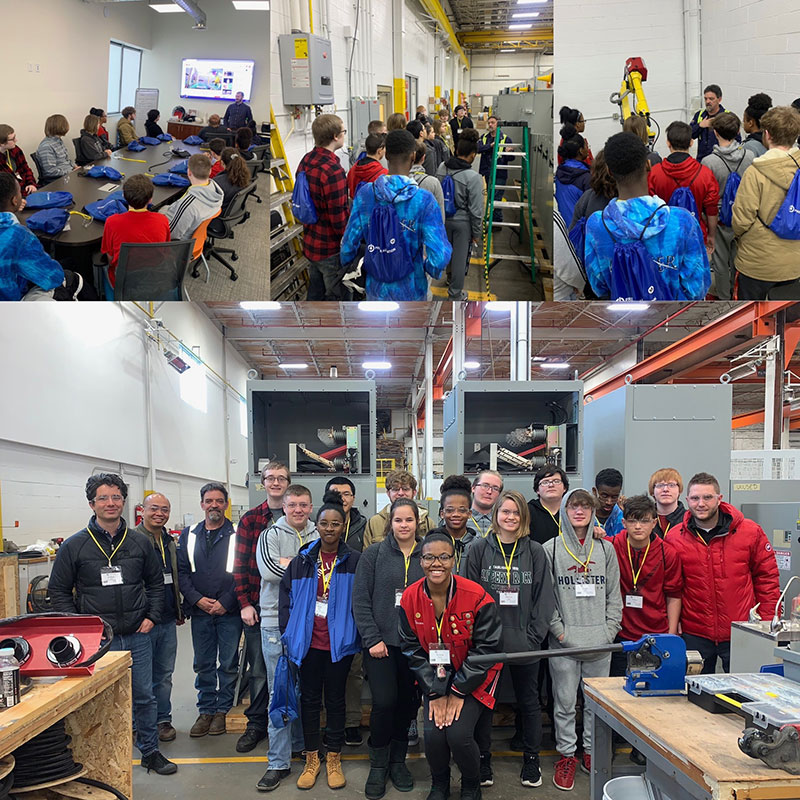 January 06, 2020
Premier Automation emphasizes to students their process of iterating design until reaching perfection for clients
Dec. 18th, 2019 - MONROEVILLE, PA- "Work hard. Apply yourself. There is no limit to what you can do". Inspirational words from Mike Copelin, Production Manager for Premier Automation and team member for over 20+ years. Copelin and several staff from Premier Automation took high school students from New Castle Area School District through a tour of their massive facilities to talk about the different projects that they work on, and the reasons why they do what they do.  
Gabriel Opp, Robotics Technician at Premiere Automation, and Copelin both emphasize that "We know our first concept won't work. Or the second. Or maybe even the 7th. What matters is that we continue trying until we come up with the perfect solution for our clients." This process allows Premier Automation to continue iterating on their designs so that they make sure they have exhausted possibilities that could potentially allow them to create even better products. This concept is applicable to projects anywhere. Students who can embrace this concept could potentially overcome the fear of failure when trying new ideas. 
The students from New Castle were taken through the sections of the facilities that ranged from engineering, integration of components, robotics, electrical and panel manufacturing, and delivery/inventory areas. Staff members were willing and happily explained to the students what they were working on, or the equipment that they were using for the projects.  
"Learning is elevated exponentially anytime students gain a glimpse into a potential career choice", says Matt Dado, Robotics & Engineering Teacher at the New Castle Senior High School, and lead implementer of the program for the district. "Our visit was an enriching opportunity for our students.  The sky's the limit mindset at Premier Automation is contagious!" 
Premier Automation is an engineered solutions company that specializes in providing automation, drive and electrical control solutions and services to industrial markets. Premier Automation offers cost effective, industry specific technology solutions to help our customers increase their industrial productivity, efficiency and overall systems performance. We take the time to understand your unique process and requirements, and then work closely with you to develop the best control solution for your need.
To learn more about this program (SMART-ER) you can go to our Research area. You can also learn about the parent project, SMART. You can also email us at cmra@nrec.ri.cmu.edu for more information about either of these projects.