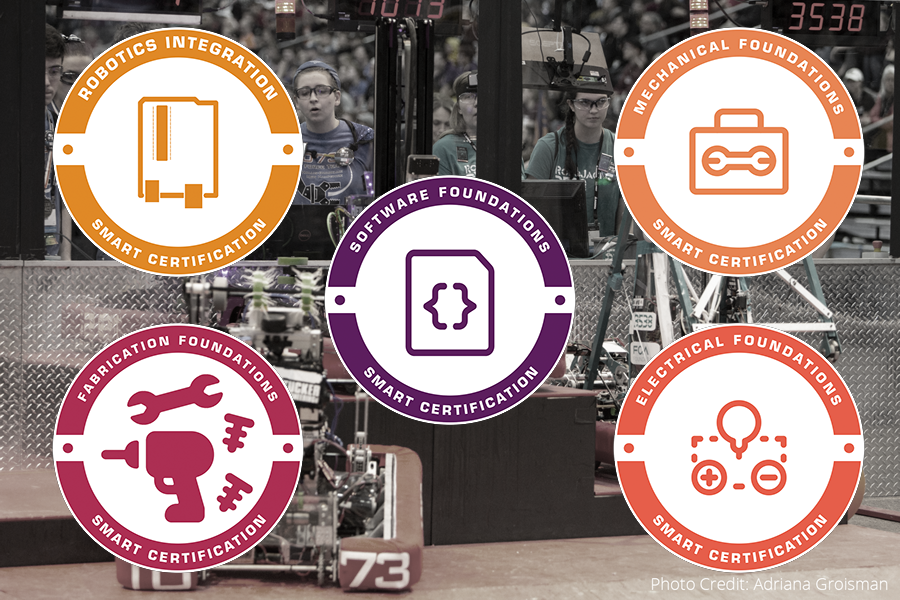 September 22, 2020
Become CMRA Certified based on your FRC Experience!
Our hearts go out to the many members of the FIRST community who are not able to compete this year due to the effects of the COVID-19 crisis. We would like to help past and current participants of the FIRST Robotics Competition have evidence of the incredible amount they have learned by being on a team. We are proud to offer student participants the opportunity to earn credentials endorsed by the Carnegie Mellon Robotics Academy.
Participants who have gone through at least one competition season can earn the micro-certifications by uploading evidence (e.g. photos, videos, diagrams) of various aspects of their robot and passing knowledge assessments (quizzes). The evidence and quiz focus on the Knowledge, Skills, and Attitudes that were identified during the SMART Project. These micro-certifications are offered in partnership with FIRST.
There are 5 SMART Micro-Certifications available that focus on different foundational competencies. Participants can opt to complete any number of them, based on their roles within their robotics team.
How do students begin earning SMART Micro-Certifications?
Participants can begin earning progress in the Micro-Certifications right away by going through the publicly available courses on the CS-STEM Network. To gain access to the final exam within any course, there is an access fee through the CMU Online Store. Learn more on the CMRA site. 
Is there any preparation work students should complete?
Throughout the season of a robotics competition, team members should save all documentation, take photos and/or videos while working on the robot, and while the robot is on the challenge field.