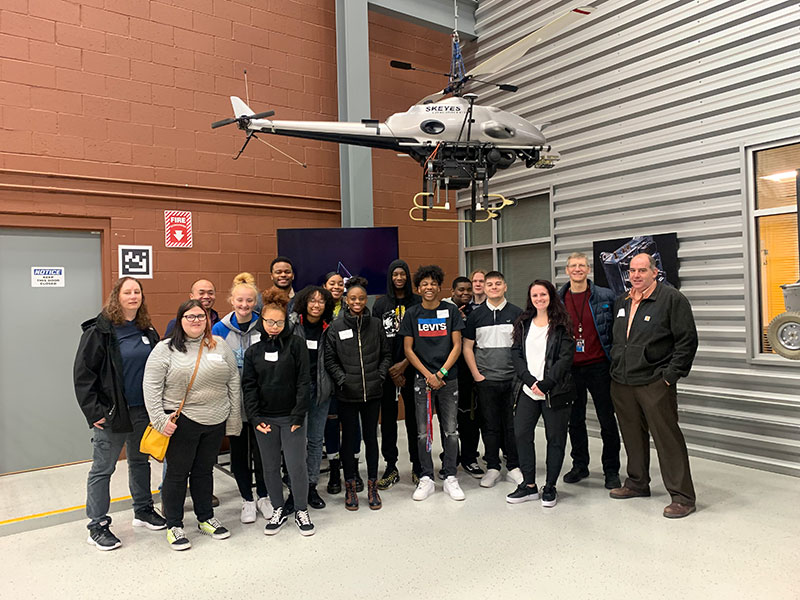 January 24, 2020
Carnegie Robotics demonstrates stereoscopic sensors and other innovations during tour for students
Jan. 24th, 2020 - PITTSBURGH, PA - Founder and CEO John Bares gave students from Clairton City High School a tour of his Pittsburgh-based Robotics company, Carnegie Robotics. 
Carnegie Robotics specializes in creating advanced robotics sensors and platforms for all kinds of applications. The tour took the students through learning about MultiSense stereo ranging sensors, and how it can be used to map out a room. Bares and his team also demonstrated their work with the autonomous floor cleaning robot, Nilfisk, which is able to autonomously navigate through a building while avoiding obstacles and stairways. 
The students from Clairton were taken through the sections of the facilities that ranged from testing (e.g. thermal and cooling, shaking), assembly, and production. Bares explained that the testing chambers and equipment were incredibly important to make sure that the products that they create can withstand harsh environments and scenarios that could break their sensors. 
Clairton City High School is partnered with the Will Allen Foundation to offer CMRA's SMART robotics technician micro-certification courses to get more students exposed to the types of foundational skills that are required technicians in the industry.  
Carnegie Robotics, LLC (CRL) is a leading provider of advanced robotics sensors and platforms for defense, agriculture, mining, infrastructure, energy and other applications.
Visit the SMART page to learn about the pre-apprenticeship program. You can also email us at cmra@nrec.ri.cmu.edu for more information about either of these projects. 
This program receives funding from The Grable Foundation.