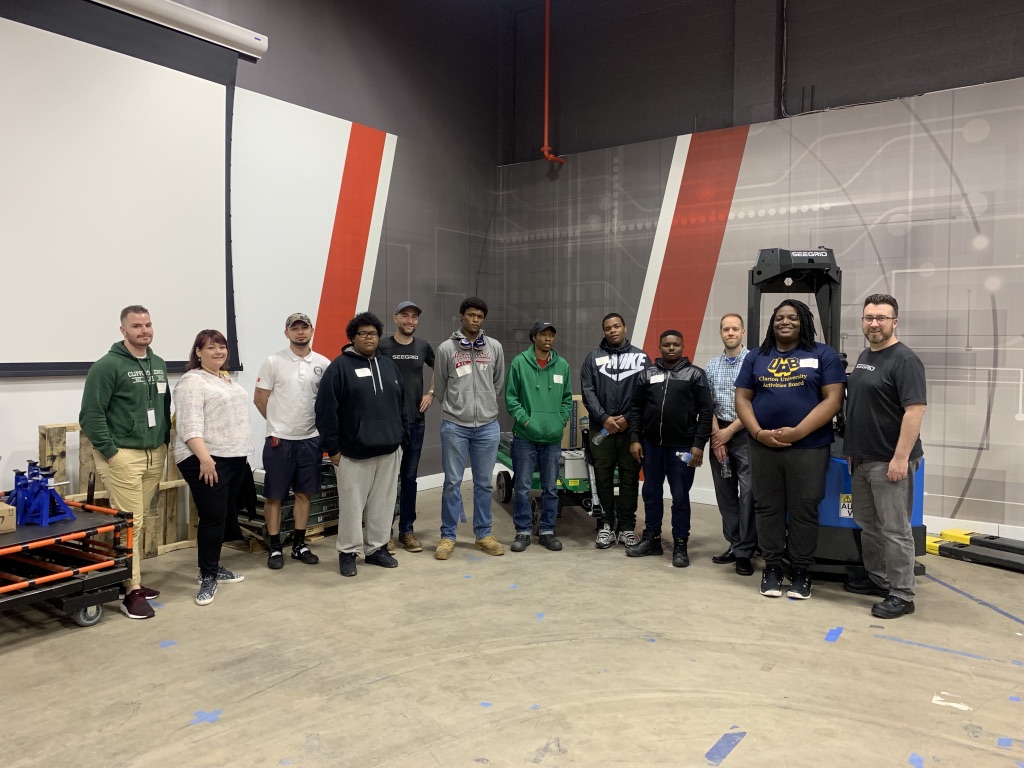 May 07, 2019
SEEGRID hosts local students to learn about their autonomous pallet trucks
 SEEGRID's decades of experience in the autonomous vehicles industry and a long list of big-name customers (Amazon, GM, and Whirlpool to name a few) helps put them as one of the leaders in self-driving vehicles. "Our self-driving vehicles have traveled almost 2 million miles over the past decade.", says Bud Leeper, Director of People Operations. SEEGRID hosted students from several different communities in Pittsburgh to take a tour of their workplace to learn about how their autonomous vehicles work. The students were taken through the tech-filled offices at their sprawling offices at RIDC park near Pittsburgh's airport. Greeted by several of their technicians and engineers, they talked with students on what their company does, what their customers are looking for in a product, and also what types of skills they look for when hiring.  
In their Pittsburgh office, they have over 140 employees coming from a broad spectrum of backgrounds. The technicians and engineers talked about their work, and what types of education that they went through to be in their career. You can tell from their enthusiasm in the products that they are incredibly passionate individuals. Seeing as it was named the Top Workplace in Pittsburgh for a second consecutive year, that comes as no surprise. SEEGRID prides itself in creating a culture that encourages creativity, but also ownership in what they are doing. The students were also greeted by a gentle, loving company dog named Tuck.
The demonstration and tour included a close-up of their autonomous pallet truck that is capable of lifting 10,000-pound loads across a warehouse. This type of technology can drastically increase the efficiency of a storage warehouse for a company like Amazon which has to move millions of items every day. This is just one of the ways that SEEGRID is helping to change the future of materials handling. 
The SEEGRID site visit, as well as many others, are all part of the SMART-Extended Reach (SMART-ER) project, which has students from underserved communities to go through a Micro-Certification course called Electrical Foundations. This project is funded by ARM, the Department of Labor through Partner4Work, and the Grable Foundation. To learn more about SMART-ER you can go to our Research area. You can also learn about the parent project, SMART. You can also email us at cmra@nrec.ri.cmu.edu for more information about either of these projects.