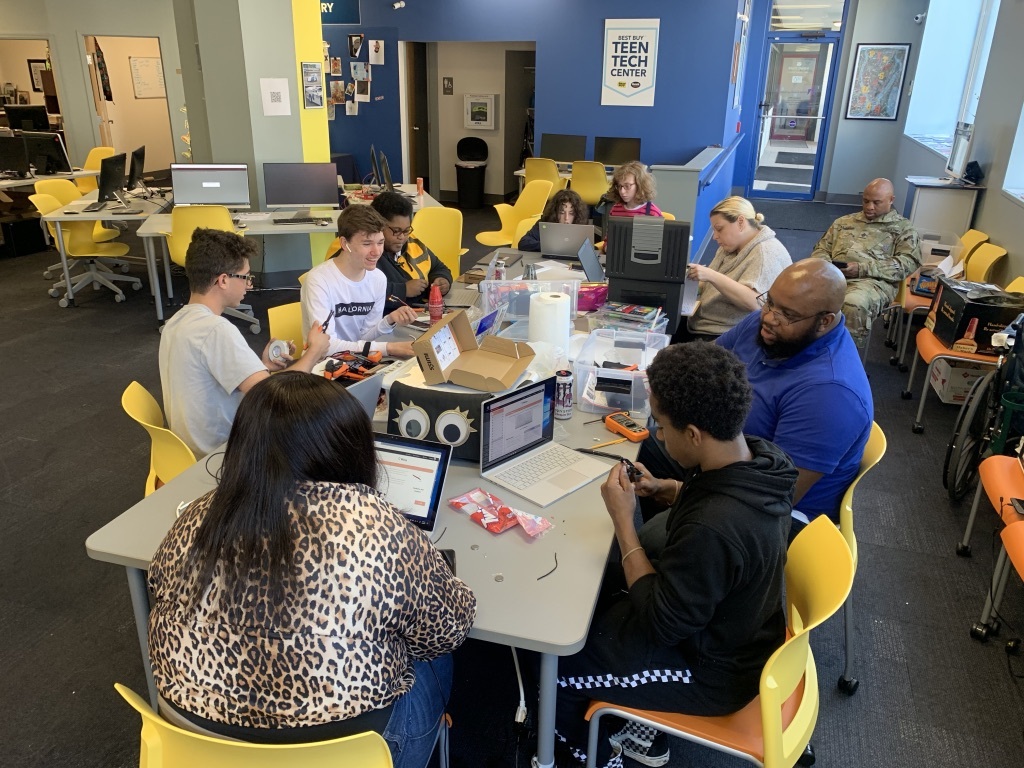 June 07, 2019
Phase 4's Best Buy Teen Tech Center kicks off Electrical Foundations training
Phase 4 Learning Center's Best Buy Teen Tech Center kicked off their Electrical Foundations training on Monday, June 3rd. Several teens gathered at the East Liberty location to go through the Electrical Foundations Micro-Certification course to begin building their Digital Portfolios to show evidence that they're learning skills like basic wiring, crimping, troubleshooting with a multimeter, and sending and receiving signals from a micro-controller. These skills are aligned with what is needed to become a Robotics Technician in the advanced manufacturing industry as identified by research done by Carnegie Mellon Robotics Academy (CMRA) at CMU.
"This is an amazing partnership between CMRA and PHASE 4 Learning Center.  These young people not only get a chance to build a Digital Portfolio, but to build a bridge and create a pathway to a career in technology." says Aaron McKinnon, Best Buy Teen Tech Center coordinator, "The Best Buy Teen Tech Center is all about access and opportunity and is committed to preparing teens from underserved communities for the tech-reliant jobs of the future".
Best Buy has recently partnered with the Pittsburgh-based non-profit PHASE 4 Learning Center to create the Best Buy Teen Tech Center. As the only Best Buy Teen Tech Center in Pennsylvania, the location provides free after-school programs where teens can play, discover and learn about a variety of topics including graphic design, digital photography, audio and video production, game and app development, film-making and much more. 
PHASE 4 is a member of The Clubhouse Network: Where Technology Meets Imagination. The Clubhouse Network is an international community of 100 Clubhouses located in 18 countries, providing youth with life-changing opportunities for 25 years. Each Clubhouse provides a creative, safe, and free out-of-school learning environment where young people from underserved communities work with adult mentors to explore their own ideas, develop new skills, and build confidence in themselves through the use of technology. Learn More about Phase 4 Learning Center
Electrical Foundations is one of several micro-certification courses being developed by CMRA. To learn more about SMART-ER you can go to our Research area. You can also learn about the parent project, SMART. You can also email us at cmra@nrec.ri.cmu.edu for more information about either of these projects.