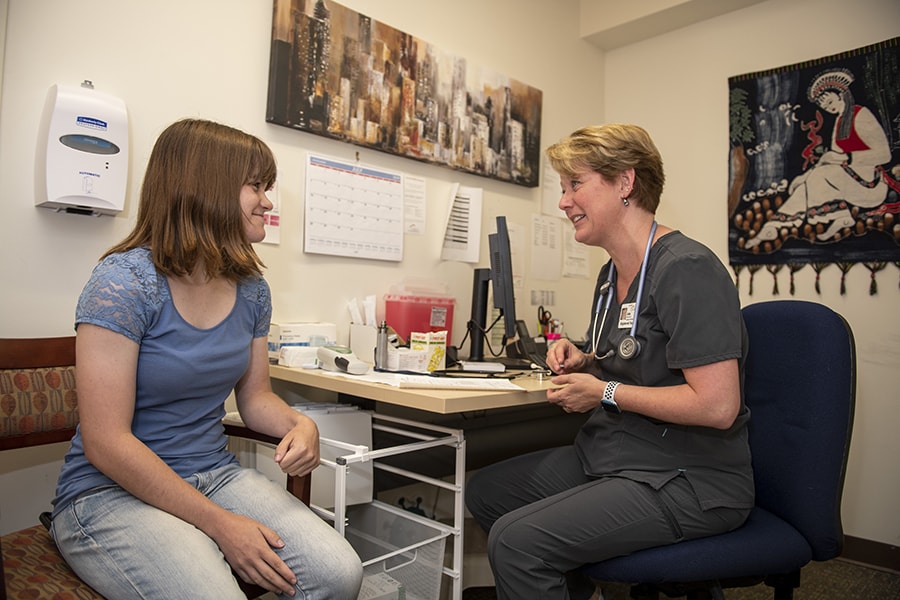 January 06, 2020
Staying Healthy on Campus
For new undergraduate students, college is a time of growth and independence; and for some that means that they are learning how to manage their own health. We know that transition can be worrisome to parents and family members. University Health Services (UHS) provides excellent, evidence-based care to CMU students as a healthcare facility accredited by the Accreditation Association of Ambulatory Health Care. Its mission is to provide and support a campus climate of health and well-being that fosters student success. To that end, UHS provides acute illness and preventive health services during more than 30,000 student visits per year. Services include acute and chronic condition management, immunizations (including flu clinics), allergy clinics, and behavioral health support via screening, referral, and comprehensive care team management.
Many students arrive on campus with existing healthcare needs. UHS is happy to partner with them to develop a plan for continued care once they come to campus, whether that means assisting with medication or therapy for a chronic condition or consulting about managing that condition. It might also mean working with the Comprehensive Care Nurse Manager, whose job is to guide students and parents through the process of accessing the right care at the right time.
UHS's preventive health services offer a wider view of campus health. UHS offers advice and support to students seeking a healthier lifestyle in areas such as preventing infections, addressing alcohol and drug use concerns, learning about eating nutritiously, education about sexual healthcare, and stress and sleep management assessments. This includes talking with students about the importance of being fully vaccinated in order to protect themselves and their fellow students from the spread of infectious diseases, including the flu. All students are encouraged to get the flu shot and UHS provides almost unlimited opportunities for students to get one. As winter weather and flu season approaches, students should consider that missed classes and assignments due to the flu are largely preventable by obtaining a flu vaccine.
UHS works closely with community providers such as local hospitals and specialists, as well as with university resources like the Office of Disability Resources, Housing Services, Dining Services and Counseling and Psychological Services (CaPS). They also assist the Student Affairs college liaison when a student would benefit from and is seeking support in navigating academic commitments. College liaisons then partner with students, academic advisors and college associate deans to help manage unforeseen or challenging circumstances.
Student visits to UHS are confidential unless the student asks/consents to giving families information or if the student is too ill/injured to speak for themselves. A Power of Attorney is not needed for any student in peril. The student's emergency contact(s) will be notified if UHS learns of any student who is unable to communicate with their families about a health emergency.  
While your student will drive decisions about their health and level of engagement with UHS, we see families as important partners in fostering the health and well-being of students. For more information, please visit the University Health Services website.