November 22, 2019
Changemaker Series: Integrated Social Innovation
By Elizabeth Donaldson edonalds(through)andrew.cmu.edu
A culture of changemaking
At the Integrated Innovation Institute, classroom walls become Post-It note collages, whiteboards are illustrated journey maps, and no matter the campus, student teams huddle around notebooks and laptops, sorting through challenges together. Immersed in cross-disciplinary collaboration, students of Integrated Innovation's programs are equipped and confident to solve major problems. Now, a new initiative is encouraging students to apply to their unique problem-solving skills to opportunities for social innovation.
Inspired by the Millions of Changemakers campaign by the Ashoka U network of universities, organizations, and civic leaders dedicated to social innovation, Karimulla Shaikh, faculty for the Master of Science in Software Management program, is committed to preparing students for a life of transformational and meaningful work.
"Our mission is to train students to be changemakers. The idea of changemaking gets seeded when you're a student here, but you carry it with you for the rest of your life," says Shaikh, explaining that students learn to empathetically solve and lead social change by engaging with design thinking workshops, community initiatives, a social innovation capstone course, as well as campus events. Shaikh is also an advisor to Changemakers@SV, a newly formed student organization that hosts workshops, social impact discussions, and guest lecturers.
Cross-campus connections
At the most recent Changemakers@SV event, students welcomed Dr. Narayan Sundararajan, Chief Technology Officer of Grameen-Intel, to discuss technology for social impact as part of his ongoing book tour. Recently, Sundararajan co-authored "The Rule of One: The Power of Social Intrapreneurship" with Kazi Huque and Jacen Greene, a detailed reflection of the team's journey as social intrapreneurs at Grameen Intel, a social venture based out of Intel. Dr. Sundararajan shared how he leveraged his experience at Intel to create an internal team of social innovators, identifying an intersection of technology and social impact, and fielded questions from aspiring changemakers.
Sundararajan shared that the Grameen-Intel team used the United Nation's 17 Sustainable Development Goals as a framework for their areas of interest. From there, they narrowed their focus to maternal and agriculture, addressing the UN's goals concerning poverty, hunger, and health. 
"Don't try to boil the ocean," Sundararajan emphasized. "Focus is absolutely key."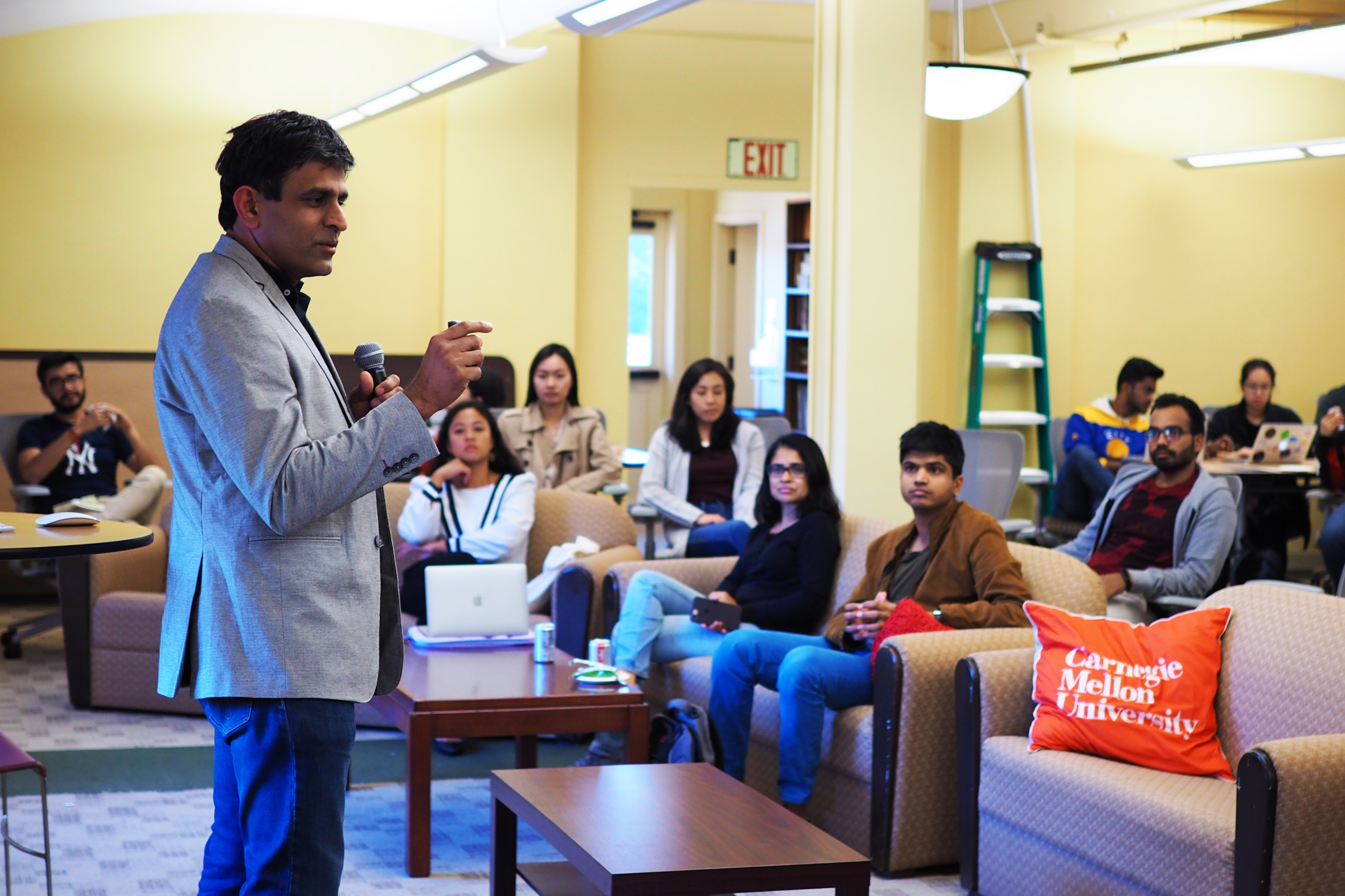 Dr. Sundararajan at Changemakers@SV event
Sundararajan was joined by his co-author Kazi Huque as he continued his tour, traveling eastward to Carnegie Mellon's campus in Pittsburgh. Their talk complemented the Master of Integrated Innovation for Products and Service's Friday Seminar, a weekly lecture or workshop delivered by a leader best representing one of the Institute's Changemaker pillars: technical, ethical, reflective, engaging, visionary, and tactical. 
The Grameen-Intel co-founders spoke to students from Integrated Innovation as well as other graduate students in the College of Engineering and the Heinz College of Information Systems and Public Policy. The authors shared that, in effort to address maternal care, they began researching how preventable environment factors harm pregnant women and their children. They began traveling in rural India, Nepal, and Bangladesh to learn more about the women and communities facing high infant and mother mortality rates.
In these rural regions, women cook in small spaces and on stoves fueled by wood, dung, or charcoal, methods which produce dangerous levels of CO2. The team explained that 4 million women and children die every year fromCO2 exposure and that even nonfatal exposure can seriously impact a fetus's health. Their solution as a smart device to be worn by pregnant women which would measure CO2 levels and sound alarms when the levels were too high. It would also share maternal health tips and track vital signs. The team created a bangle that could measure CO2 in close proximity, announce messages in local languages, and lasted over 10 months on one battery. They did field trials in villages throughout their target regions and learned something very valuable.
"It was an engineer's bangle—it was ugly!" laughed Sundararajan. "It had to be beautiful, it couldn't just be a gadget." 
The team responded to the user feedback, visiting jewelry shops across the countries, learning about local jewelry customs, and adding a jewelry designer to their team. Their next iteration was smaller, more comfortable and stylish, and allowed for customized designs to pair with local styles. The alerts and advise were read by a popular model. The new bangle was well received and women began thinking of it as a status symbol and something to show off. All the while, they began to understand the significant danger of CO2 and recognizing the maternity tips, acting to preserve and improve their health and that of their children.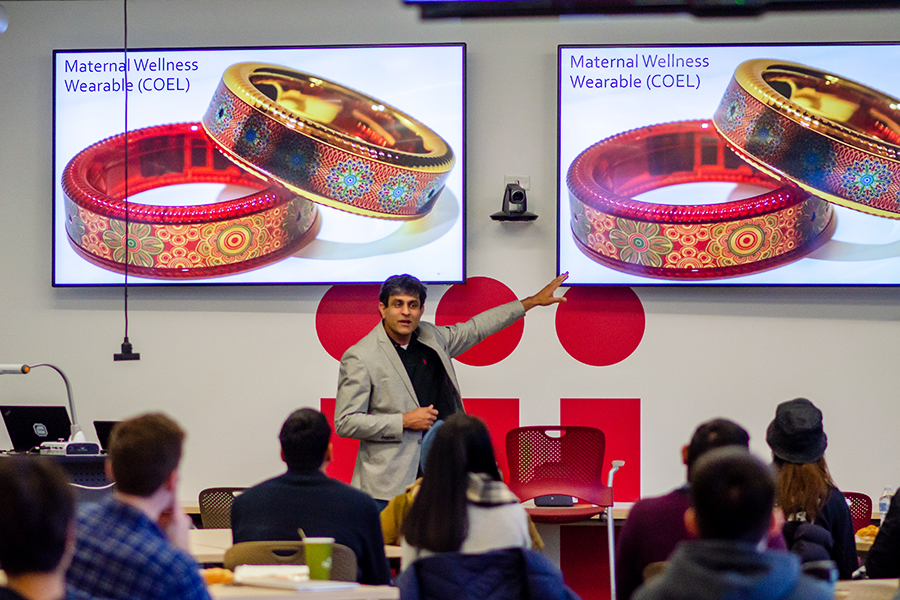 Narayan Sundararajan presenting the Maternal Wellness Wearable
With all of the engineering, adaptable technology, and design costs, the bangle wasn't cheap to make. But the per capita annual income for these regions was around $1,800 USD. Kazi Huque had decades of experience in creating pricing models for Intel as a finance director, and he applied his skills to develop a sustainable business model for the intrapreneurial project.
"We needed to create useful products at feasible price points—not products that we thought people wanted, but actually learning what they wanted. So we converted what our product into a demand and operate with a private model to keep costs low and volume high," Huque said. He also elaborated on the value and long-term effectiveness of Intel's social intrapreneurship group: "Many corporations do drive-by projects: launch a pilot or project and then leave, heading back to Silicon Valley to go back to their jobs. But you can't do pilots forever. You have to create a real business, enable real transactions on a local level."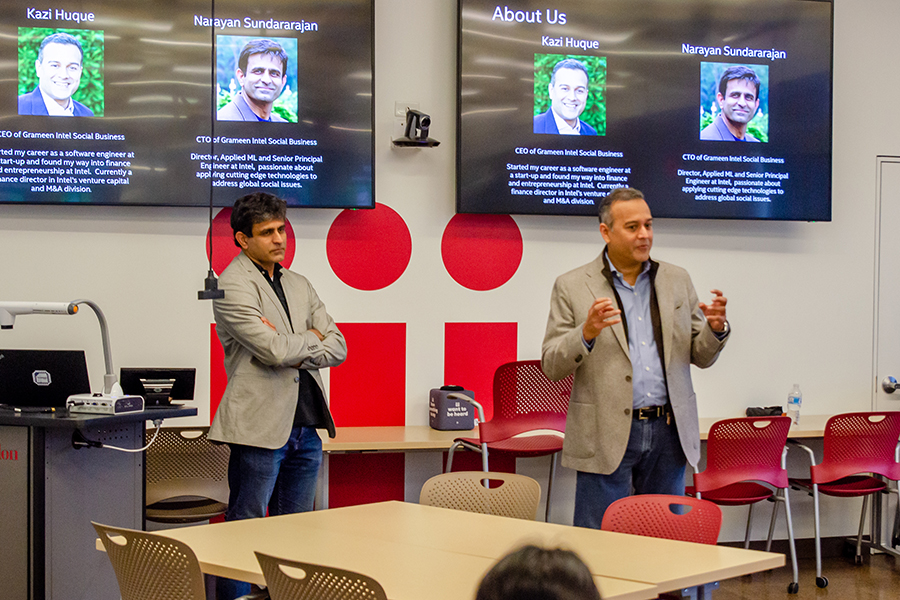 Narayan Sundararajan and Kazi Huque talking with students in Pittsburgh
Huque and Sundararajan utilized the brilliant problem solvers at Intel as they developed their intrapreneurial program. They invited Intel's top engineers and designers to collaborate and solve for critical issues. The two also empowered students to consider how they could lead social change within their future organizations.
"We have a lot of people come to campus to talk about entrepreneurship, so I think this new angle of intrapreneurship is really interesting," says Akriti, reflecting on social innovation. "When we're creating technologies, we have to ask who that technology is helping and if it is helping those who have been neglected by the rest of the world. The first thing about being a Changemaker is about becoming a leader who thinks of success for everyone, not just himself or herself."
Like many of her peers, Akriti hopes to follow in the footsteps of the Grameen-Intel team and become a leader devoted to creating a better future for humanity.
Editor's note: this story is the first of a three-part series entitled "Changemakers." This series will be published throughout December 2019; future articles will be available at iii News.