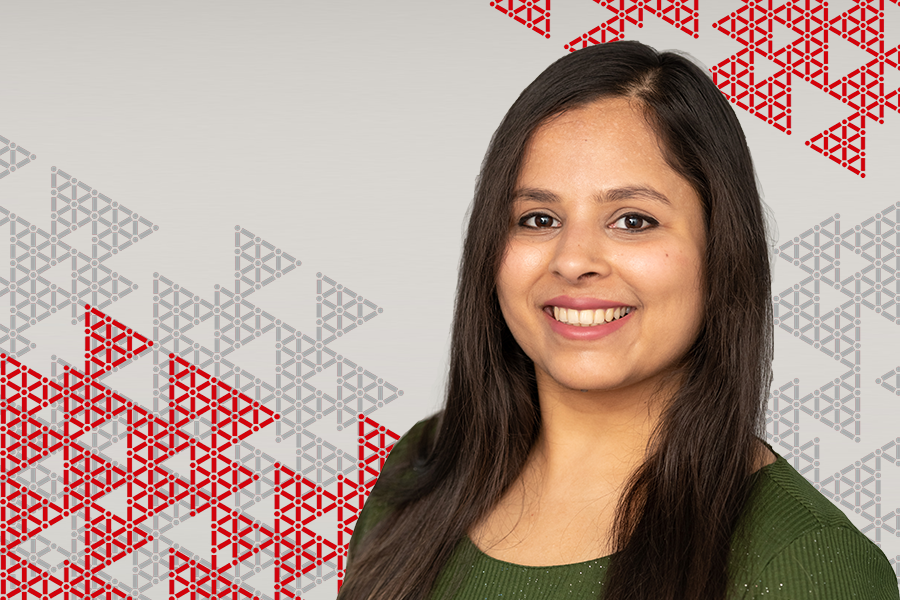 February 03, 2021
Lifelong Entrepreneur: Shreya Agarwal
By Elizabeth Donaldson edonalds(through)andrew.cmu.edu
Shreya Agarwal (MSTV '21) started her first business when she was just nine years old. Agarwal's initial venture was a website where she explored graphic design and generated revenue from Google ads. A few years later, she tackled her next project: an application to hail taxis in India, well before Uber arrived in the country. Next was AuthorizeDealer.com, an aggregating site that connected manufacturers with authorized dealers in order to help brick and mortar businesses survive the ecommerce era; the site was a success, especially among cement and air conditioning businesses.
"I've always been a product person," admits Agarwal. A lifelong entrepreneur, Agarwal's interest in developing viable technology products helped inform her decision to join the MS Technology Ventures program.  
Working closely with MSTV Program Director, Sheryl Root, Agarwal has explored the integrations of hardware and software to develop valuable solutions for real customers: "I came to MSTV with the goal of creating a startup. Sheryl has helped immensely—she knows us, understands our goals, accomplishments, and our capabilities."
In Root's course "Startup Creation," Agarwal and her classmates were challenged to refine the scope of their startup concepts by clearly defining their problem space through deep explorations of current or related problems.
"By the end of the mini, I had knowledge about the problem aspects, customer groups and needs, and what exact technology will need to come into place," says Agarwal.
Energized by the support of her professors, Agarwal also earned the highly selective James R. Swartz Entrepreneurial Fellowship at the Swartz Center for Entrepreneurship, which continues to foster her entrepreneurial potential and leadership. As a Swartz Center fellow, Agarwal is part of a small cohort of fourteen other students from across the University. The fellowship allows her to enrich her skills through hands-on experiences, networking, and additional coursework. She will also be placed in a summer internship at a top-tier, VC-backed startup in the Silicon Valley area. Since becoming a Swartz Fellow, Agarwal's network of mentors and influencers has grown tremendously.
"Currently, I am working with a cofounder and learning from someone whose path I plan to follow," Agarwal says, explaining that she has been matched with mentors through the Swartz fellowship. "I also have access to a network of mentors. If I have a question about target markets, I can connect to an experienced mentor so I can learn about optimizing solutions for market and make more informed decisions."
As an entrepreneur, Agarwal is interested in psychology, driven by the motivation to understand people. A good business doesn't just produce a product or service, but instead solves a real problem and helps real people, explains Agarwal, noting that usability and value are among her top priorities.
Agarwal's desire to understand and help others goes beyond her entrepreneurial goals, though. As a member of the CMUiii Anti-Racism Committee, she has helped organize student events around social-justice-oriented conversations and contributed to the Anti-Racism Canvas course.
"I want to leverage my knowledge of organizational and behavioral psychology to understand bias," she says. As a champion of software and technology, she notes that tech could help us emphasize our humanity and build deeper connections. "There are a lot of perceptions of the unknown. We need common platforms where we can get to know others, question our biases, rethink judgments, and build common identities."
Though Agarwal's startup concept is currently being refined, her impact on the culture of the Integrated Innovation Institute is immediate and longstanding.