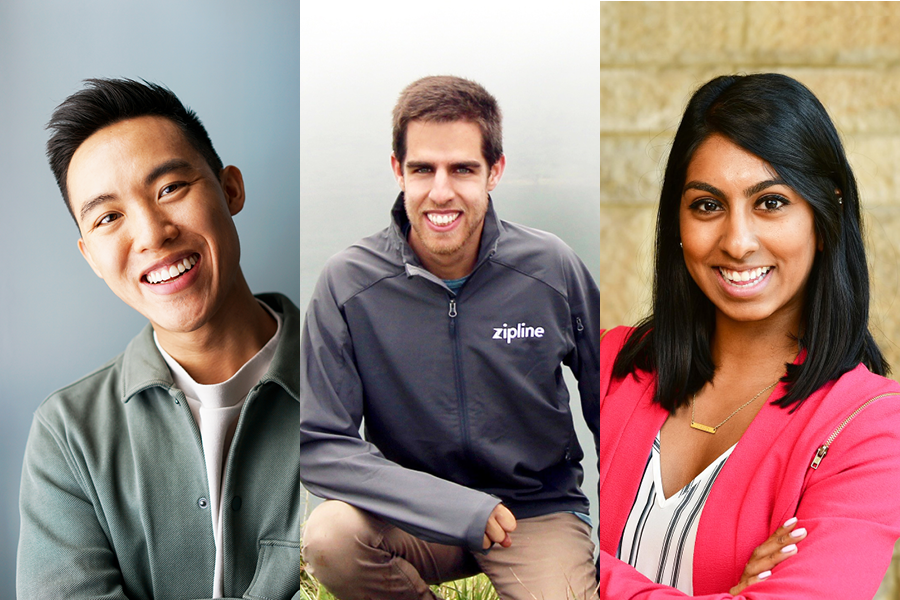 November 07, 2019
Accelerated Impact
How three recent graduates are using their CMU education to change the world
They graduated from CMU less than a decade ago, but these three talented recent alumni are accelerating their careers by making big marks on their fields. 
Whether they are saving lives by programming drones to deliver medical supplies to remote corners of Africa, directing brand strategy for a major foundation or helping hospitals and health care systems improve patient care through cloud-based technology, these Tartans are using their CMU education to change the world.   
Designing for social justice
Victor Ng (A 2012) is a man on a mission — using his design and brand strategy skills to fight for the causes that matter most to him.
"Applying design thinking to large structural problems was at the core of my education at CMU," he says. "This way of working has served me well in every step of my career, from startups to presidential campaigns, newsrooms to philanthropy." 
Victor's carved out a meaningful professional path, working as design lead for Hillary Clinton's presidential campaign and senior manager of growth for The New York Times. He recently stepped into a new position as design and brand strategy director at the Ford Foundation. Victor says Ford's vision of social justice and challenging systems of inequality requires persuasive storytelling, and he's looking forward to playing a key role in this work.
"It was powerful knowing that I could help people tell their stories." 
"We live in a golden age of visual communication," he says. "As a designer, there's nothing more exciting than the opportunity to use our tools — typography, color, images, illustration, motion and more — to express big, bold ideas." 
Victor's most formative CMU experiences took him out of the classroom and into the community. He reached out to the Lupus Foundation of Pennsylvania and helped them reimagine their brand strategy as a class project for School of Design Associate Professor Dylan Vitone. In Professor Charlee Brodsky's photography course, Victor photographed a formerly incarcerated mother and her children weekly to document their family life.
"It was powerful knowing that I could help people tell their stories," he says. "That really changed my view of what I could do in this industry and career."
Victor received scholarship support at CMU, which led to him establish the Victor Ng Design Impact Award to recognize students who are passionate about how design can advance social justice. Each year, the faculty selects one student to receive the $3,000 award.
"It's been a great, full-circle moment to go back to Pittsburgh and meet these students," he says. "The tradition of CMU designers going out and tackling challenging social issues is still very much alive."  
Delivering hope through software
Ryan Oksenhorn (CS 2012) is putting his CMU education to work as head of software at Zipline, where he's spent more than six years building and refining drones that give doctors instant access to critical medical products, like blood and vaccines, in Ghana and Rwanda.  
"It's so rewarding to see the impact a day's work can have," he says. 
Ryan's team manages all of Zipline's software needs, from powering the drone fleet to managing distribution centers and providing user-friendly apps for physicians to request supplies. 
"It's so rewarding to see the impact a day's work can have."
An estimated 13 million people live within Zipline's service areas. The company's autonomous drones are able to avoid the obstacles faced by traditional transportation and quickly deliver life-saving medicines to the doctors and patients who need them. 
Recently, Ryan and his team traveled to Ghana to work on flight paths and create a more efficient route to one of the hospitals there. The very next day, their drone was able to make a life-saving delivery to that hospital after a man was bitten by a snake. 
"I'll never forget that," Ryan says. 
Although Ryan's career has taken him around the world, he has a special place in his heart for Carnegie Mellon. When he first visited campus, he caught a glimpse of students hard at work inside CMU's Robotics Institute and knew he'd found where he belonged. 
As a student, Ryan honed his skills by working with Professor William "Red" Whittaker to build a visual odometer for Andy, CMU's robotic lunar rover. He also completed an independent study designing robots to play soccer. 
"There was so much creativity at CMU," he says. "I learned how magical it is to work with a team toward a common goal." 
Bridging science, technology and people
One CMU degree just wasn't enough for Shalini Ray (S 2015, HNZ 2016). 
After earning her bachelor's degree in biological sciences, she pursued her master's degree in healthcare policy and management at Heinz College.
"It was the perfect way for me to take my love of science in a different direction and learn about the business aspects of health care," she says. "My CMU journey was a hard five years, but an awesome five years." 
Shalini has hit the ground running as a member of ConvergeHEALTH, Deloitte Consulting's health care and life sciences product division. Every day, she's able translate her skills into tangible results for hospitals and health care systems.
"The confidence I gained at CMU helped get me to where I am today."
As a consultant and liaison, Shalini helps clients use her company's cloud-based tools to interpret their data and improve patient care, clinical documentation and revenue processes. 
Recently named one of the City of Boston's 2019 EXTRAordinary Women, Shalini is devoted to giving back to her community. 
A dedicated mentor with Big Sister Boston and the Junior League of Boston, Shalini also helped plan a charity gala with the American India Foundation that raised more than $1 million for MANSI, a nonprofit that aims to reduce maternal mortality in India.
Her experiences as a Highland Ambassador and vice president of CMU Student Government sparked her interest in service and leadership.   
"The confidence I gained at CMU helped get me to where I am today," she says.