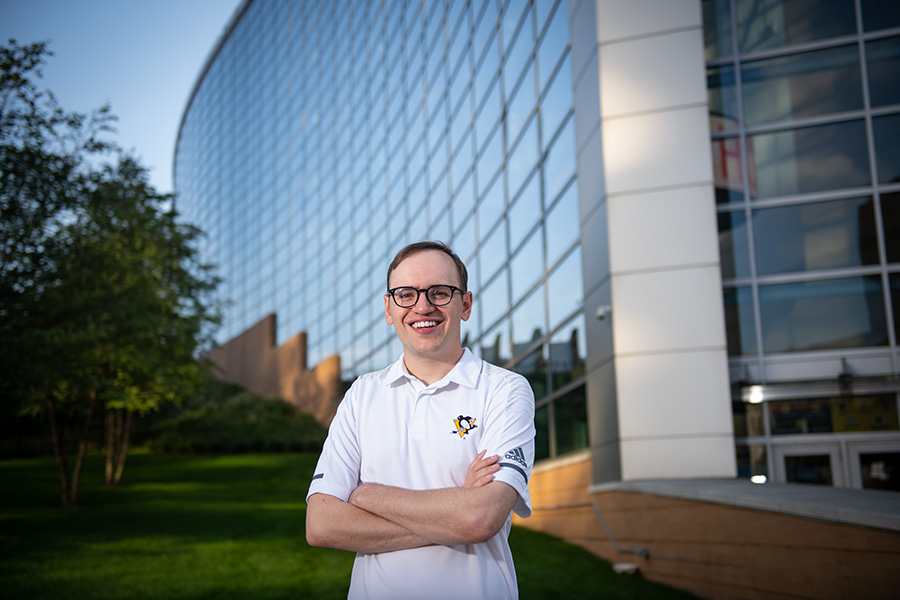 October 03, 2019
A Numbers Guy
Alumnus Nick Citrone's hat trick of sports, stats and CMU has propelled him to a behind-the-scenes career with one of the NHL's top teams
Every slap shot. Every breakaway. Every power play. Every hit.
Every time the Pittsburgh Penguins take the ice, their scouting report and strategy are informed by numbers and predictions calculated and created in part by data analytics coordinator and CMU alumnus Nick Citrone (TPR 2016, DC 2017).
"The more data you have, the easier it is to make decisions," Nick says. "A lot of what I do is to provide more information and more data for the decision makers."
And every day at PPG Paints Arena is unique for Nick as he works on both the hockey and business operations for one of the NHL's top teams.
On the hockey side, he analyzes hockey players in leagues from around the world and creates statistical reports, dashboards and new evaluative metrics for decision makers in hockey operations.
On the business side of the team, he's used his CMU skills for some unexpected calculations including the impact of being the "official" grocery store of the Penguins, how to best distribute points in the Pens Points loyalty program and an examination of ticket prices.
When it comes to the business side of things, Nick is comfortable there as that's where he started out at CMU.
With no clear career in mind just yet, he thought maybe he'd follow his father's footsteps into the business world. He watched his roommates build robots and write code as engineering and computer science majors, and he waited to see where his courses would take him.
His eyes opened to a new future on the first day of his Modern Regression course.
"At CMU and in the statistics department, there is a thought of what can we do with this information that we're not doing already. There's always an opportunity to be curious and creative."
"Our professor gave an example of grocery stores using data to sell milk for the best price every day and running the regression analysis," Nick says. "It blew my mind. This was a definitive right answer. I hadn't seen much of that so far."
Over the next few semesters, he added a second major in statistics to his business administration major. As a lifelong and self-avowed sports fanatic with a devotion to IndyCar racing and the New York Jets, he realized his hobbies could translate into a career.
"I saw how I could incorporate data into that," he says. "I knew I loved sports and I loved stats, but I had never thought of it as a career."
During his undergraduate studies and his master's degree program in statistical practice, Nick learned from his current boss and Penguins' Director of Hockey Research Sam Ventura (S 2010, DC 2010, 2011, 2015) as Ventura finished his doctoral degree and served on CMU's faculty.
Nick put his sports savvy to work for his undergraduate research project, and Sam oversaw his NFL research project where he looked at maximizing the draft value of players based on their positions and their round of selection in the draft. He also analyzed and predicted the success of quarterbacks using their college stats and NFL Scouting Combine measurements and shared his findings during Meeting of the Minds, the annual undergraduate research symposium.
"My poster was on drafting NFL quarterbacks. It was next to posters about sea urchins and bus transportation routes. My poster was by far the least visited of the three," Nick jokes.
He knows his time and lessons learned at CMU will impact his life and career in the future.
"At CMU and in the statistics department, there is a thought of what can we do with this information that we're not doing already. There's always an opportunity to be curious and creative," Nick says. "In the future of statistics, your only limitation is your creativity."