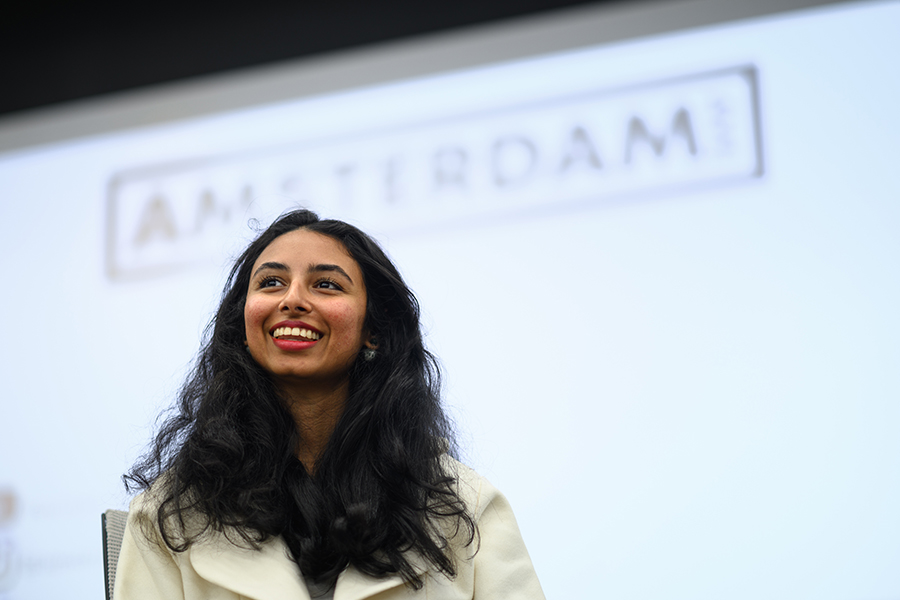 October 18, 2019
"Amsterdam Ave." Ambitions
Alumna Pooja Tripathi launches new web series with bold intentions to break down barriers for female filmmakers and reach a global audience
When Carnegie Mellon University alumna Pooja Tripathi (TPR 2014) went dancing at a Saint-Tropez club during her study abroad semester in France, she couldn't have guessed that a chance encounter would change her entire life.
But when Pooja's friends meshed with Dionne van den Berg's friends on that dance floor, the Indian-American CMU student and the Dutch-Surinamese university student on vacation just clicked.
Fast forward seven years — Pooja and Dionne are crisscrossing the United States and hopping planes across the Atlantic Ocean to promote their new Dutch-American web series "Amsterdam Ave." premiering in November 2019 on YouTube.   
In the show, an Indian-American girl in New York City who dreams of being a DJ and a Dutch-Surinamese girl in Amsterdam with her heart set on acting switch home cities to follow their dreams. 
"We know we've hit on a couple of things that are getting bigger — women in film, women of color and multiple streams of new media," Pooja says. "I'm definitely surprised and happy that this is where I landed. In the beginning, I only saw a couple of options based on the people around me. It was such a long journey to get here."
After starting out with intentions to go to medical school, Pooja transferred into the business administration program at the Tepper School of Business and maintained a minor in violin with the College of Fine Arts. Following graduation, she entered New York City's fashion world with positions at Bloomingdale's, Christian Dior and Videofashion where she interviewed top designers and models at events like New York Fashion Week.
"I had a job that was very covetable. Most people think it's glamorous, but the realities are different from what it looks like from the outside," Pooja reflects. "I didn't feel like I was getting to be creative and use my skills."
At the same time she was realizing her days were filled with more spreadsheets than couture, she reconnected with Dionne. Pooja started drafting a script with her and took a leap to join Dionne's company Fountain Avenue Productions as an executive director.
"I'm definitely surprised and happy that this is where I landed. In the beginning, I only saw a couple of options based on the people around me. It was such a long journey to get here."
The mindset driving Fountain Avenue Productions' industry-busting model is two-fold — create entertainment for a wide, global audience and empower female filmmakers in all facets of the industry.
"We want to provide and create opportunities for women because the opportunities (out there) are way too few for women," Pooja says. "On our production of 'Amsterdam Ave.,' 90 percent of the key positions were held by women, and the crew was mostly women" in both Holland and New York City.
"We also wanted something beyond the same stereotypical South Asian characters and to show that there were people in South Asian communities that have different interests," she adds.
The show also includes notable Dutch and American talent including music directors DJ twins Coco & Breezy and Catherine Curtin, who is best known her roles on "Insecure," "Stranger Things" and "Orange is the New Black."
Pooja and Dionne are the heart and soul of the show serving as the lead actors, writers, editors, casting directors, marketers, promoters and even extras in some scenes. For Pooja, this meant pushing out of her comfort zone.
"I had a couple of lessons to learn how to DJ. It's particularly awkward when you're shooting because you have to dance and DJ with no music, so that's a bit weird," she laughs. "I also took an Improv 101 class. I loved doing it, but I was terrified. We had a lot of people depending on us, and we were working with experienced actors."
Through the 18-month process from the script's start to the current screening tour, which included a stop on Carnegie Mellon's campus in mid-October, she's tapped other skills that stretch back to her time at CMU.
"Business is something that you can use in a bunch of different ways. What we're doing now requires many different skills — putting together a crew, managing a set, creating a world for our show with marketing, branding, consistency. It's not an option for us to wait around for a manager to do all these things."
Pooja believes the work that went into acquiring her CMU degree prepared her for these exact moments.
"Having that experience in having to work hard gets you really far. All of that hard work and effort has made it possible to have this show."
Over the next few months, they'll continue their screening tour where their partnering with women in film organizations, Scholastic, LinkedIn and other groups with a goal of following in the footsteps of other notable web series turned television shows like "Crazy Ex-Girlfriend" and "Broad City."
"It's become a way to go, and it's happening more and more," Pooja says. "We know that every different part (of our show) can only be as good as we make it. We've put everything into it."