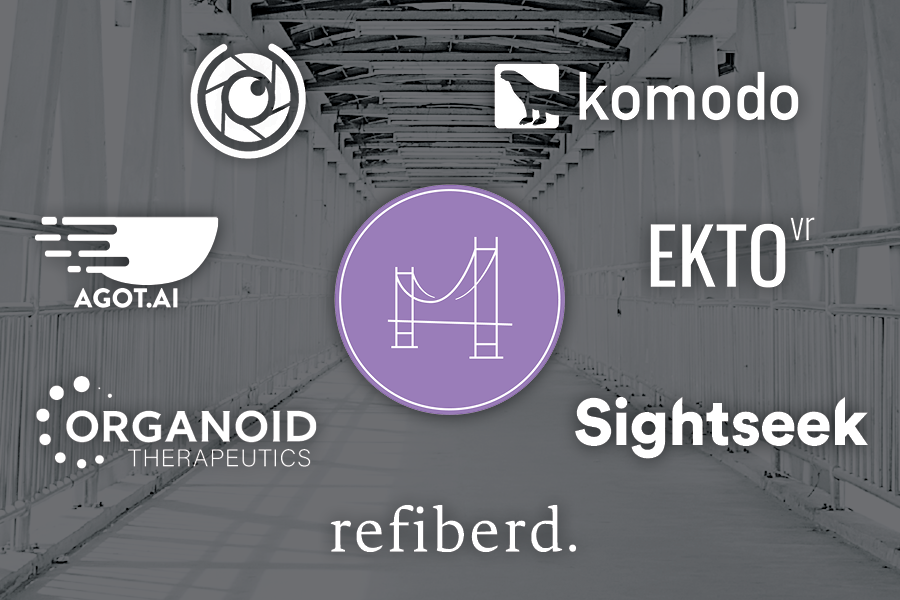 February 25, 2021
Building Bridges to Silicon Valley (and Beyond)
The VentureBridge program gives alumni founders the tools they need to go from seed stage to successful startup
As a founder, laying the groundwork for a thriving startup requires a lot of tools — and even more advice and insights.
Now imagine, a free program that provides your startup with $25,000 in funding, access to unparalleled mentors and renowned industry experts, weekly roundtables to troubleshoot challenges with fellow founders, targeted one-on-one advice, and co-working and incubation spaces in San Francisco's Financial District and on Carnegie Mellon University in Silicon Valley's campus in Mountain View, California.  
As one of Carnegie Mellon University's alumni, that dream is a reality thanks to VentureBridge, a program that provides all of that and more in a 12-week summer accelerator. 
"VentureBridge focuses on graduating seniors and alumni who have started working on their business ideas and need help with growing the business from 1 to 100 customers," says Namrata Banerjee, director of VentureBridge, a CMU entrepreneur-in-residence and a 2004 Dietrich College of Humanities and Social Sciences graduate. "We welcome startups from across the spectrum. We have some companies where our seed funding was the first check and others that had raised $100,000 or secured NIH or NSF dollars before we invested in them."
"We are building bridges between our founders and the entrepreneurial ecosystems in Silicon Valley, New York City and beyond," she says. "Our ability to plug our founders into burgeoning ecosystems and get them exposure is what makes this program unique."
The program, an initiative of CMU's Swartz Center for Entrepreneurship, aims to develop Tartan alumni's pre-seed and seed stage ventures into fundable startups with focused CMU support that includes investor office hours, workshops and founder dinners with prominent investors and entrepreneurs like Benchmark's Bill Gurley, Pure Storage's Scott Dietzen, Bess Ventures' Lane Bess, a16z's Jennifer Li, Modsy's Shanna Tellerman and NestLab's Matt Rogers among others.
Prior to the pandemic, founders gathered in Silicon Valley and relocated there for the summer. After three months, a Demo Day event would showcase the progress they made throughout the program.
Last summer's all-virtual format allowed the program's geographical focus to expand — much like the startup ecosystem is doing as a whole.
"We had companies in Pittsburgh, San Francisco, Seattle and Nebraska. They just dialed in from wherever they were in the country," said Aleksander Petkov, VentureBridge program manager.
"It also opened up a lot of opportunities to get experts and investors across the entire United States and in the international community to engage with our CMU companies in a way they had not been able to do in the past due to the ease and convenience of the virtual environment."
The

most recent cohort

reflects CMU's interdisciplinary strength, and these founders share how those strengths and the CMU connections have impacted their companies.
Agot.AI
Evan DeSantola (SCS 2019), Alex Litzenberger (SCS 2020)
"VentureBridge and the Swartz Center connected us to a network of CMU alumni investors, funds and talent, allowing us to scale beyond our initial small deployments. Thanks to their support, Agot.AI's Good Order Technology is being used by several of the largest enterprise foodservice brands in the world." — Evan DeSantola, Agot.AI co-founder and CEO
Aperture
Vishakha Gupta (ENG 2006)
"Participating in the VentureBridge accelerator gave us access to experienced alumni mentors who have been immensely helpful in understanding enterprise contracts, go-to-market motions, marketing and establishing our sales process. The VB team has continued to help out whenever we reach out to them — be it with feedback or to expand our network, both being extremely valuable at every stage of growth." — Vishakha Gupta, Aperture founder and CEO
EKTO VR
Brad Factor (SCS 2017), Bobby Li (ENG 2018, SCS 2020), Tony Garcia
"The VentureBridge program supported the EKTO VR team through a substantial market pivot during a time of complete global uncertainty. By participating in the program, we were able to execute a livestream product reveal that received worldwide attention and put us on the path to building strong relationships with partners, customers and investors alike. CMU alumni entrepreneurs should definitely consider applying!" — Brad Factor, EKTO VR founder and CEO
Komodo
Joel Perdzock (TPR 2020), Matt Dulac
"VentureBridge was a great experience for us and helped us identify and land our first paying enterprise client. Throughout the program, we iteratively improved on our product offering and learned how to talk to — and more importantly, listen to — our early customers. We also spoke with a countless number of VCs and mentors, tightening our pitch to better articulate our long-term vision." — Joel Perdzock and Matt Dulac, Komodo co-founders
Organoid Therapeutics
Denver Faulk (ENG 2008), Ricardo Londono
"VentureBridge was key in helping Organoid Therapeutics transition from idea to execution. For me, the most valuable aspects of the program were obtaining access to world-class mentors with expertise in various sub-specialties and participating in panel discussions with other entrepreneurs and like-minded individuals. It was encouraging to see that most startups face some of the same interesting challenges we were facing and learn that there are well-established and validated ways to navigate through them." — Ricardo Londono, Organoid Therapeutics co-founder and CEO
Refiberd
Sarika Bajaj (ENG 2018, 2019; CMU 2020), Tushita Gupta (ENG 2018), Mingyue (Ida) Wang (CMU 2020)
"When we first entered the VentureBridge summer accelerator, we had just incorporated our company and were not much more than an idea and pitch. Through the program's weekly seminars and extensive mentorship, we were able to build a coherent company business strategy, access resources for our R&D work and transform our idea into an exciting and growing startup. VentureBridge was transformative for Refiberd, and we definitely recommend the program for anyone who is trying to get their company off the ground." — Sarika Bajaj, Refiberd co-founder and CEO
Sightseek
Anna Fuller (TPR 2018)
"VentureBridge helped us take our product from beta to launch in a few months. We got so much value from the mentorship component and our three amazing advisors who truly shaped Sightseek's path. The support doesn't end at Demo Day — Namrata continues to connect us with investors and new opportunities on a weekly basis." — Anna Fuller, Sightseek co-founder and CEO