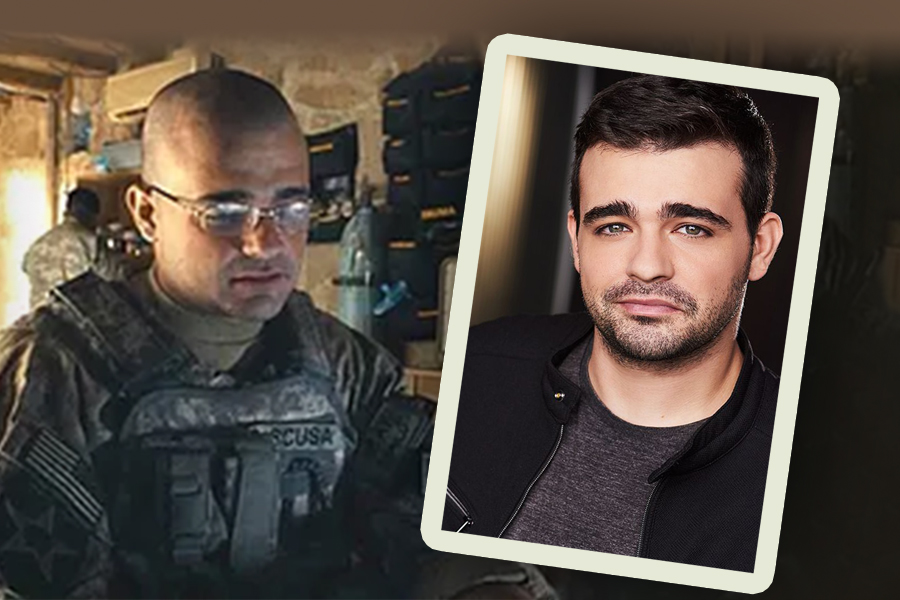 December 14, 2020
Keeping it Real
Alumnus Scott Alda Coffey talks about Netflix's "The Outpost"
In the hyper realistic war film "The Outpost," Army Sgt. Michael Scusa stands out.
He wears glasses, so he's literally easy to spot. He is also the kindest and most relatable of the characters in the based-on-real-life movie, which tells the story of the Battle of Kamdesh in Afghanistan in 2006. From calls home to his family to saving a stray dog, Scusa is the character that carries the audience into an intense and emotionally-wrought story — and he's brought vibrantly to life on the screen by Carnegie Mellon University College of Fine Arts alumnus Scott Alda Coffey.
"The director, Rod Lurie, was adamant that it look as authentic as possible. We're in Afghanistan, getting a look at these soldier's experiences as well as this tragic battle," says Scott, who graduated in 2015 from the School of Drama.
To accomplish that, the cast (which included Scott Eastwood, Caleb Landry Jones and Orlando Bloom) undertook eight days of basic training before heading to Bulgaria for filming under the watchful eye of multiple veterans, who were on-site to consult on details.
"Another thing I think helped with the authenticity is that Lurie wanted us to ad-lib and improvise," Scott remembers. "We talk over each other and joke around to create a sense of camaraderie. He encouraged us to be playful, which I think really helped ground us into this real world of real people."
Scott speaks passionately about doing right by Lt. Scusa, and portraying him as accurately as possible. For this challenging role, he relied on his undergraduate drama training.
"CMU is a very hard school. It's a lot of work, dealing with time management and long rehearsals," he says. "That sense of work ethic helped me after I graduated, especially going off shooting a war film where I'm running through mud and working long hours."
What's also been helpful, especially as the entertainment industry faces challenges and setbacks related to COVID-19, are the realistic expectations set during his undergraduate training. Alan Alda — famous for the televised war series "M.A.S.H." — is Scott's grandfather and spoke at his CMU commencement, encouraging graduates to embrace uncertainty, and it's certainly resonating with Scott now.
"A lot of past alumni spoke with us and told us about their careers. Many told us that success didn't happen right away," Scott said. "I really struggled when I first graduated trying to find work and representation. But I worked toward it, I got lucky, and I got work."