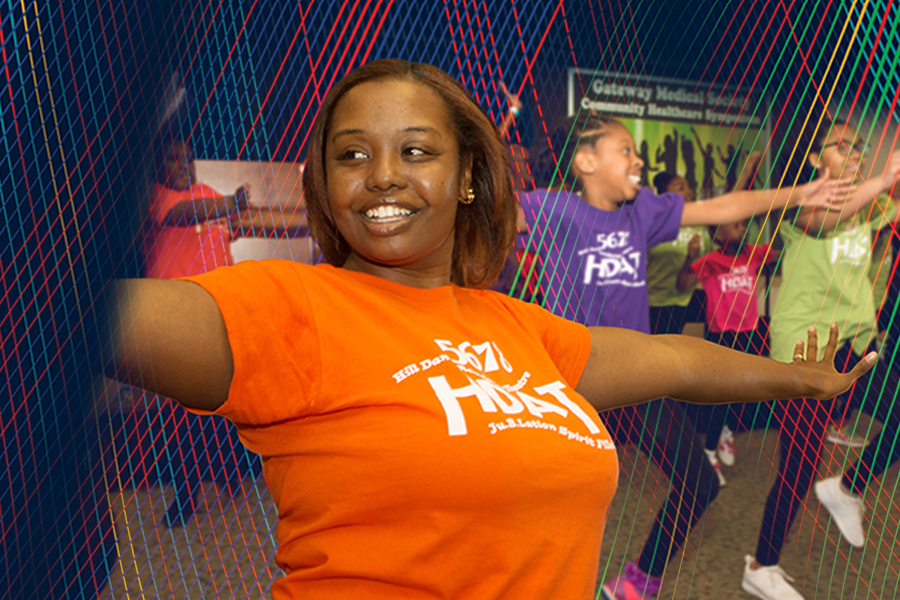 On Pointe
Ayisha Morgan-Lee works to expand representation in the arts by ensuring Black dance traditions flourish
Carnegie Mellon University alumna Ayisha Morgan-Lee vividly remembers the first time a teacher that looked like her was at the front of her dance class.
She was 13 and had already been dancing for a decade on stages where she couldn't help but notice the lack of other Black faces.
"I did not have a problem being the only one. But I knew I shouldn't be the only one, and that was the problem for me," says Ayisha, who holds a master's of arts management (MAM), a joint program between the College of Fine Arts and Heinz College of Information Systems and Public Policy, and a doctorate of education in out-of-school-learning from the University of Pittsburgh. 
"It really drove me to found a dance academy where students could train for a career on the professional stage and also look to the right, left and front of a classroom and see students and teachers who look like them."
Now in its 16th year, her Hill Dance Academy Theater (HDAT) is adding another act to the rich history of Pittsburgh's Hill District neighborhood — made nationally famous by playwright August Wilson, musician George Benson and many other notable African-American artists — by developing and training dancers in Black dance traditions, expanding Black dance knowledge and contributions, and shaping the next generation of artists who will sustain Black dance traditions in local communities.
As HDAT's founder, CEO and artistic director, Ayisha has set her sights on making "Pittsburgh's best-kept secret" a hidden gem no longer.
The Curtain Rises
As a child, Ayisha was so confident of her future path that she created a classroom in an extra room in her home. She was going to be an educator just like her parents and the elementary school teachers she adored.
"I was always dancing. It was something I loved to do, but I didn't want to be a dancer," Ayisha recalls. 
It wasn't until her junior year at Howard University when she attended the International Association of Blacks in Dance Conference, an organization for which she currently serves as a board member, that her eyes were opened to a future that combined her passions.
She knew that touring with a professional dance company wasn't for her and, as she studied for her bachelor's degree in fine arts, she saw the struggles experienced by many companies — particularly Black companies who had "phenomenal dancers and work, but they were having trouble paying their artists," Ayisha explains.
"I knew that if I got a MAM degree from CMU, I could write my ticket anywhere, so I came back and I am so happy I did."
Over the next two years, as she pursued what she explains as "an MBA for the arts," she challenged herself with courses like statistics and law and the arts. She interned with Alvin Ailey American Dance Theater and at Pittsburgh's August Wilson African American Cultural Center, where she was part of the groundbreaking for the organization's new downtown home.
And most importantly, she learned the lessons she needed to create and sustain HDAT.
"CMU helped me with my CEO hats — scheduling, payroll, foundation meetings, securing funding, day-to-day operations like responding to emails and phone calls, networking and creating the vision for where I wanted to go in the years ahead."
Rave Reviews
HDAT holds more than 800 classes each year for children ages 3 to 18. It engages 5,000 students annually through public, private and youth-serving organizations and employs diverse teaching artists while providing a living wage.
HDAT's program takes a holistic approach to the arts with dance styles like ballet, jazz, African, modern, hip-hop and Pilates serving as the core element and also teaching students life skills such as discipline, leadership, public speaking and persistence.
"We'd love for all our students to be dancers. But that's not going to happen, and that's okay with us," Ayisha says. "We talk about behind-the-scenes possibilities like stage managers, lighting designers, videographers, fitness and nutrition, and costume and set design." 
"We make sure that if our students are not on the concert stage, they are prepared for life."
No one was prepared for what 2020 would bring, and COVID-19 forced a quick transformation of HDAT's hands-on, daylong classes to virtual experiences.
"Normally, Level 1 is here on Saturdays from 9 a.m. to 5 p.m., and that wasn't going to happen. We needed to learn how to make it work via Zoom, so we created a task force that helped us get through all of it," Ayisha says.
The company's summer intensive program pivoted online with each student learning at home in their own dance studios complete with ballet bars, dance floors and wireless earbuds. They had consultations with families about camera angles and WiFi setups, recorded installation videos for dance floors and held master classes with instructors from far-flung locales like New Zealand and Australia. 
Eventually, when it's safe to return to in-person classes, students also will be learning in the company's newly purchased permanent home in the Hill District — the neighborhood where Ayisha's father grew up, grandmother and mother worked, her family worshiped and she attended school until eighth grade.
"I taught at St. Benedict the Moor School as a librarian and a substitute teacher, too, and HDAT has been housed here since 2010," Ayisha says. "In the next two months, we will close on the whole facility complex. It's ironic how things happen."
As this hidden gem inevitably becomes known, the facility will continue to welcome students from across the Pittsburgh region, who otherwise might never become part of the Hill District. 
"HDAT is beautiful way for our students and their families to come to this neighborhood to hear the legacy, learn the legacy and continue the legacy," Ayisha says. "The Hill is just so rich, and I'm just so blessed that we're able to sit in this community and continue to make a difference."