April 26, 2023
Advocating for the Humanities on Capitol Hill
For the past five years, Carnegie Mellon University's Christopher Warren has coordinated a trip to Capitol Hill for Humanities Advocacy Day, an effort led by the National Humanities Alliance (NHA).
This year, three Dietrich College of Humanities and Social Sciences graduate students joined  Department of English faculty member David Shumway on Capitol Hill. They met March 19 to 21 with lawmakers and expressed the ways in which funding for the humanities is vital for understanding the human condition.
"Humanities Advocacy Day is an annual opportunity to remind lawmakers how our collective knowledge of history, literature, languages and philosophy helps sustain the American experiment. Federal humanities programs touch local communities across the nation, and they're essential for a well-functioning democracy," said Warren, an associate professor of English and associate department head. 
Crystal Brandenburgh, a Ph.D. student in the Department of History; Philip Sink, a Ph.D. student in the Department of Philosophy; and Benjamin Williams, a Ph.D. student in the Department of English, all applied for the opportunity to join CMU faculty members in Washington D.C.
Those attending Humanities Advocacy Day received training from the NHA ahead of the trip to understand the issues around funding for the humanities and the ways in which a lack of funding negatively impacts different facets of life in the United States. Advocates also had time to hear from one another about different kinds of programming and ways to make sure the humanities thrive on college campuses.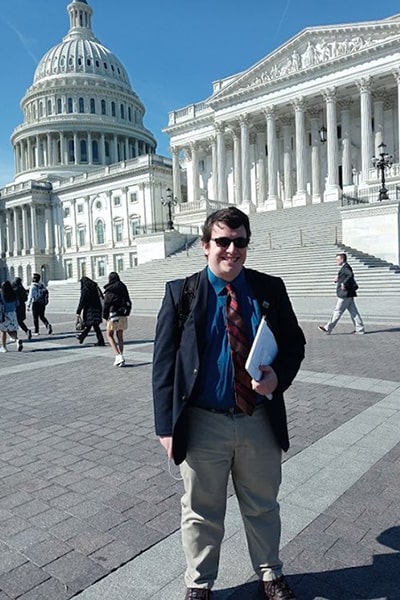 Philip Sink on Capitol Hill.
In their training with the NHA, advocates learned about priorities like the backlog in the National Archives and how lack of funding for the archives has led to a crisis among veterans.
"I think that it's so important that humanities research is funded, but also that humanities institutions are funded," Brandenburgh said. "Veterans rely on the National Archives for their documentation so that they can get benefits, that's the institution that collects all of their records. If they don't have that, they can't get their benefits."
During Humanities Advocacy Day, the NHA set up meetings among advocates, staffers and legislative aides, including those in the offices of Sen. Bob Casey, Rep. Matt Cartwright and Rep. Guy Reschenthaler, as well as aids of Rep. Brendan Boyle, Rep. Chris Deluzio and Rep. Dwight Evans.
"Before each meeting, we thought of the different kinds of commitments that these representatives or senators have already and considered how we can communicate with them," Williams said. "So much of this work, even if it might not align with the narrative around humanities that they expect, was to show how the constituents across these various districts had benefitted from this grant funding."
Williams also shared that in a digital humanities class in fall 2020, he, Warren, Brandenburgh, Alex Tabor — a Ph.D. student in the Department of History — and Michael White, a Ph.D. candidate in the Department of History were able to create a map with a Congressional map overlay that showed the geographic reach of the National Endowment for the Humanities' (NEH) work. They were then able to send this map to various legislative aides so that they can use it in their own advocacy work. Williams was also able to share how the humanities are in action at CMU through projects like "Freedom and the Press before Freedom of the Press" and "Shakespeare in Virtual Reality," both of which were funded by the NEH. 
For Sink, getting involved in Humanities Advocacy Day was important for shining a light on the role that the humanities play in research. Sink completed a summer internship with NASA, where he applied philosophical models to understand problems in distributed computing. 
"I'm a big believer that the humanities are often useful in surprising ways. We often help a community make sense of the world and solve problems," Sink said. "I work on modeling knowledge and belief, I'm engaged with epistemic notions, 'What does it mean to know something? What does it mean to believe something?' I'm trying to make sense of those core philosophical questions in a mathematical model. As it turns out, perspectives like the ones I take and perspectives analogous to the ones I take have all sorts of applications in other areas."
"Graduate students are the future of the humanities. It's a credit to Dietrich's humanities departments that they're supporting student advocacy for federal funding. Money for the humanities doesn't fall from the sky. All of us need practice arguing for it," Warren said.