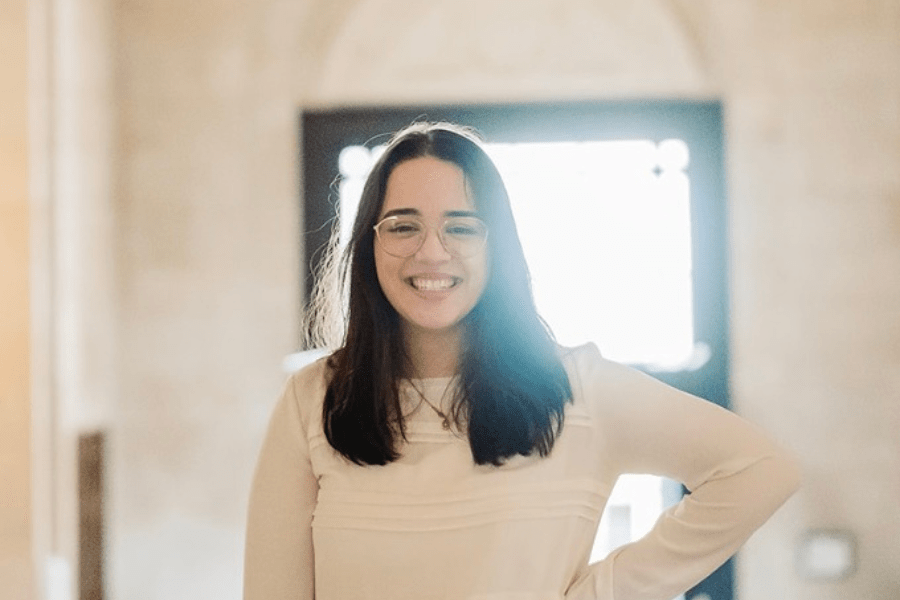 May 04, 2023
Student Spotlight: Karla Tejeda
By KellyAnn Tsai kellyanntsai(through)cmu.edu
Senior Karla Tejeda is graduating in May 2023 with a major in applied multilingual studies and a minor in Hispanic studies. She is the Department of Modern Languages' first graduate in applied multilingual studies, which was created in 2020. Tejeda is also vice president of FIRST Together @CMU, the student organization for first generation college students at Carnegie Mellon University.
---
Why did you choose Carnegie Mellon University? 
I'm originally from Dallas, Texas, but one of the main things that drove me to CMU was how academically rigorous this university is. I had applied to several other out-of-state schools but I felt like CMU had a leg up in the kind of education it provided. 
How did you decide on your major?
I originally applied as an English major, with the idea that I would get a degree in professional writing. But during my first semester, I realized that wasn't what I wanted to do. I spent my first few years [at CMU] exploring options and taking courses in psychology, linguistics, biology, and statistics. While all of these courses were interesting, I still wasn't sure what I wanted to do.
My academic advisor introduced me to the applied multilingual studies major. I told her that I really enjoyed the linguistics aspect of languages and that I was interested in education, language acquisition, and second language learning. The major in applied multilingual studies combined all of my interests — culture, linguistics, education — into just one major. I felt like it was a perfect fit for me. 
What is applied multilingual studies?
I actually have a hard time explaining [my major] to people because they assume that
"multilingual" implies that I speak more than one language. I study the sociocultural aspect of multilingualism, for example the way language itself evolves or how people who speak a certain language deal with identity and diversity. 
The applied multilingual studies major has allowed me to explore subfields in the language industry that I'm most interested in, like language education, translation, and applied linguistics. Personally, I've leaned more into the translation side of things, but even within the applied multilingual studies major you can take different paths that lead you to a different experience. I like that the major lets me explore different interests. 
You studied abroad in Costa Rica last summer. Can you tell me about that?
I really enjoyed my semester abroad! It was an experiential learning opportunity where we not only got to explore Monteverde, Costa Rica, but we also took courses and completed an internship. I'm considering teaching English abroad at some point, so for my internship I worked as an English teaching assistant. It was helpful applying the language teaching theories I've learned about in the classroom to real people. CMU is a very research-oriented school, so you don't often get to see the application of the work that you do. It was a really eye opening experience. I had the opportunity to interact with people and learn that real-life application isn't necessarily the same as what I've read about in my classes. It can be different when you're dealing with real people in front of you. 
What have been your favorite courses you have taken at CMU?
I feel like after I declared my major I started enjoying my classes in general, because they were less random. I'm currently taking one of the last courses for my major, Quantitative Research and Second Language Acquisition with Dr. van Compernolle. In this class, we learn about language acquisition theories and how to apply them to the classroom. It's been really interesting to see the backend work that goes into creating pedagogy for classrooms. Another course I've really enjoyed is Bilingual and Bicultural Experiences in the U.S. with Dr. Burns. That was the first class I've taken specifically on bilingualism and biculturalism.
What are your goals after graduation?
My goal is to do the 4+1 for the Master's in Global Communication & Applied Translation. I've already done most of the studies [with my major], and I'm interested in translation and localization. So I want to do the program and then begin working professionally. I'm not entirely sure what I want to do specifically, but I know that I want to work somewhere in the language industry, specifically related to translation.
What advice would you give to CMU students?
Take advantage of the fact that majors in Dietrich College of Humanities and Social Sciences are usually interdisciplinary. Often, one major in Dietrich College can be "doubled up" with other majors within Dietrich. As a senior I declared my major late because I didn't know what I wanted to do. But if I could go back, I would love to pick up a second major.