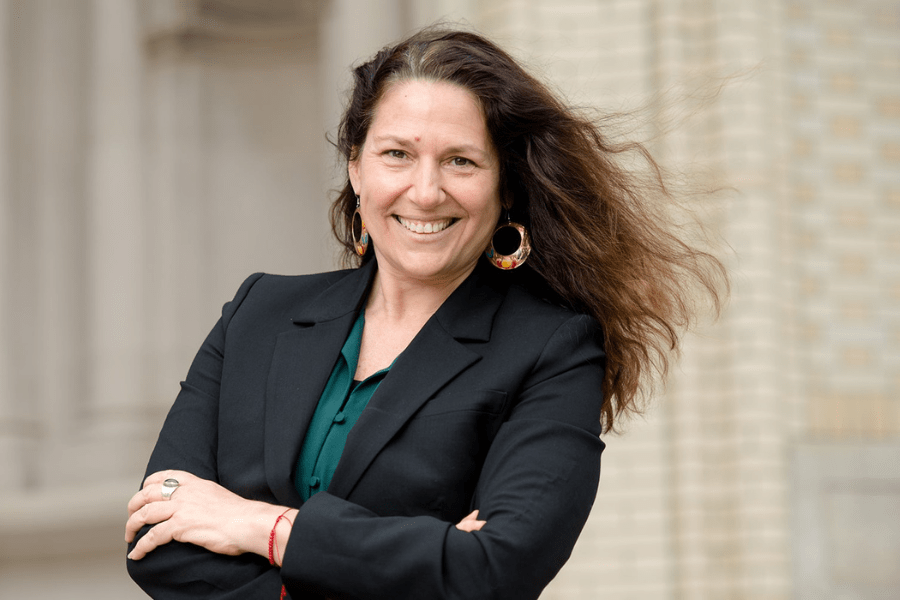 April 24, 2023
Therese Tardio to Head Humanities Scholars Program
Therese Tardio, teaching professor of Hispanic studies, has been named director of Dietrich College of Humanities and Social Sciences' Humanities Scholars Program (HSP), effective July 1.
"Therese's passion for the humanities, and not just her corner of the humanities, make her a great choice for this position," said Richard Scheines, Bess Family Dean of Dietrich College. "Therese is extremely creative, and I am really excited to see what she will bring to the table as she innovates with HSP." 
Tardio will succeed Timothy Haggerty, who served as HSP director since 2002.
"Thank you to Tim Haggerty for directing HSP for over 20 years." Scheines said. "Tim worked hard for years to create an identity for the program, to attract top students to enter it and to provide exciting cohort seminars on a wide variety of topics."
HSP is an interdisciplinary program open by invitation to outstanding Dietrich College applicants. The program enhances the undergraduate experience by offering the benefits of a learning community and systematically exposing students to the analytical complexities of inquiry in the humanities. While most HSP students have majors within Dietrich College's four humanities departments — English, History, Modern Languages and Philosophy — they can be non-humanities majors and pursue other programs.
Tardio has been a faculty member in the Department of Modern Languages since 2001.
"I am thrilled to lead the HSP, to work with the outstanding students we have in the humanities, and to help to connect them to the incredible scope of research and teaching by Dietrich faculty in the English, History, Modern Languages and Philosophy departments," Tardio said. "Humanistic inquiry gives us the frameworks and tools to critically reflect on ourselves and the world around us, to engage with the most challenging questions of our times, and plays a particularly important role at CMU, as our institutional culture is largely defined by finding solutions to real-world problems. I look forward to fostering a sense of community with the HSP students as they explore the unique, interdisciplinary research that characterizes Dietrich College."
Tardio's research is centered around different geographic areas in the Spanish-speaking world, namely Central America with focuses on El Salvador and Nicaragua, and the US-Mexico Border. Her areas of interest include border studies, Central American cultural studies, and gender-based violence. She is co-author and lead content developer of Elementary Spanish I and II, an open-access online course via CMU's Open Learning Initiative. She also received the university advising award.
Tardio is the Modern Languages Department's director of undergraduate strategic initiatives and advises the minor in Hispanic studies. In addition, she directs the Modern Languages Department's study abroad programs in Spain and Costa Rica.