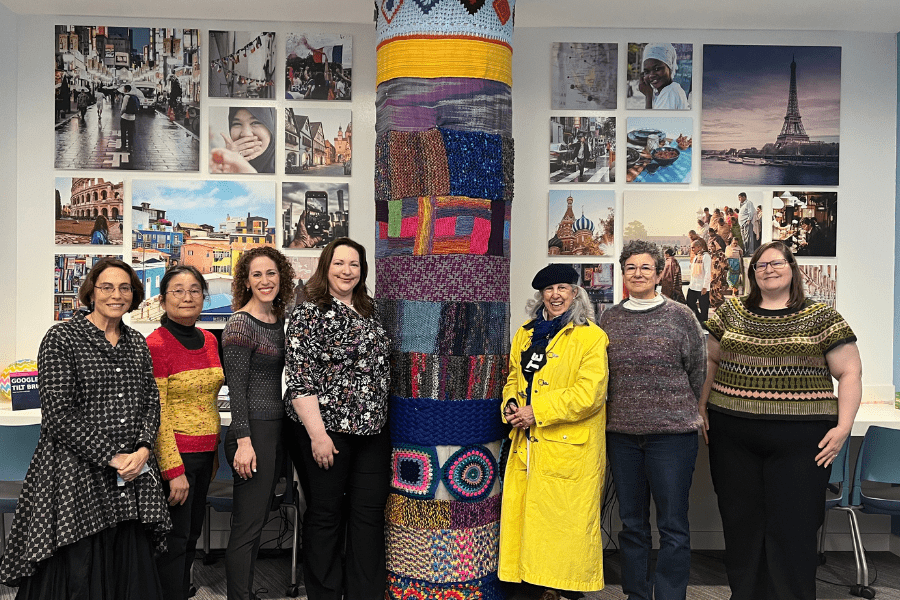 April 18, 2022
Yarn Bombing the Askwith Kenner Global Languages & Cultures Room
By KellyAnn Tsai kellyanntsai(through)cmu.edu
There is a big concrete pillar in the Askwith Kenner Global Languages and Cultures Room. "It felt like an empty canvas just waiting to tell a story," said Stephan Caspar, the room's director and Assistant Teaching Professor in Carnegie Mellon University's Department of Modern Languages. 
So, naturally, Caspar contacted a group of knitters. 
He didn't have to look far. The CMU Women's Association Knit & Crochet Club is a community of knitters, crocheters, and other textile makers at Carnegie Mellon who meet regularly to create new work, share ideas, and donate handmade hats and scarves to benefit refugees in the Pittsburgh area. At the club's helm is Emily Half, Deputy Director of the Institute for Politics and Strategy, whose department shares a home with the Modern Languages in Posner Hall. 
When Caspar asked if the Knit & Crochet Club would be interested in making a cover for the 10-foot tall pillar, Half jumped at the opportunity. "None of us had ever done anything like that before, but it sounded like a really exciting project," said Half. 
The connection between the Kenner Room, an immersive technology-driven space with multiple virtual reality stations, and the Knit & Crochet Club, a group celebrating a centuries-old practice, is not immediately obvious. But behind the apparent contrast lies a shared appreciation for creation, social connection, and the joy of learning by doing. 
"We thought this would be an interesting juxtaposition with the immersive technology that we have in the Kenner Room, while celebrating the maker space and its playful learning ethos," said Caspar. 
Ten women from the Knit & Crochet Club, representing a variety of CMU schools, departments, divisions, and institutes, volunteered for the task. Armed only with the required dimensions and guidance to make something "colorful," they set out to create a bold new piece that would showcase their craft and complement the spirit of the Kenner Room. 
The final piece, affectionately called a "yarn bomb," measures an impressive 10 feet by 7 feet and features three different techniques–knitting, crocheting, and weaving–and a vibrant array of designs and styles. Over six weeks, participants worked on their own individual segments, convening on Zoom for virtual knit-alongs, then joined the pieces together to create the enormous patchworked cover.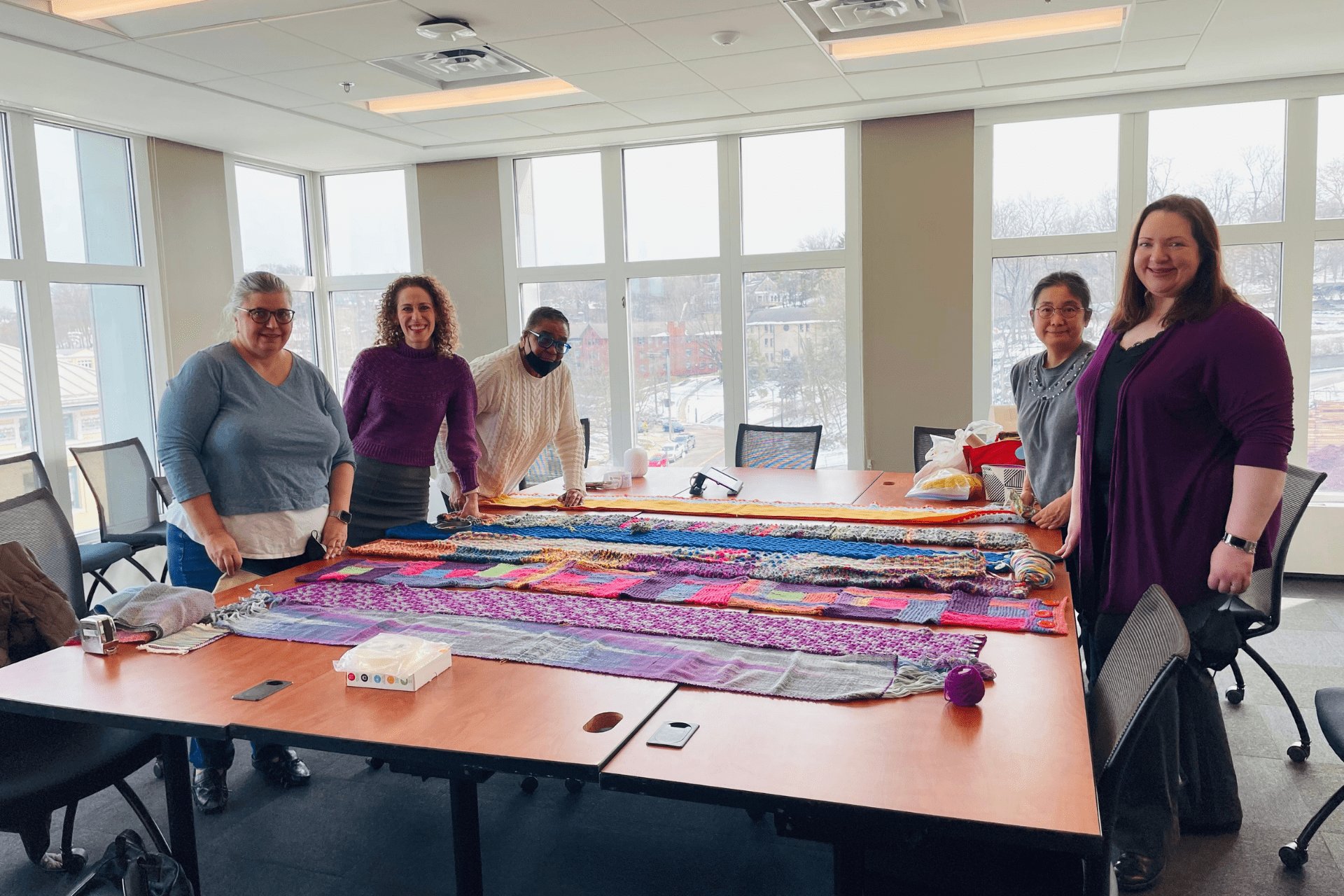 Maria Lauro, Emily Half, Rebecca Hebert, Vicki Tam, and Carla Bevins work on assembling the yarn bomb.
"It has been a wonderful experience participating in the yarn bombing. The communal effort and shared goal along with the beautiful final product has been a joy," said Marlene Berhmann, Thomas S. Baker University Professor of Psychology and Cognitive Neuroscience.
For some, the yarn bomb is a personal expression of family. Carol Goldburg, Executive Director of the Undergraduate Economics Program, learned to knit from her grandmother, mother, and close friend: "The way I hold my needles and yarn reflects their knitting and their home countries," she said. "The choice of pattern and yarn is wrapped up in friendships and family." 
Stories like these are the essence of the piece. "I love that this was created by such a diverse group of women at CMU," said Half. "It's what makes the yarn bomb so special."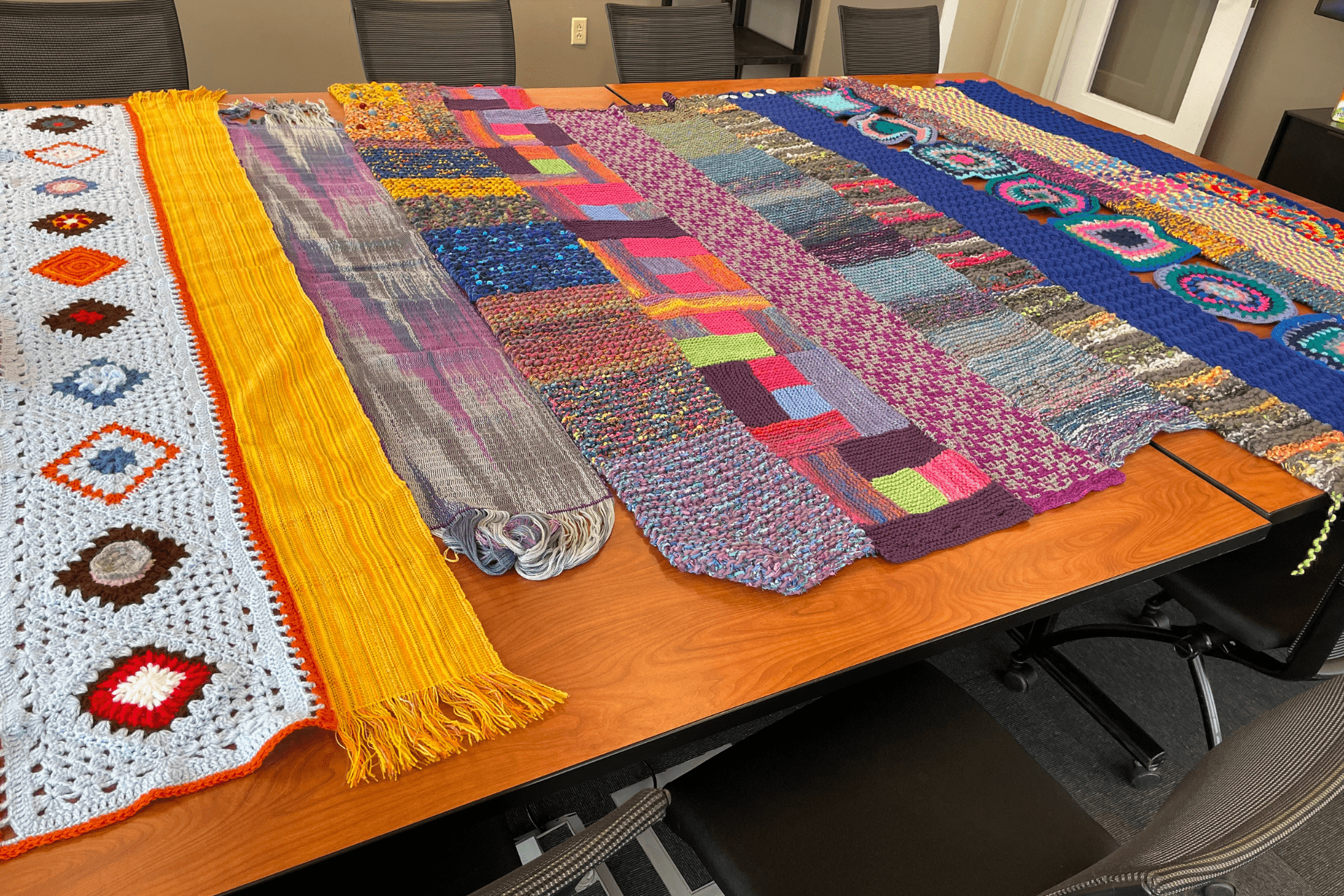 The piece was installed in the Kenner Room in early April, just in time for Spring Carnival and a visit from Patti Askwith Kenner, whose generous gift in 2018 established the innovative space. Featured alongside the yarn bomb are words from each maker about the inspiration for their designs.
With the help of the CMU Women's Association Knit & Crochet Club, the concrete pillar is now more than just structural support; it is also a celebration of the Kenner Room's values.
"The yarn bomb embodies the curiosity and appreciation for diversity that is essential for language learning and cultural awareness," said Caspar. "It helps tell our story." 
You can find the Askwith Kenner Global Languages & Cultures Room in Tepper Quad, Room 1024. 
The ten women who contributed to the yarn bomb are: 
Connie Angermeier

, Senior Academic Program Manager, Department of Social and Decision Sciences

Marlene Behrmann

, Thomas S. Baker University Professor of Psychology and Cognitive Neuroscience, Department of Psychology

Carla Bevins

, Assistant Teaching Professor of Business Communication, Tepper School of Business

Jennifer Britton

, Senior Academic Program Manager, Institute for Software Research

Carol Goldburg

, Executive Director, Undergraduate Economics Program

Emily Half

, Deputy Director, Institute for Politics and Strategy

Rebecca Hebert, Spouse, Dean of the School of Computer Science

Maria Lauro, Contracts Specialist, University Contracts Office

Tsuey (Vicki) Tam, Retired, Department of Biological Sciences

Anne Witchner

, Retired, Student Affairs