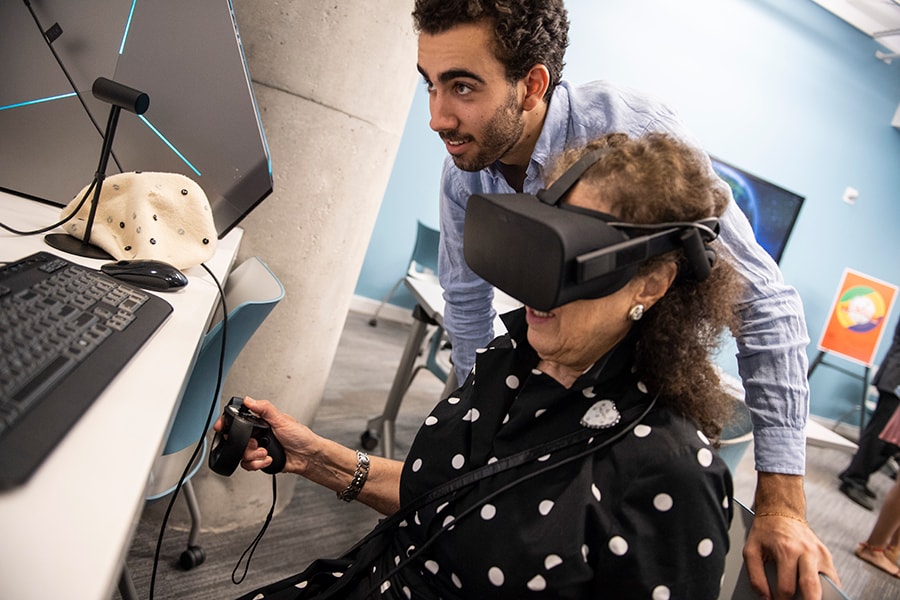 September 17, 2018
Askwith Kenner Global Languages and Cultures Room Brings the World to Campus
Students will soon be able to stroll down the streets of France, interact with the people of Cuba, or examine a German camp in Nazi-occupied Poland — all without leaving the heart of Carnegie Mellon University's campus.
The Askwith Kenner Global Languages and Cultures Room, a new space within the David A. Tepper Quadrangle, offers students and the community an immersive, interactive language classroom and learning space.
"It is almost like a museum, an experiential space," says Korryn D. Mozisek, director of integrative learning, Office of the Vice Provost for Education. "It better prepares students for studying abroad and brings language and cultural experiences to those students who may not have the opportunity to study abroad."
An important aspect of studying other languages and cultures is to be immersed in that region's experience, Mozisek says. But studying abroad may not be possible for all students — there are financial concerns, travel restrictions, and barriers created by world events. The new space works to eliminate those barriers, and provide an immersive experience through the use of new technology, such as interactive documentaries and virtual reality stations.
The space was made possible thanks to a generous gift from long-time supporter, alumna and emeritus trustee Patricia Askwith Kenner (MM 1966).
"In today's world of complex societal challenges, it is more important than ever for each student at CMU to have a global experience." Kenner says, "I believe this space will enable students of every discipline to have a taste of languages and cultures from around the world."
Three projects will be spotlighted in the space at its opening — one that explores concentration camps in Poland; a student-produced, interactive documentary offering 360-degree exploration of the streets and people of Cuba; and an augmented reality board game that utilizes virtual reality headsets to explore Nantes, France. The experiences will change over time, offering students new cultures to explore.
"We have created an interactive classroom that may change the way languages are taught by bringing creative and interactive ideas about how to teach languages," Mozisek says.
The Askwith Kenner Global Languages and Cultures Room is located on the Tepper building's first floor, down the hall from the Welcome Center.
"The way we see it is there are a lot of opportunities for providing experiences that would represent where our students are coming from and to provide opportunities to highlight other cultures through multi-dimensional programming." Mozisek says.
Not only will the facility be utilized as classroom space, it also will offer open time for exploration and interaction with stations in the classroom. Video conferencing capabilities allow users to connect with classrooms around the world, enhancing the university's global profile. The space will be available to student groups, with the potential to host events such as conversation or cultural clubs.
By cultivating a culture of life-long learners, the hope is that the space will drive curiosity to travel more and explore more, Mozisek said.
Future projects, events research and learning experiences will be led by Stephan Caspar, assistant teaching professor of media creation and multi-cultural studies in the Department of Modern Languages.
"This is an exciting project not just for the Department of Modern Languages and Dietrich College of Humanities and Social Sciences, but for Carnegie Mellon University and the wider Pittsburgh community," Caspar says. "We want to invite people to this space to explore the technologies in this room and share stories, capture experiences and reflect on the cultures, identities and groups that connect Pittsburgh and CMU to the rest of the world."
Caspar continues: "This room is the culmination of 100 years of the Department of Modern Languages at CMU, and it makes me hopeful for the future as it will help develop relationships and understanding."