August 11, 2020
Royal Retirements: Tademy, Witchner Helped Build a Better CMU
By Bruce Gerson bgerson(through)cmu.edu
With little fanfare under the cloud of COVID-19, two beloved Carnegie Mellon greats have retired, leaving profound and endearing legacies that have helped shape the university for more than four decades.
For 43 years in the Division of Student Affairs, Anne Witchner worked to enrich the student experience at CMU, from orientation to graduation. And for 45 years, Everett Tademy, who spent the majority of his tenure in the Office of Human Resources, worked to provide opportunities at CMU for underrepresented minorities and to promote justice and equity in the workplace.
They have succeeded on all fronts, listening, learning, leading and collaborating with students, faculty and staff across the university to help make a better Carnegie Mellon.
The People's Champion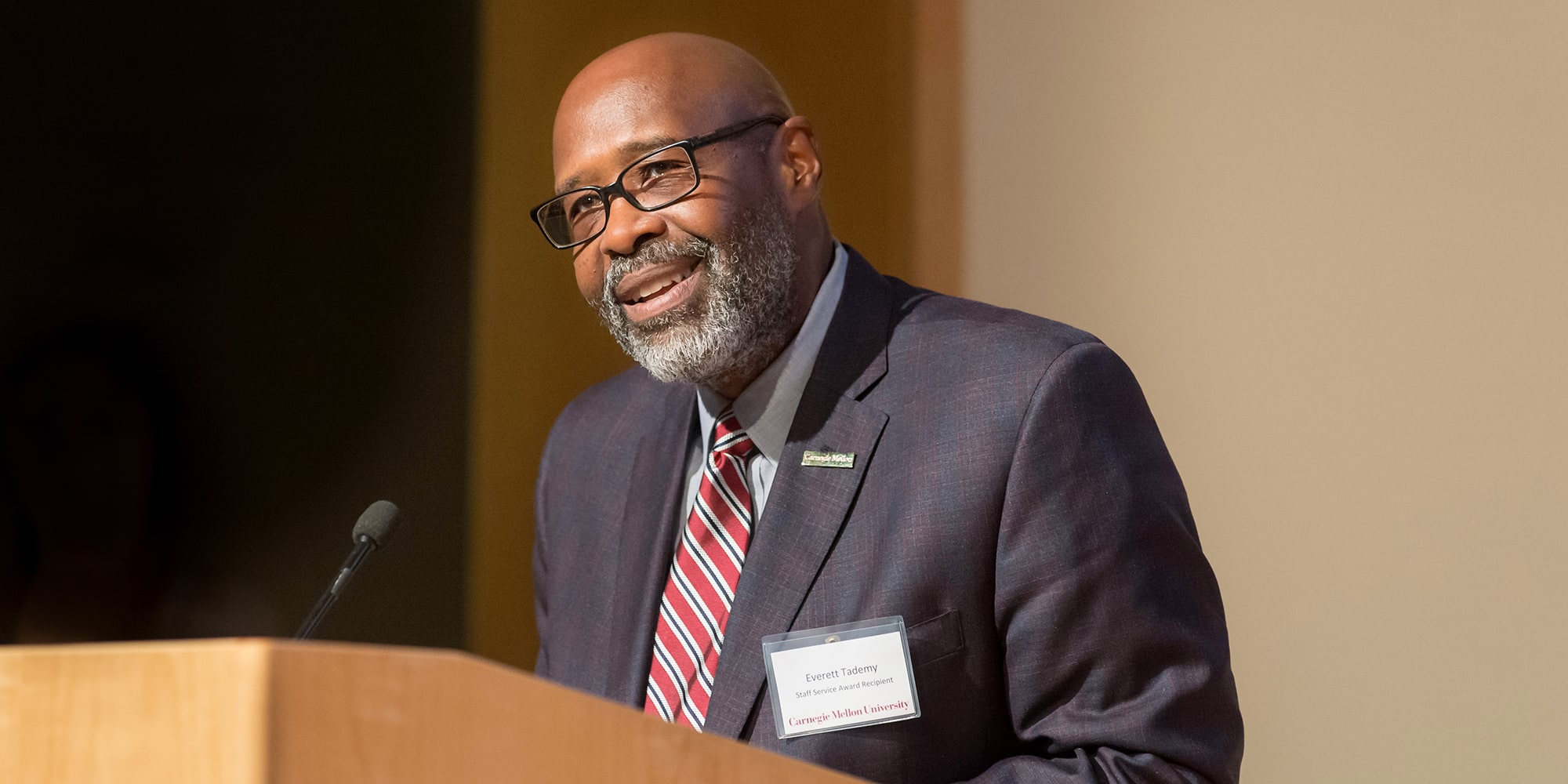 Everett Tademy embraced Carnegie Mellon and CMU hugged back.
As a counselor, mentor, administrator and arbiter with the highest integrity and charm, Tademy touched the lives of students, faculty and staff alike. He was respected, admired and loved. In a rare feat, he won both the inaugural Andy Award for University Citizenship and the Barbara Lazarus Award for Graduate Student and Junior Faculty Mentoring. 
"Everett Tademy is an institution at Carnegie Mellon," said President Farnam Jahanian. "He has been a passionate and committed champion for CMU's people for the past 45 years, and I am so grateful for his contributions to the university. Everett's trademark compassion, dedication to our values, and genuine nature are evident in his work as well as his daily interactions, and the resulting impact on our culture has been nothing short of extraordinary."
Tademy started at CMU in 1975 as a counselor with the Carnegie Mellon Action Project, which provided academic, personal and career development programs and services to minority students. He soon became assistant director of CMU's Upward Bound program for high school students, a precursor to today's Summer Academy for Math and Science.
"Everett never let me down on any task I asked him to do," said Marion Oliver, Tademy's Upward Bound supervisor who is now a teaching professor and co-head of arts and sciences at Carnegie Mellon in Qatar. "He was my 'go-to-guy' who committed himself to whatever task he agreed to do."
When funding for the Upward Bound program ended, Tademy was assigned to the Office of Federal Contract Compliance and later to the Office of Human Resources.
"I was provided opportunities," said Tademy, who moved to Pittsburgh after earning a bachelor's degree in political science from Reed College in Portland, Oregon. In 1977, he earned a master's degree in public administration from the University of Pittsburgh.
"I came to Pittsburgh as a stranger with $100 in my pocket and I was accepted at Carnegie Mellon."
As director of Equal Opportunity Services, the dapper Tademy was driven to help the underprivileged, the underserved and the underrepresented. 
"It was all about creating opportunities, becoming more inclusive, before we called it 'inclusivity' or 'diverse' before we called it diversity," he said. "Then we were talking about equal opportunity. Our leaders have always been concerned about social justice. We don't always get it right, but we've always been in there swinging."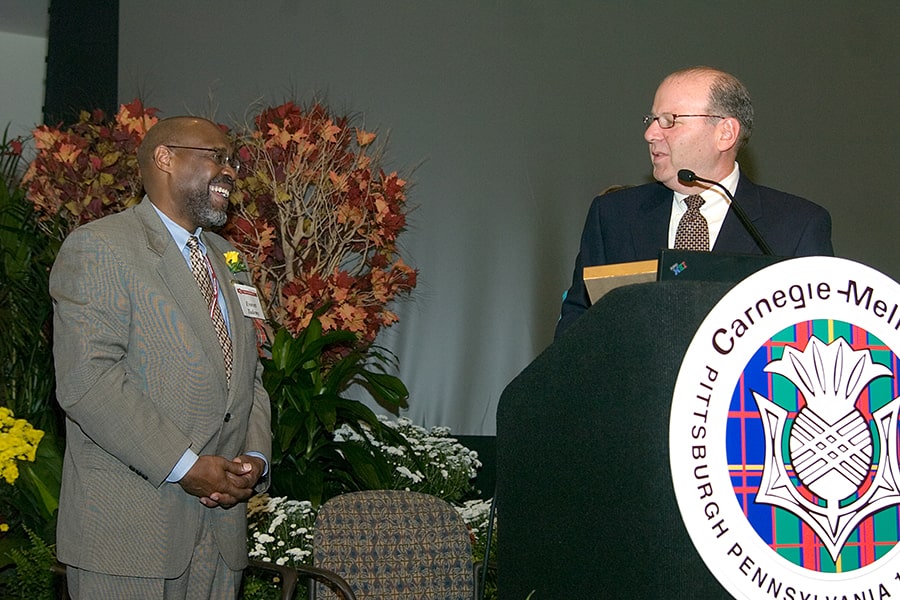 Everett Tademy and then President Jared Cohon during a Martin Luther King Jr. Day celebration.
Joe Trotter, University Professor of History and Social Justice, met Tademy 35 years ago when he arrived to teach in the Department of History. In the 1990s, together they co-chaired CMU's Commission on Underrepresented Minorities. 
"From the outset, I was thoroughly impressed by Everett's profound commitment to building a more diverse university that welcomed African Americans and other underrepresented groups," Trotter said. "Over time, I was even more impressed by Everett's capacity to build concrete, lasting and meaningful bridges between diverse individuals and groups. He simply cannot be replaced." 
Gina Casalegno, vice president for Student Affairs and dean of Students, worked with Tademy on the Diversity Advisory Council and various student advisory committees. She was particularly impressed with his engagement in student life.
"I loved watching Everett listen intently to students, seeking to understand their experience while providing wisdom and guidance to support them in their pursuits at Carnegie Mellon and beyond," Casalegno said. "Always one to lift up those around him, to celebrate successes and contributions of others, and to provide a discerning perspective on challenging issues, Everett has been a stalwart contributor to shaping the culture and climate of this great institution."
Tepper School Professor Ron Placone worked with Tademy in Human Resources. He called Tademy a model of consistency, who handled difficult issues with the utmost integrity, resolve and respect for all involved. Placone said he witnessed Tademy's "tireless commitment" to diversity and inclusion.
"Some say that the strongest test of leadership is what one does when no one is watching. Everett always does the right thing," Placone said. "He taught all of us how to handle ourselves, regardless of the issue we face, or the people involved, with professionalism, caring, and a commitment to do and say the right things."
As university ombudsman since 1992, Tademy worked to resolve hundreds of employee grievances. He said he always tried to bring situations from a "boil to a simmer" and encouraged individuals to act in good faith and to reach agreed-upon decisions among themselves.
"I would like to think I employed a lot of 'shuttle diplomacy' during my CMU tenure," he said. "Being able to work with people to resolve issues was always wonderful."
Distinguished Service Professor Michael Murphy has known and worked with Tademy since the two met in the 1970s. 
"Everett is wicked smart, extremely well read, compassionate and a man of uncompromisable integrity," said Murphy, the former dean of Student Affairs and vice president for Campus Affairs. "He has been one of the great influencers of this community over the past four and a half decades. We were given a gift the day Everett arrived."
Today, with travel plans on hold, Tademy is enjoying retirement, reading and cooking — "I've been eating like crazy." And he looks forward to revisiting Pittsburgh's museums.
"Now, I get to write my own script on how to spend the day. Can't get any better than that," he said.
A Force for Student Life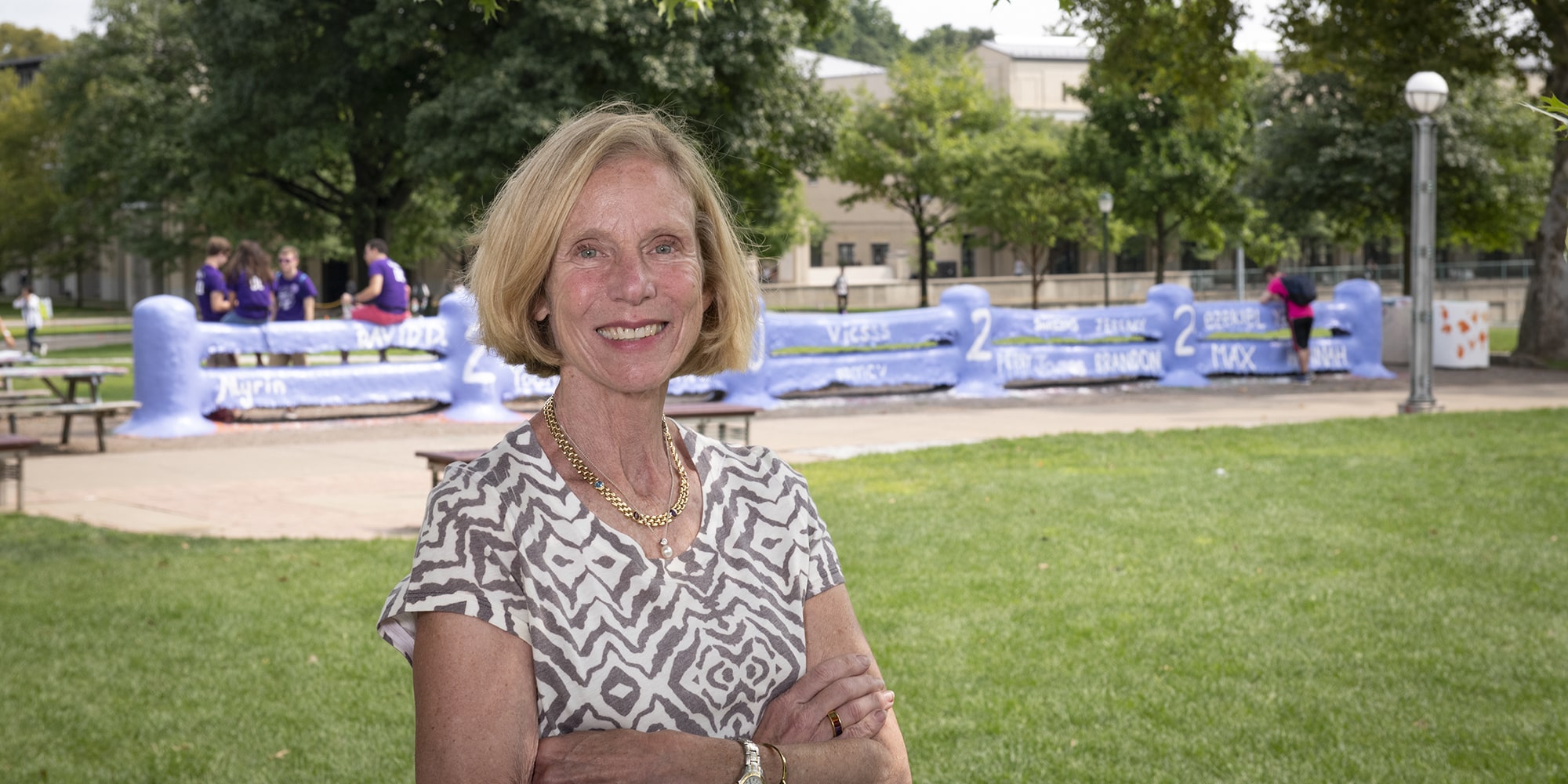 Anne Witchner's fingerprints are all over today's student experience from the time they first arrive on campus. She is the architect of CMU's award-winning undergraduate orientation program, a nine-day event that introduces first-year students to their academic studies, campus life and the Pittsburgh community. 
She led the development of many hallmark orientation events, such as Community Collage, Playfair, the Class Photo, Academic Convocation, discussions of "The Last Lecture," House Wars and the Craig Street Crawl. The program has won several awards from the National Orientation Directors Association (NODA) and Witchner has been invited to present at NODA's regional and national conferences.
Beyond orientation, Witchner has advised hundreds of student clubs and organizations and worked with students to build a more robust schedule of events throughout the year. She created such staples as the Almost Midnight Breakfast, Family Weekend, the Martin Luther King Jr. Day Celebration, the Winter Activities Fair, the Senior Leadership Awards program and the Kiltie Band Holiday Concert, among others.
She was an adviser for the Spring Carnival Buggy Races for more than two decades and helped to rewrite and institute stringent safety rules after a 1986 fire in a buggy prep truck threatened to end the competition. Last year, students presented her with the Lifetime Chairman's Choice Award for her longstanding impact on the Sweepstakes Races.
Witchner was a champion of the graduate student experience as well. She worked to develop the inaugural graduate student orientation program in 1994, and was a staunch advocate of the Graduate Student Assembly. She co-established the Graduate Student Teaching and Service Awards.
In announcing her retirement, Vice President for Student Affairs and Dean of Students Gina Casalegno and Associate Vice President for Community Life John Hannon said Witchner set the gold standard for bringing big ideas to fruition.
"Anne has truly been a world-builder, stitching many vibrant threads into the weave and weft of the Tartan plaid that emblemizes our community," they wrote. "Innovator, collaborator, problem-solver, advocate, supporter, experimenter, champion, executer and educator are just a few of the many facets of Anne's masterful approach to leading and serving our faculty, staff, alumni, and most importantly our students over the course of her career here."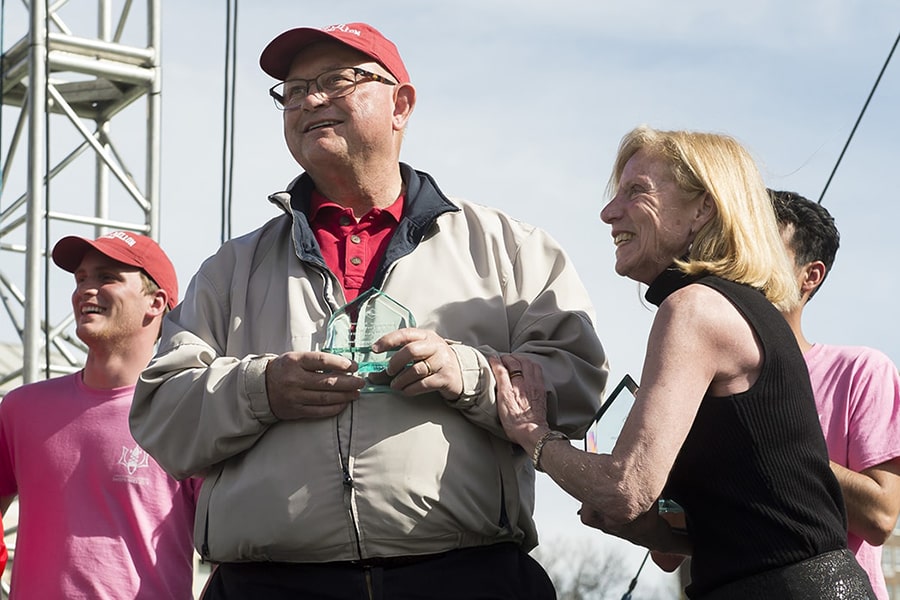 Anne Witchner and alumnus Tom Wood received Lifetime Chairman's Choice Awards for their longstanding impact on the Sweepstakes Races.
Witchner, who earned her bachelor's degree in English at CMU in 1973, her master's degree from the University of South Carolina in '76 and a Ph.D. from Pitt in '94, said students were always the essence of what made her happy at CMU. She enjoyed being behind the scenes as a coach, director and producer.
"My goal was always to help the students succeed," she said. "These are student events, so my goal was to make sure they had an impact. The quality of our students allows us to do the kinds of programs you can't do at other schools. Our students are so bright."
One of those students was Rebecca Allison, a 1996 alumna and former president of the Alumni Association Board who worked in Student Affairs. As a student, Allison worked with Witchner as Spring Carnival Midway chair in 1995.
"In my many interactions with other alumni over the years, Anne is widely known and adored," Allison said. "Under the leadership of Anne and Michael Murphy, and others at the time, we experienced a shift in the student experience at Carnegie Mellon starting in the late 1980s. Anne led the way supervising students leading Carnival, Student Dormitory Council, Activities Board and the Orientation program.
"To me, Anne has always embodied the best of Carnegie Mellon in her incredible work ethic and deep compassion for our students, alumni and community," Allison said.
Colleague Renee Camerlengo, associate dean of Student Affairs and International Education at Carnegie Mellon in Qatar, worked with Witchner for many years. She called her "a treasured and trusted confidant and friend."
"She is constantly iterating on and thinking about how to make a program better, more effective and more engaging," Camerlengo said. "How much richer is our campus thanks to her creativity and energy to make magic come alive for our community."
Bonnie Gorman worked for Witchner as an assistant director for Student Activities in the early 1990s. She's now dean of Students and vice president for Student Affairs at Michigan Tech.
"From the beginning, I was impressed by her commitment to students — making their experience better and helping them learn and grow," Gorman said. "She gently guided them and gave them space to imagine, create and make their own decisions. I could not have had a better mentor. We worked hard, but we had fun."
Distinguished Service Professor Michael Murphy said Witchner laid the foundation for many facets of today's campus life. 
"She understood well, just as is the case today, that the greatest force for the life of the campus was students," said Murphy, former dean of Student Affairs and vice president for Campus Affairs. "As adviser, mentor and friend, she helped students build this community.
"For over 40 years, Anne has been a stalwart, an inspiration and a champion every day of a better Carnegie Mellon. She will be missed, while her influence will be felt for generations to come," Murphy said.
These days, Witchner is "playing a ridiculous amount of tennis," enjoying her role as a board member for several organizations, and looking back on a successful, exciting career.
"Working with students has been remarkably gratifying," she said.