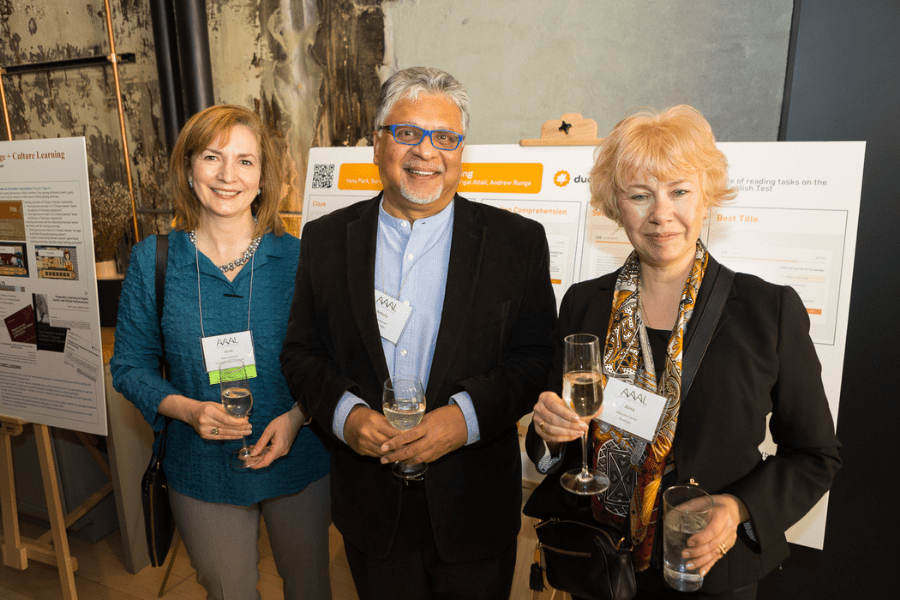 April 05, 2022
Collaborations and Connections in Second Language Acquisition
By KellyAnn Tsai kellyanntsai(through)cmu.edu
As we emerge from another Pittsburgh winter, the Department of Modern Languages' Second Language Acquisition (SLA) program at Carnegie Mellon University is charging forward, full steam ahead.
March marked a busy time for the department's SLA group, thanks to a bustle of activity surrounding the American Association for Applied Linguistics (AAAL) 2022 Conference. In addition to being the first in-person AAAL Conference since 2019, this year's edition took place in Carnegie Mellon University's home city of Pittsburgh—making for a particularly exciting reunion for Modern Languages faculty, students, alumni, and collaborators.
The Department of Modern Languages had a strong showing at AAAL 2022, where SLA faculty and graduate students presented their latest research in second language learning, language assessment, and multilingualism:
Keynote presentations by Uju Anya ("Critical race pedagogy for more effective and inclusive world language teaching") and Keiko Koda ("Explaining second language reading development: Linguistic constraints on crosslinguistic interactions")

A pre-conference workshop, "Using 3D Virtual Reality to Promote Critical Language and Cultural Global Competence: A One-Day Workshop on Research, Teaching, and Design," facilitated by Stephan Caspar and Sébastien Dubreil in the Department of Modern Languages'

Askwith Kenner Global Languages and Cultures Room

Additional presentations by Khaled Al Masaeed, Natalie Amgott, Sébastien Dubreil, Antony Kunnan, Remi Adam van Compernolle, as well as SLA PhD students Nuria Ballesteros Soria, Xiaomeng Li, Ding Wang-Bramlett, and alumni Sihui Echo Ke and Ryan T. Miller
"Modern Languages is thrilled to participate at this year's AAAL in Pittsburgh, especially as the academic research community gathers in person once again," said Anne Lambright, Head of the Department of Modern Languages. "It is a real testament to the strength of our SLA program to feature two keynote speakers, in addition to plentiful and innovative research from our faculty, students, and alumni." 
The conference also provided the opportunity to officially kick off the Department of Modern Languages' partnership with the Duolingo English Test, announced last year, at a joint reception in downtown Pittsburgh. 
Showcasing research from both the Modern Languages Department and the Duolingo English Test, the evening united the two SLA research powerhouses under a common goal: examining and furthering practices in language learning and assessment. 
"I'm very excited to have our collaboration, which will bring together the faculty, students and staff in the areas of language learning and language assessment to work on mutually beneficial academic and professional projects," said Antony Kunnan, Senior Research Fellow in Second Language Acquisition at Carnegie Mellon and Principal Assessment Scientist at the Duolingo English Test. 
"We are grateful to the Duolingo English Test for their support and collaboration, and look forward to advancing the field of language learning together," said Lambright. 
Research presentations and collaborations aside, perhaps the most appreciated aspect of last month's activities were the abundant opportunities for in-person connection. 
"After two years of Zoom, meeting in person with the SLA community was re-energizing," said Rémi A. van Compernolle, Associate Professor of Second Language Acquisition and French and Francophone Studies in the Modern Languages Department. "It's good to be back."