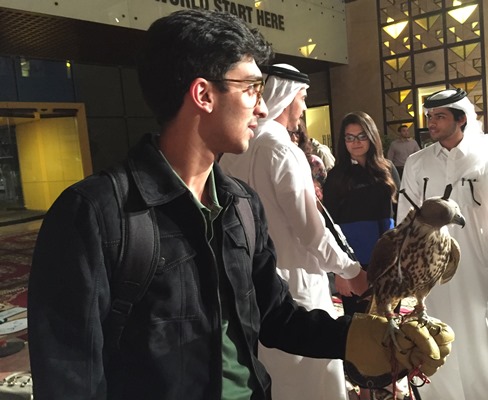 Ahmad Khanzada (CIT'17)
"The IMPAQT program was groundbreaking for me because it firsthand exposed me to global personalities and an emerging city. The students at CMU-Q and my own IMPAQT team have all become lifelong friends. Additionally, Doha's infrastructure development has reshaped my aspirations as a civil engineer."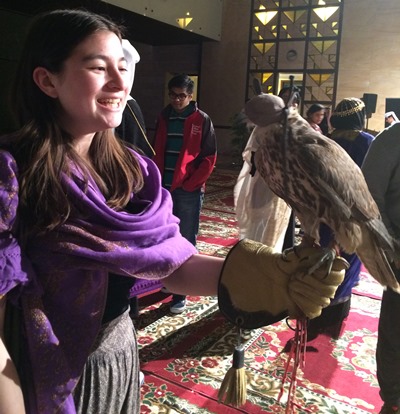 Jade Schiffer (DC'18)
"IMPAQT widened the depth of my CMU experiences and gave me the opportunity to see how diverse, passionate, and dedicated CMU students are to their campus, no matter which campus from which they come."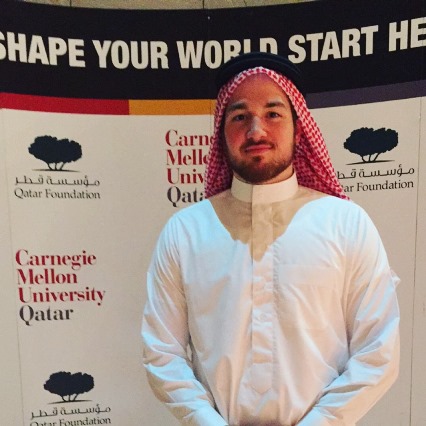 T.J. Murray (CIT'17)
"IMPAQT gave me an opportunity to meet people from around the globe. Qatar's culture, people, and way of life is so different from here, yet CMU still thrives in Doha. It was a unique trip—I really enjoyed learning more about Islam, the history of the Middle East, and other perceptions regarding the conflict in the Middle East today. IMPAQT made me love Qatar so much that I went back for a full semester!"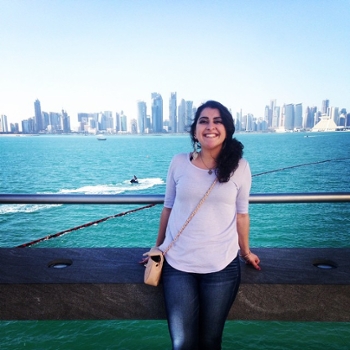 Siriana Abboud (DC'16)
"IMPAQT gave me the opportunity to experience Carnegie Mellon for the first time all over again. Like CMU in Pittsburgh, CMUQ is home to the world's most passionate and inspiring individuals. From Steel City to the Arabian Gulf, our campus cultures have different origins, but it is so obvious when you take your first step into CMUQ that you are still at Carnegie Mellon. At the end of the day, we all hold the same belief that our heart is in the work."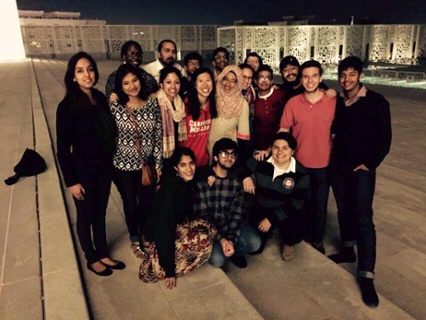 Nikita Maheshwari (SCS'16)
"Despite a foreign culture in a faraway land, IMPAQT helped me find a home away from home."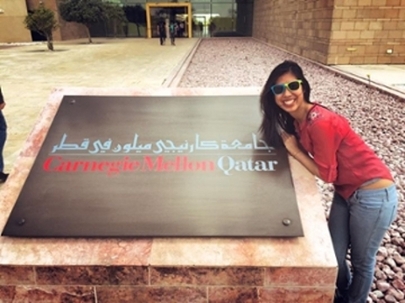 Angela Ng (CIT'16)
"The word impact never means the same thing to me again, because IMPAQT has changed my life. To be able to see passions of the Carnegie Mellon Dream-Doers across the world is truly one of a kind experience. To travel across the world and still feel at home is such an amazing opportunity. This experience will change the way you see other cultures, and change the way you see Carnegie Mellon."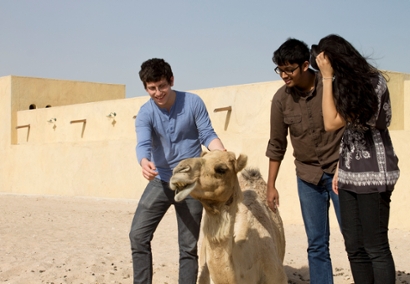 Joe Hill (CFA'17)
"IMPAQT has been the most fulfilling experience I have had at CMU. I was able to extend my circle to include friends from all around the world and those friendships are still some of the strongest that I have made. I think even now I am discovering how much of an impact this experience has had on my life."
IMPAQT Alumni by Class Year
2017
Fatema Almeshqab (CIT'18)
Mary Frances Candies (CFA'19)
Anagha Chandra (CIT'18)
Sophia Cheng (Tepper'18)
Lilian Chin (DC'18)
James Crnkovich (CIT'18)
Michael Dibacco (CIT'18)
Apoorva Havanur (DC'18)
Michael James (CFA'18)
Joyce Wang (CMU'19)
2016
Josh Zak (CMU'17)
Kristen Smith (CIT'17)
LeShaun Jones (DC'17)
Jade Schiffer (DC'18)
Taylor Tabb (CIT'18)
Nikhil Choudhary (CIT'18)
Owen Stone (CFA'19)
Ahmad Khanzada (CIT'17)
Nick Wilson (CIT'17)
Meghana Valluri (DC'18)
2015
Angela Ng (CIT'16)
Elizabeth Nolin (CFA'16)
Evan Wineland (DC'16)
Joe Hill (CFA'17)
Niki Maheshwari (SCS'15)
Olivia Roy (CIT'17)
Seyonna Christian (MCS'17)
Sirianna Abboud (DC'16)
TJ Murray (CIT'17)
Tias Sen (DC'17)
2014
Ameya Kamat (CIT'16)
Becca Smith (DC'16)
Emily Khaykin (DC'15)
Gail Wilson (SCS'16)
Iman Mazloum (CMU'16)
Juan Acosta (DC'15)
Kaytie Nielsen (CMU'16)
Kevin Hunter (MCS'15)
Taylor Rawley (CFA'15)
Lachlan Lancaster (MCS'16)
2013
Hira Ahmad (CIT'14)
Colin Chadderton (CIT'14)
Jay Chopra (DC'15)
Anshul Dhankher (CIT'14)
Maddie Gioffre (CIT'15)
Veronica Gnaman (DC'15)
Ranika Kejriwal (CIT'13)
Sanche Mabins (MCS'14)
Jack Michalak (SCS'16)
Tejasvi Samala (TSB'13)
2012
Areej Ali (MSC'13)
Jettie Fields (DC'13)
Julia Constantine (DC'15)
Michelle Guarino (CFA'13)
Alejandra Mendoza (CIT'13)
Alexandra Polk (CFA'14)
Will Misitano (DC'15)
2011
Arjun Katragadda (TSB'13)
Crismely Pena (DC'14)
Andres Velez (TSB'14)
Sara Mouhktar (DC'13)
Jessamyn Miller (CFA'12)
Daniel Chow (CFA'12)
Jennifer Major (DC'12)
2010
Eda Akyar (CMU'11)
Bahati Mutisya (TSB'11)
Christine Peters (DC'11)
Cristian Young (CMU'11)
Frank Santiago (CIT'11)
Nicole Rappin (CMU'11)
Tarik Raed (TSB'11)
Meghan Nahass (DC'12)
2009
Aliesha Jones (DC'11)
Jessica Wille (DC'10)
Josh Debner (CIT'11)
Lauren McMicken (DC'10)
Sarah Sheikh (TSB'10)
Caroline Kessler (DC'11)
Jessica Dickinson Goodman (DC'12)
Patrick Gage Kelley (SCS'09)
Jennifer Marlow (SCS'11)
Melvin Udeh (TSB'10)