Online Learning: Lonely No More
For nearly two decades, massive open online course (MOOC) providers have offered thousands of free—or very inexpensive—courses and have encouraged millions to enroll in them.
However, Carnegie Mellon University's Carolyn Rosé believes MOOCs have fallen short in one area that she is working to fix: incorporating the social aspects that are essential to learning into the curriculum. Rosé, associate professor of human-computer interaction and language technologies in the School of Computer Science, has been researching and developing software to improve online support and to help students virtually collaborate in ways that enhance what they learn.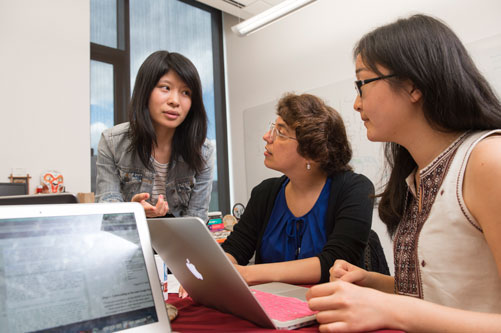 Rosé has found that involving MOOC students in collaborative reflection activities cuts down the probability that a student will drop out in the next couple of days by 70 percent. MOOC providers currently are facing sharp criticism because the majority of students don't finish their courses. Studies reveal extremely high attrition rates, with the percentage of students who earn completion certificates landing in the single digits, at four to seven percent.
"[The interaction] is keeping students around longer. The social support keeps them motivated so they have the opportunity to benefit from more of the learning materials," she said.
One student Rosé advises is Sreecharan Sankaranarayanan, a doctoral candidate in the Language Technologies Institute (LTI). For an internship this fall, he will build new interactivity into the edX platform that will enable greater social awareness and enable a wide range of new possibilities for social interaction on the platform. In his earlier research along with former Master's of Language Technologies student Gaurav Singh Tomar, Sankaranarayanan integrated a computer agent that plays the role of a classroom monitor. When a student enters a chat space, the agent welcomes the student into an ongoing interaction by summarizing the current conversation and, importantly, give cues to encourage participation.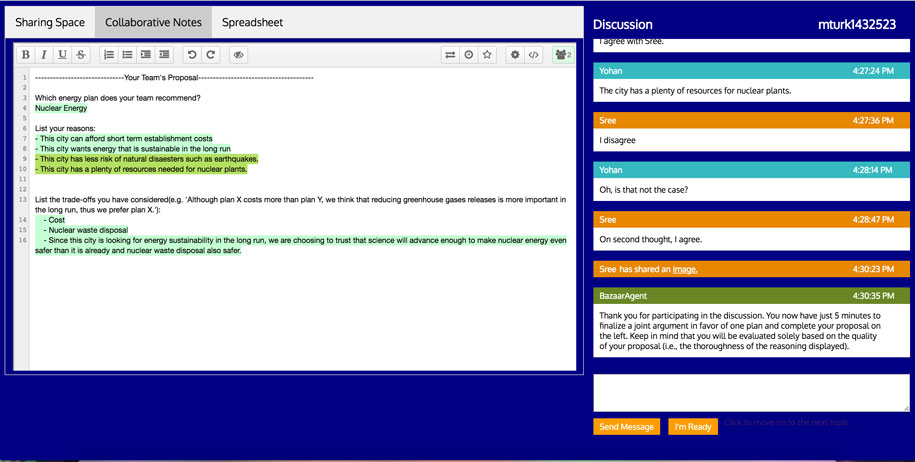 Students collaborate within the panel on the left, while the computer agent encourages interaction in the discussion on the right.
Rosé directs the Discussion Affordances for Natural Collaborative Exchange (DANCE) working group, which brings together researchers, developers, and practitioners to amass resources and tested designs for learning through social interaction in online settings. One focus of DANCE research is the redesign of MOOC discussion forums--a common MOOC tool that is rarely used well enough to provoke thoughtful exchanges between students that show evidence of learning.
"In the discussion forum, we look for behaviors associated with learning, particularly the articulation of reasoning and building upon reasoning so we can encourage more of this. That's at the core of what makes collaborative learning interactions successful," Rosé said.
In a similar vein of research, DANCE investigates how students collaborate online on team projects. The findings show collaboration improves simply by design of the team. When students are matched well with compatible teammates, they perform better. Using language technologies such as text classification, automated team assignment algorithms can identify when two students in a discussion forum have had "a transactive exchange," a moment of shared understanding, and places them on the same team.
"The student teams that were formed on the basis of observation of transactive exchange were about three standard deviations better, where one standard deviations was one full letter grade. So that's a big effect. We hardly ever see effects so big, but that's what we saw," said Rosé.
LTI doctoral candidate Miaomiao Wen conducted small and large deployments of the study. After graduating, she will work for one of the largest for-profit MOOC-providers, Coursera, doing analysis and design for the company.
"I find it interesting to design the tools and course material with the MOOC instructors," Wen said.
The online collaboration study highlights useful tactics in forming teams for project work that could be applied to classroom learning, proving that research in online learning may circle back to inform instruction in classroom learning.
"MOOCs have made large-scale education possible. It's a great opportunity for education research in several ways. We're able to keep track of learners' click behaviors, and we have the opportunity to provide just-in-time support. And MOOCs have shorter development cycles, which means we can introduce interventions more quickly," said Xu Wang, a doctoral candidate in the Human-Computer Interaction Institute (HCII).
Although MOOCs have a relatively short history, researchers are applying generations of research in linguistics, education, cognitive sciences and other interdisciplinary fields.
"HCII has been doing research in online communities in general for decades that shows very convincingly that social support is key to getting people involved, connecting newcomers to a community and keeping people involved longer," Rosé said. "According to the data that we have, social interaction makes a huge impact on online learning."
DANCE is a community of researchers with a focus on the social aspects of online learning and is a satellite working group of Open edX. The DANCE website shares resources with educators and researchers and offers a monthly online talk series.
_____
By Ann Lyon Ritchie
Pictured above, from left to right, are Miaomiao Wen, Carolyn Rosé and Xu Wang.