June 15, 2022
Thinking Outside of the Box with Offsyte
How INI alumna Emma Guo '10 leveraged the changing workplace to transform the corporate team-building experience.
By Deana Lorenzo and Omasan Richardson
Back in 2019, Emma Guo was planning an offsite event with her coworkers in the San Francisco Bay Area when something clicked.
"I always loved going to these team events but finding new offsite ideas and actually booking them was a real pain, every single time," she wrote in her company blog, Offsyte Insights. "It was pretty surprising that there was no online marketplace, no one-stop-shop, where teams could explore, compare and book these events."
This realization was the spark that ignited Guo's entrepreneurial journey, one that started as a bicoastal student at the INI. Being able to complete her program at the Mountain View campus gave her early access to tech companies and startups in Silicon Valley. After graduating from the INI in 2010, Guo worked as a software engineer and then engineering manager at a few different tech companies. After joining Lyft, she learned the importance and impact of having a great team culture.
Guo began exploring how to build a marketplace for in-person teambuilding events. She left Lyft in December 2019 to focus on her new company—Offsyte—full-time. The company was set to launch in spring 2020, when the world changed. The global COVID-19 pandemic forced offices to transition to remote operations practically overnight. With in-person events out of the question, the pandemic threatened to derail the launch.
Instead, Guo saw an opportunity to grow: "We quickly pivoted to focus on virtual team events because it was clear that in-person events wouldn't be back for a long time."
Having already acquired vendors and developed the prototype, Guo and her team leaned hard into transitioning their platform to virtual offerings. Offsyte officially launched in the summer of 2020, just a few months behind their initial launch date.
"Whether it's a virtual cooking class that ships ingredients to everyone before the event or an online escape room, we have it all," wrote Guo. "In addition to discovery and booking, our platform simplifies the coordination required for sending kits to all of the participants – a new pain point created by virtual events."
Despite deviating slightly from the original plan, Offsyte's launch that summer was timely. Hosting authentic and creative teambuilding experiences became difficult during the pandemic but it also became vital. It preemptively addressed companies' concerns about engaging their teams in a remote workplace.
"Employee engagement translates to productivity and happiness," said Guo. "It's way more than just about having fun…I think for every company to be successful, it's more than just recruiting, recruiting, recruiting. You can recruit people, but what are you doing to help them grow their career and make sure employees "Don't burn out."
"Employee engagement translates to productivity and happiness."
This belief is the core of Offsyte's mission. In her company's blog, Guo cited a Gallup research study which showed that companies with the highest levels of employee engagement outperformed those with low levels of engagement by a margin of 22% in profitability and 21% in productivity. That's because the nature of work is becoming more collaborative, according to one of the company's blog posts, "10 Office Collaboration Stats You Should Know." For example, a Microsoft survey suggests that collaborative work makes up as much as 80 percent of employees' time. What's more, a Dimensional Research study shows that 83 percent of employees depend on technology to collaborate.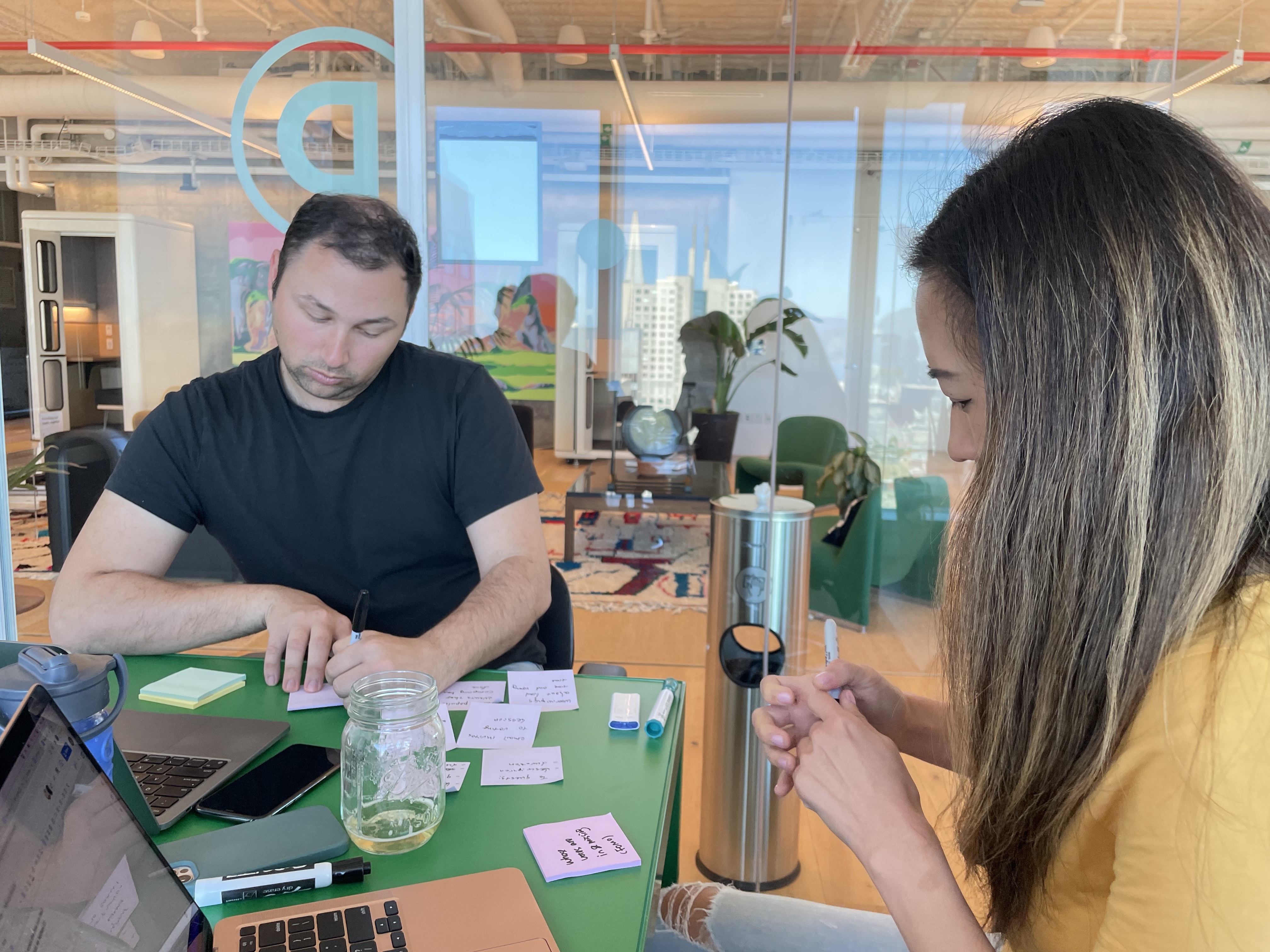 Offsyte's services proved highly effective and in high demand. "By the end of the year, with $0 spent on marketing, we had hosted more than 10,000 people from over 150 different organizations ranging from early-stage startups to Fortune 500s, non-profits, and universities," wrote Guo. "Thousands of cooking kits, mixology kits, game kits and fitness kits had been shipped to teams located all over the world."
Even Offsyte's own team benefits from the services they offer. "Everyone is very close to our product. We've done a ton of different events— murder mysteries, escape rooms, magic shows,'" she said.
The process of finding, vetting and booking company events can be cumbersome and time consuming. From the start, Guo and her team understood how important it was to automate this process, which is why Offsyte's self-service platform enables users to do all those tasks in one place.
If you head to Offsyte's website today, you will see an extensive menu of virtual and in-person team events. In many ways this reflects the future of workplace culture—one that can adapt, respond and innovate to help people thrive in a changing world.
The company now offers in-person events in the San Francisco Bay area, but virtual events remain at their core. "I think companies are realizing that you can't just snap back to five days a week in the office. So a lot of teambuilding events shifted to virtual. It's more inclusive to everyone regardless of where they are," explained Guo.
Although it can seem daunting, being able to pivot and adapt to unforeseen circumstances is a part of leading a company, and something Guo strives to embody as CEO.
"One of the most important things I learned from INI was the ability to learn things quickly," she said. "Because throughout my career—whether as an engineer, or manager or now as a founder—there's always things you don't know, and I feel like I'm learning every day. The ability to figure out how to handle the task at hand is important."
"One of the most important things I learned from INI was the ability to learn things quickly."
The other important lesson Guo took away from her time at the INI was the value of connecting and sharing meaningful experiences with her peers. She recalls taking the CMU shuttle on Henry Street after a late night of studying at the INI: "It was always packed—a lot of students at INI studied late. It was really fun and motivating to study with a group like that."
These are the types of teambuilding experiences she hopes to facilitate through Offsyte—interactions that not only bring people together but also create the foundation for a resilient and inclusive work environment. Emma Guo and her team at Offsyte see this future and are working hard to make it a reality for everyone.
This article was originally published in the INI Annual Magazine, The Network.