Women@INI (WINI)
Creating a nurturing and inspiring learning environment that promotes and celebrates gender and cultural diversity, both within and beyond the INI.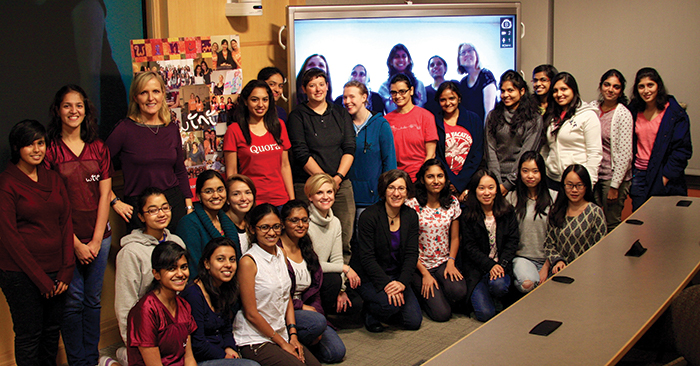 WINI Officers
We're happy to announce our new WINI Officers! We look forward to an excting semester!
History

When Dena Haritos Tsamitis joined the INI as associate director in 2002, not even one in 10 students were female. She founded WINI in 2005 to create a nuturing and inspiring learning environment that celebrates gender and cultural diversity. 
About

WINI plans networking opportunities, social events and community service. All students are welcome! In addition to gaining confidence, students are equipped with tools for success through workshops, speaker series and mentorship opportunities. 
Inspiration

WINI helped make the INI feel like home when Hiral Shah (2009) first came to the U.S. from India. The positive experience inspired her to cofound a similar organization during her time at Apple. Other alumnae have done the same at Salesforce and YP. 
GOINI MS34 Officers
We're happy to announce our new GOINI Officers! We look forward to planning some fun events for everyone this semester!
Goals

GOINI works with its members to instill an ideal blend of professional values and social networking skills in student life at the INI. We strive to build a local and global community and to foster an awareness of the INI identity.
We also aim to create a safe, comfortable environment for INI students, helping them to be more productive, and to create stronger bonds between students that will last well beyond their time at the INI.
Approach

GOINI offers students a number of chances to take leadership roles, explore the city and region, network with other students, engage in community service and deepen their relationships with each other.
Our goal is to make everyone feel not just welcomed but also excited to participate.
DSLID

Don't Struggle Like I Did (DSLID) is a workshop series led by GOINI to assist incoming students with acclimating to grad school life, including positives and negatives to stress, different ways of dealing with stress reactions, and how to evaluate and improve your environment and study time.