Innovate in the Wild
Sponsor an INI Practicum Project
Now accepting project proposals for 2021!
Project Submission Deadline - Friday, June 25, 2021 | Learn More
Practicum Project
Work with the smartest minds at CMU to develop and improve ideas as an INI Practicum Project sponsor!
Through the practicum experience, teams of INI students in information networking, security, and mobile and IoT engineering collaborate with industry sponsors to tackle problems, pilot new ideas and develop solutions for top companies, agencies and organizations. These projects span a variety of topics in computing, mobile systems and security, and range from fundamental research to software development.
Why Sponsor a Practicum Project? 
Meaningful Impact
Practicum projects are an outstanding way for companies to work with the smartest minds at CMU in order to develop and improve ideas. Students leverage their background and experience to provide novel approaches to a project that will have meaningful impact on the company.
Recruitment Opportunity
Sponsoring a practicum grants companies early access to exceptionally qualified INI students. From pitching project proposals to the entire pool of talented INI students to working closely with a small project team, the practicum environment is ideal for evaluation and recruiting.
Have an idea for a project? Review these next steps to submit a proposal!  
How It Works
3-6 Students Per Team
Matched according to skill sets and interests
14 Weeks
Fall semester (August-December)
280+ Hours of Work
Logged by each team member throughout the semester
Have a Project Idea? Submit a Proposal!  
We welcome proposals from corporate, government and research sponsors. Please review each step below for instructions on preparing and submitting your proposal.
Step 1: Review Project Proposal Instructions
The INI Practicum Proposal form collects information about potential practicum project sponsors, including details about the sponsoring organization, the project and the student background skills required for project success on the project.
Sponsorship Information:
Contact information for a technical and a business contact
Sponsoring company or organization name
Name of faculty/staff contact at CMU, if applicable
Whether INI and CMU may publicize sponsor's involvement in the INI Practicum
Confirmation that sponsor will agree to the terms and conditions of our Educational Project Agreement 
Please note that sponsorship includes a financial contribution:
$40k for-profit entities
$36k CyLab Partner
$25k for non-profits and small businesses (as defined by SBA)
$0 for government organizations
2. Proposal Submission: You will have the option of submitting your proposal by either entering responses into a series of text boxes or providing a link to a proposal document. In either case, the proposal must include the following:
Brief-yet-descriptive project title that captures the essence of the project
Few-sentence summary of the project and goals
Detailed, several-paragraph description of the project, including background, motivation, technical challenges, relevant technologies, etc.
Short list of expected project goals or outcomes that the project team could aim for. For example, explain a prototype or demo that would be of interest to the sponsor. Please note that educational projects are not allowed to have specific technical deliverables that are required by the sponsor.
3. Project Skills Requirement: You will be asked to rank skills that are required or beneficial to the project, such as cloud computing, machine learning, secure coding, etc. 
Step 2: Review CMU Educational Project Agreement
Sponsorship of INI Practicum projects is done under a CMU Educational Project Agreement (EPA) and requires a financial contribution to the INI, the amount depending on the sponsoring organization as:
$40k for-profit entities
$36k CyLab Partner
$25k for non-profits and small businesses (as defined by SBA)
$0 for government organizations
Negotiation of the agreement's terms and conditions are subject to an increase in sponsorship fees and must be initiated as soon as possible. Please note that certain terms are non-negotiable.
Practicum at CMU Silicon Valley

Step 3: Review Intellectual Property Policy
CMU students retain ownership of their intellectual property. At the above levels of sponsorship, sponsoring companies receive a non-exclusive, royalty-free, commercial-use license to use the student work product from the project course. Additionally, the teams share an archive of their work with the sponsor at the end of the semester. Sponsors interested in additional IP rights can negotiate directly with the students after the end of the academic semester.
Step 4: Submit a Proposal to Sponsor a Project
Recent Sponsors 
Adobe 
• 
BitClave • 
Carnegie Mellon University 
•
Cisco 
• 
Citi 
• 
Common Sense Media 
• 
Demisto • 
Ericsson 
• Ethical Intruder 
• 
Ford 
• 
Google 
• 
Intel 
• 
Matrix Solutions 
• 
Microsoft 
• 
NASA 
• 
Omlet 
• 
Quin 
• 
Samsung 
• 
SAP Labs 
• 
SLAC National Accelerator Laboratory 
• T-Mobile 
• 
Visa 
• USGS 
...and more!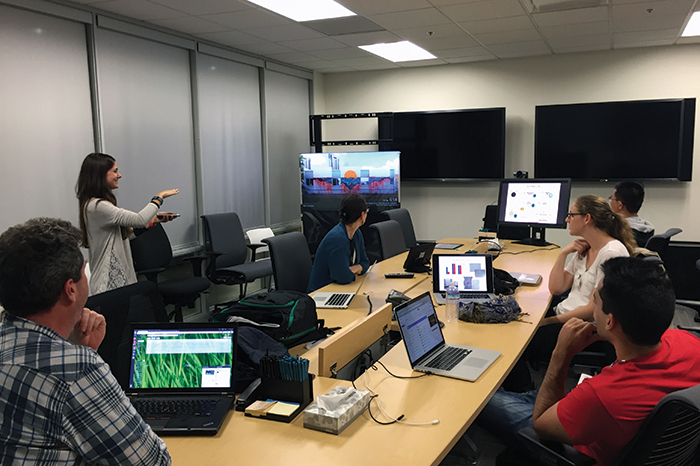 Google
"Practicum gives us an opportunity to explore projects from a perspective that we normally wouldn't be able to take. This is essentially the number one goal, along with creating better future tech employees!"
TREVOR PERING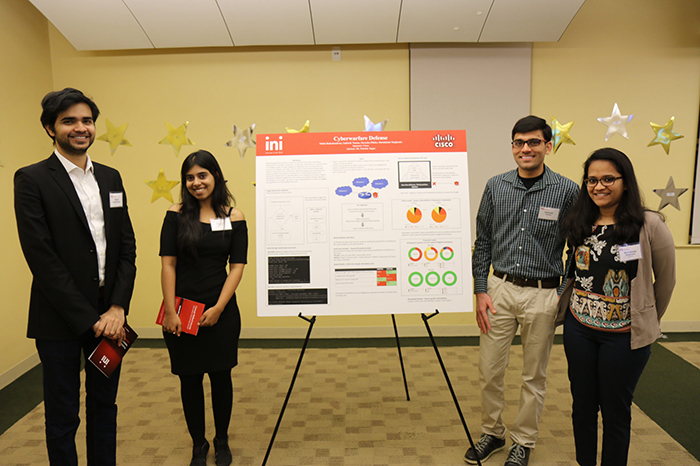 Cisco
"From a sponsor's perspective, the value of the practicum is influence. Sharing the Cisco brand and culture, inspiring the next generation, giving back - all while improving our recruiting pipeline."
CHRIS DORROS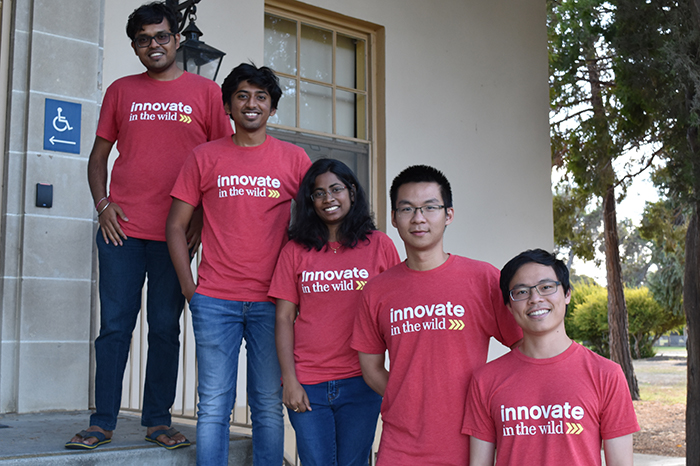 SLAC National Accelerator Laboratory
"The value for us is to meet and benefit from the contributions of top students, who bring an amazing energy and enthusiasm, and an amazing set of skills and new tools."
SILA KILICCOTE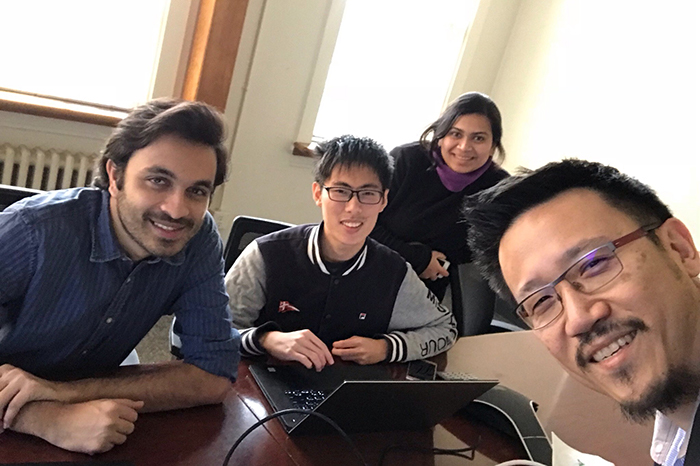 Quin
"The students
completed the proof-of-concept to validate the idea, added features and resolved issues along the way. That's tremendous help for me to take the next step for my work."
YEN-MING CHEN
2020 Practicum Project Descriptions
Building Browser-Based Data Tools | Sponsor: Carnegie Mellon University

In 2020, the California Consumer Privacy Act (CCPA) was enacted, which enables California residents to opt out of having their data sold or "shared" with other companies online. To make it easier for consumers exercise their rights, this team seeks to design, build and test a browser extension that sends HTTP header signals requesting companies to fulfill CCPA obligations. 
Coordinating Home Health Visits in the COVID-19 Pandemic | Sponsor: Carnegie Mellon University
Due to COVID-19, telemedicine is quickly replacing in-person clinic visits. However, many conditions still require physical examinations or hands-on intervention, which can be provided through in-person home visits by medical providers. The goal of this project is to efficiently and adaptively schedule providers to these home visits to minimize provider travel time, while ensuring that all patients can be seen. 
Security Analysis of Home IoT Systems | Sponsor: Carnegie Mellon University
One of the most significant challenges to securing smart home IoT systems is that users deploy devices from multiple vendors or service providers, and no single entity is able to monitor all of the activity in a home. Instead of relying on individual vendors, this team seeks to develop independent monitoring, analysis, detection, and visualization tools that can view the IoT system holistically, including aspects of wireless, network, device, OS, and application security.  
Humanizing Tele-Education with Machine Vision | Sponsor: Carnegie Mellon University
In tele-education, lecturers need to be able to ascertain student engagement. Unfortunately, this can be difficult in a remote setting, as lecturers often have a limited view of their audience. This project will investigate and develop machine vision techniques for alleviating this problem. 
Automated Penetration Testing Attack Selection Framework | Sponsor: Ethical Intruder
Manual penetration testing is often a time consuming and complex engagement due to the amount of planning and analysis that is required to successfully select and execute the most appropriate attacks for a specific environment and scenario. This project aims to use machine learning to make that process more efficient and effective through automation.
Detection of Anomalies in Flights Using Explainable Deep Generative Models | Sponsor: NASA
Airlines capture and analyze real-time flight data to log known events, but whether this data may also capture significant unknown safety events is not currently being tracked. The goal of this project is to develop an explainable machine learning model to detect and/or predict anomalies that could lead to adverse events using high-dimensional and heterogenous time series recordings of airspace operation.
Simulation, Modeling, Visualization, Algorithms, and Data Analysis for Improving Airport Surface Operations | Sponsor: NASA
Airport surface operations present a difficult, large-scale logistics problem requiring multi-criteria optimization. This project proposes to investigate this problem, specifically the movement of aircraft at a busy airport, to improve efficiency and avoid serious delays by automating some of the decision-making process, such as ordering pushbacks from gate, runway assignment and wait times. 
Internet-of-Things Data Fusion | Sponsor: National Security Agency
As their proliferation increases, Internet-of-Things (IoT) devices continue to generate more data and new types of information. Such devices are increasingly used by personnel in military installations, creating digital dust that presents a growing operational security concern for National Security Agency and Department of Defense organizations. This project team seeks to better understand how different IoT datasets could interact with each other and provide intelligence to adversaries. 
Serverless SIEM/Log Management Solution | Sponsor: Procter & Gamble
As a multinational company, P&G has Security Operations Center (SOC) teams that rely on SIEM (Security information and event management) systems to collect and aggregate event logs from across the enterprise to analyze and respond to security incidents. However, SIEM solutions have been expensive and difficult to scale. Therefore, this project team seeks to design and implement a scalable SIEM based on the existing cloud service infrastructure.
Blockchain for Optimized Security and Energy Management (BLOSEM) | Sponsor: SLAC National Accelerator Laboratory
To solve the greatest challenges around renewable penetration and grid resilience, we need data sovereignty, starting with a unified, secure identification framework for all grid assets as well as behind-the-meter smart devices. This team proposes to develop a blockchain-based registry of traditional grid assets and emerging smart devices, and demonstrate the system at scale with industrial control system infrastructure. 
DEVINE - Demonstration of Vehicle-Grid Integration in Non-Residential Environments | Sponsor: SLAC National Accelerator Laboratory
While increasing the implementation of electric vehicles (EV) is a major step towards a cleaner transportation sector, it can also create additional demand and grid stress if EV loads are not managed correctly. DEVINE is a tool being designed to help address these issues by utilizing EV charging data. In this project, students will evaluate the existing design of the DEVINE infrastructure and build out data exploration interfaces. 
Mobile Peer-to-Peer Blockchain Enabled Sharing (MP2P-BES) | Sponsor: T-Mobile
The goal of this project is to develop a Peer-to-Peer Prototype that provides network access and secure public peer-to-peer sharing of mobile device resources. The major components include a blockchain technology-based engine, smart contract policy enforcer module, peer to peer protocol, hotspot tether slice resource module, private ledger engine, and peer-to-peer subscriber database. 
Geospatial Data Visualization for Optimizing Vehicle Routing in Land Gravity Surveys | Sponsor: United States Geological Survey (USGS) 
The acceleration due to gravity is not the same everywhere on Earth. Mapping these variations in the Earth's gravitational field allows scientists to explore for energy and mineral resources and to map faults in earthquake-prone areas.  The student team built an interactive data visualization tool that allows scientists to better understand spatial variations in the Earth's gravitational field and to identify the highest priority areas for collecting new gravity data.