Alumni Spotlight - Refiberd
Inventing New Tech to Tackle Textile Waste
Flashback: It's the first quarter of 2020. The world is submerged in uncertainty and fear due to the COVID-19 pandemic. Lives extinguished, questions unanswered, dreams dashed, doors closed.
Amid this global existential crisis, three female engineers chose to forge ahead with a mission-driven start-up idea to eliminate textile waste: inventing 100% recycled thread.
Formally founded in May 2020, Refiberd is billed as "the solution the textile world has been waiting for" and has been chosen as a "Top 5 Social & Culture Finalist" in the SXSW 2021 Pitch Competition this March.
Less than 1% of material used to produce clothing is recycled, clogging landfills and representing a loss of more than USD 100 billion worth of materials each year.
The co-founders tackling such gross industrial waste and negative environmental impact are Sarika Bajaj (MSECE '19 & MSTV '20), Tushita Gupta (MSECE '18), and Mingyue (Ida) Wang (MSTV '20 & MSCEE '20).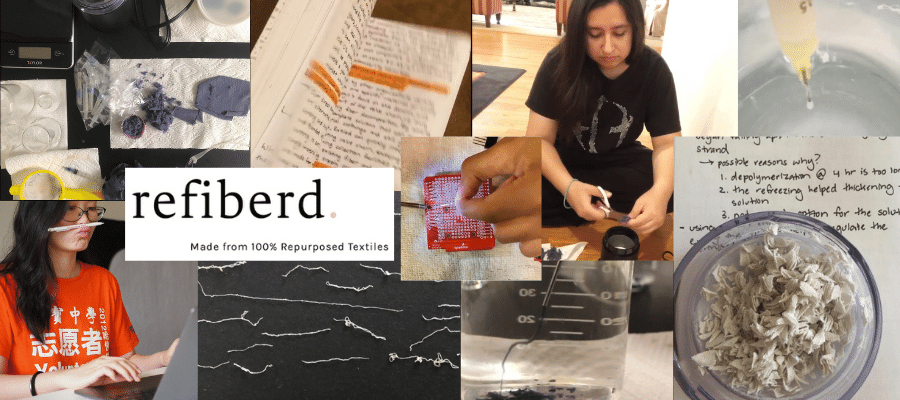 "Refiberd is an interesting combination of all of our different backgrounds, from Sarika's work in textile experimentation to Tushita's applications of AI and my background in environmental engineering. It shows the possibilities that arise with interdisciplinary research, which really shows the promise behind CMU's and the Integrated Innovation Institute's philosophy," Wang said.
"It's been exciting to use my engineering background to make a real impact in a field that we wouldn't normally associate with ML or AI: textile development. It's been quite eye-opening to see how many improvements new technology can bring to a wide range of disciplines," Gupta added.
Bajaj first started experimenting with textiles and textile development as an undergraduate with CMU's IDeATe program, under Professor Olivia Robinson, Julie Chen, and Susan Finger.
"IDeATe was my first introduction into textiles and the technology behind the field. My original background was electrical engineering, but I quickly learned how much precision and engineering was involved in the fashion and textile world, so I became interested in how to meld the two disciplines. The Master of Science in Technology Ventures and VentureBridge then gave us the tools to convert a technology exploration into an economically viable concept," Bajaj said.
None of the founders have the capital to bootstrap this business. They've leveraged CMU resources, turning to faculty for expertise, experience, and connections and seeking out opportunities like VentureBridge.
As part of the VentureBridge Summer 2020 cohort, the team was matched with mentors who advised on the viability of Refiberd's business plan and who helped identify metrics to position the start-up for funding. The program culminated in a pitch event called "Demo Day."
"From helping us with concept ideation to providing initial funding and mentorship, CMU helped transform Refiberd from a concept to a real start-up, and we could not be more grateful for their help," Wang said.
Due to COVID-19 protocols, the co-founders met only once in person before lockdowns began; every pitch meeting for the venture has been held remotely – including the one for SXSW.
The three share their founder's journey on Instagram at @garbougee (the @refiberd brand account remains poised for launch).
The social media page is a humbling and human chronicle detailing their product testing journeys in an oft-seen startup location: Bajaj's parents' garage.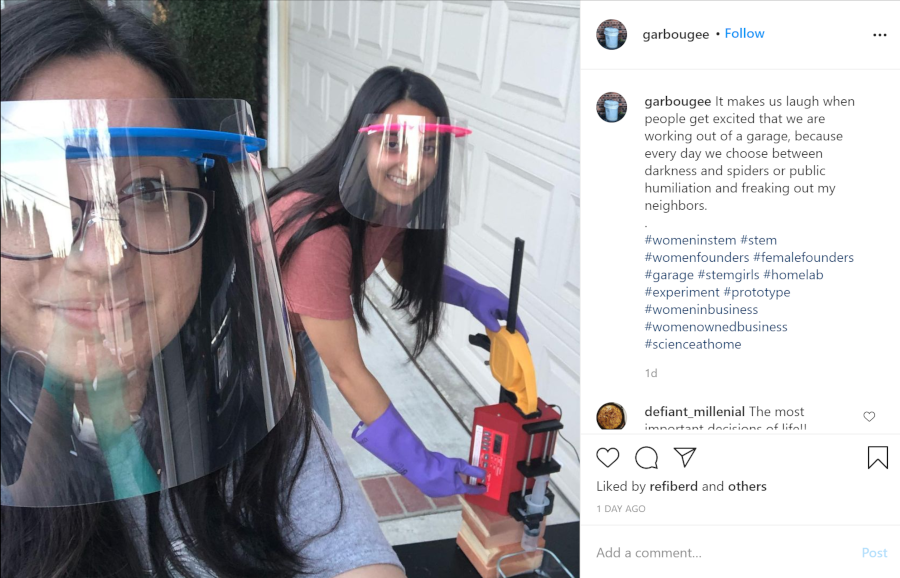 Bajaj and Gupta experiment outside the garage
Highlights include the DIY usage of a coffee grinder to make fibrous "fluff" out of fabric scraps, the first recycled fiber extrusion (and subsequent gelation - an impediment appearing in all research papers read by the team), and the production of their first viable thread samples.
"Honestly, the reason why I started this startup is because I wanted to do something that I knew I'd enjoy every day. And even at the worst times when I'm scared and I'm stressed and everything feels like it's falling apart, I'm actually happy because I feel like I'm solving a problem that's worth solving. That's what we want out of our startup. And hopefully it'll work. And hopefully we can do it for a long time," Bajaj said.