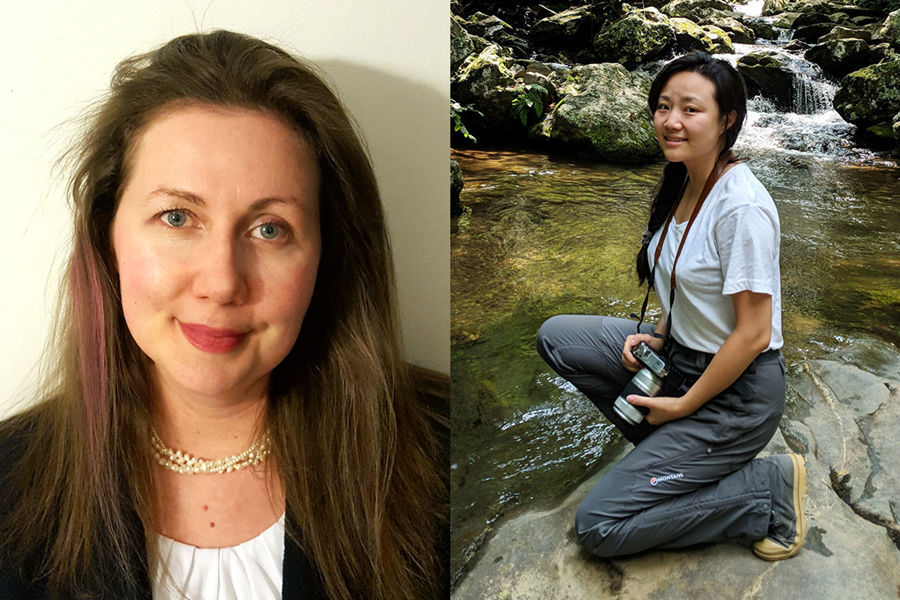 July 25, 2019
Full (Tartan) Circle
CMU alumni join together to change lives and careers in only 30 minutes a week
When Sarah Steers (DC 2005) was diagnosed with multiple sclerosis after already struggling through the Great Recession, earning her law degree from Pitt and starting to ascend the legal ladder, she was crushed. 
After taking some time off, she was finally approved to return to a full-time workload and saw an email from CMU in her inbox detailing a new professional development program, Tartan Circles.
It was her first time hearing about the program, in which small groups of CMU alumni meet virtually for 30 minutes a week for nine weeks. Each week, the meetings focus on a different Circle member to help each participant receive unbiased and candid advice on career and professional topics like building a strong network, challenges when seeking a new role and being a better leader. 
After she signed up and was assigned to a Young Professionals Circle, Sarah immediately became smitten with the program.
"I'd had a very hard difficult time explaining my story and being a Tartan Circle participant helped me frame a narrative. Everyone came to the table with a different story but was in the same boat together," Sarah reflects. "Everyone was so supportive. They said 'Sarah, you have nothing to be embarrassed about. You went to CMU. Your heart is in the work. Put yourself out there.' "
For Yang Yang (TPR 2018) the advice and support of her Tartan Circle inspired her to seek a new position more aligned to her career goals and aspirations.
"My Tartan Circle gave me a new perspective," Yang says.
Insight from young alumni who were close to her age, those who had been in their careers for three or four years and seasoned alumni with 20 years in the field compelled her to change her employment situation.
"Tartan Circles helped me grow a lot. This position could be a long-term plan for my career, and that makes me very happy."
"They allowed me to realize what I really want from my career, and I realized I wasn't going to get that from my first job. My Tartan Circle really drove me to look for a place where from the top down everyone cares about what I care about," Yang says. "The whole company is aligned, and we can all make changes to impact the world."
After taking advice from her Circle, Yang has been in her new role as an interaction designer with Victoria's Secret in Columbus, Ohio, for a few months. She works to make each customer's journey smooth and enjoyable on the company's website.
"Tartan Circles helped me grow a lot. This position could be a long-term plan for my career, and that makes me very happy," Yang says.
The Tartan Circle experience left Sarah with such a positive feeling that when her e-mail inbox pinged again, this time with a request for Circle leaders, she jumped at the chance to facilitate her own group.
Her Circle — this time for Networking and Relationship Building — welcomed CMU alumni from vastly different stages of their careers. Questions ranged from how to engage with someone at your first networking event to transferring to a new geographic area and garnering contacts for a consulting business.
"We definitely fed off of one another through the questions we presented to each other via email before meeting via Zoom," Sarah explains. "The camaraderie, the empathy, the kindness and the friendship were the same in both of my Circles. I really think having that range of career professionalism, career arcs and ages lent itself to a wide variety of (beneficial) conversations."
Those 30 minutes a week flew by each time, Steers says from her office as a legal career counselor at Pitt's School of Law where she is finishing up a one-year position and leaning on the lessons learned through her Tartan Circles as she looks for her next opportunity.
"It really does cap you at 30 minutes. It's a hard start and a hard finish. If you can watch two episodes of 'The Office,' you can commit to a Tartan Circle," Sarah says "I promise you'll get as much out of it as you do Michael Scott."