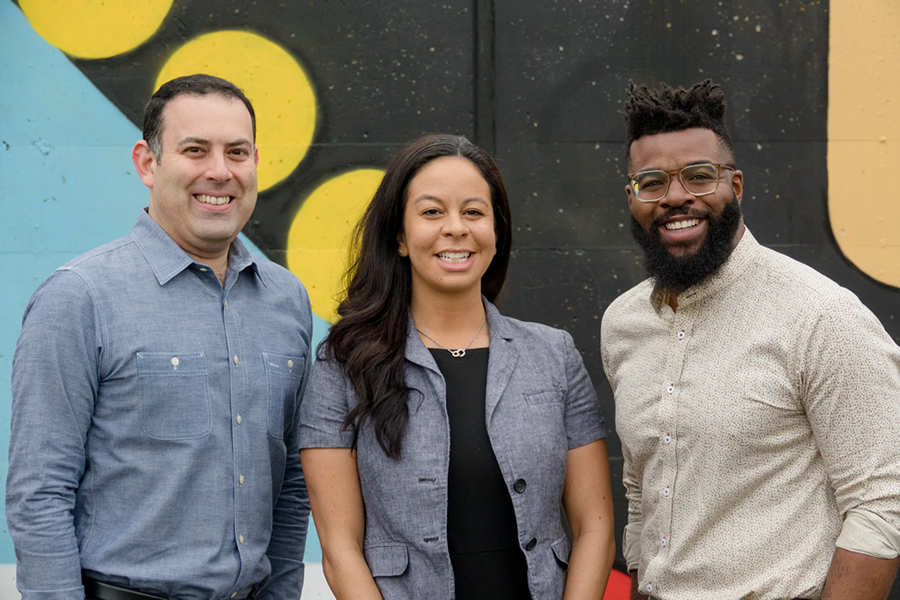 June 10, 2019
Building Bridges for the Greater Good
Heinz alumni strengthen social impact by bringing communities and institutions closer
In our rapidly changing economy, Jessica Lynch (HNZ 2013), Raymar Hampshire (HNZ 2011) and Max Skolnik launched Generation Titans, a social impact firm. Generation Titans is about translating and connecting the needs of communities with the right resources.
"We're really passionate about giving people the resources and the support to create, to innovate, and to be able to say 'I have this idea and I actually have the support to make it a reality,'" Jessica says.
Generation Titans works with corporations, foundations and investors to create meaningful and authentic strategies to connect to communities — including customers and employees. The organization also works with entrepreneurs and creators of color to find the resources they need to thrive.
Raymar and Jessica both earned their master's degrees in Public Policy and Management at the Heinz College of Information Systems and Public Policy.

For Jessica, her early life in rural North Carolina and her work as a college administrator ignited her passion for creating social impact and the students she worked with who lost their ability to be creative and innovative in the face of systematic social and educational barriers.
"Talent and ability are evenly distributed," Jessica explains. "But opportunity is not."
Having worked at Deloitte Consulting and the Obama Foundation, Jessica says her time studying public policy at CMU has helped her think critically about data and information, allowing her to better steer young entrepreneurs of color and companies in the right direction.
"Management Science and so many other technical classes helped me think about how to approach challenging problems and break them down with clear assumptions," she says.

Raymar's interest in social impact began when working as a wealth manager at Merrill Lynch, where he noticed the financial and social-economic barriers to information and opportunities to help those with less build wealth. During his time at Heinz College, Raymar worked with faculty members and students to found Sponsorchange, a tech-based platform that matches volunteers to non-profits, while also providing crowdfunding and direct student loan payments as an award for their service.
Raymar overlapped with Jessica at Deloitte as a technology consultant before joining Max and Jessica as the Deputy Director of National Programs at MBK Alliance, which is now a program of the Obama Foundation.
"We have been incredibly fortunate to learn, work and build personal relationships with hundreds of community leaders from around the country who are tackling some of our most pressing issues." Raymar says.
Since, leaving the Obama Foundation, the Generation Titans team has consulted with national partners and social impact clients to design immersive investing strategies for funders that benefit startup founders of color and immersive corporate engagement strategies.


In March 2019, the Generation Titans team worked with RFK Human Rights and Google Austin to help orchestrate and launch the Titan Generator, an immersive event at SXSW that provided a safe space for national social movement leaders and entrepreneurs of color to collaborate. The event attracted dozens of resource partners, more than 100 entrepreneurs of color, and movement leaders from United We Dream, March for Our Lives, the International Indigenous Youth Council and Color of Change. Participants were invited to apply for funding and Generation Titans selected 20 inaugural Titan Awards and each winner received a micro-grant from funds pledged during the event.

Jessica and Raymar were instrumental in the October 2018 launch of "Pecan Resist" a Ben & Jerry's ice cream flavor celebrating The Resistance, a movement working towards a more just and equitable future.
"Ben & Jerry's wanted to host a community block party in conjunction with the launch of Pecan Resist in D.C. and we curated and worked with a diverse group of community organizations and local agencies to co-design the event." Raymar says. "Launching a new ice cream flavor has definitely been one of the coolest things I've ever been a part of!"

Generation Titans is focused on continuing to leverage its proximity to communities and resources, while scaling its practice and developing technology that enhances service delivery.
"We're exploring machine learning, artificial intelligence and other methods to leverage big data in social impact strategy development and delivery. Our coursework at CMU and work at Deloitte has provided us with a foundation to think about how to best build systems to collect, track and manage data and how to make data actionable for internal decision making and valuable to clients and customers," says Raymar. "We're interested in hiring students that are pursuing careers in data science and technology and are also passionate about using their skills to build social impact strategies that are authentic, inclusive and equitable."

Their valued connection to Carnegie Mellon and the Heinz College continues through the students who they work with to build Generation Titans. Temeca Simpson (HNZ 2019), interned with Generation Titans and has been working for the past year with Heinz College to launch a fund to support diverse student entrepreneurs that's supported by alumni, matched by the college, and managed by graduate students – all complementing pipelines to existing campus programs for student entrepreneurs.

Despite the many challenges that come with revolutionizing the social impact landscape, Lynch notes: "The best part is being able to build something with people who you enjoy working with and building something you realize is going to be bigger than just you, building something that is about community."