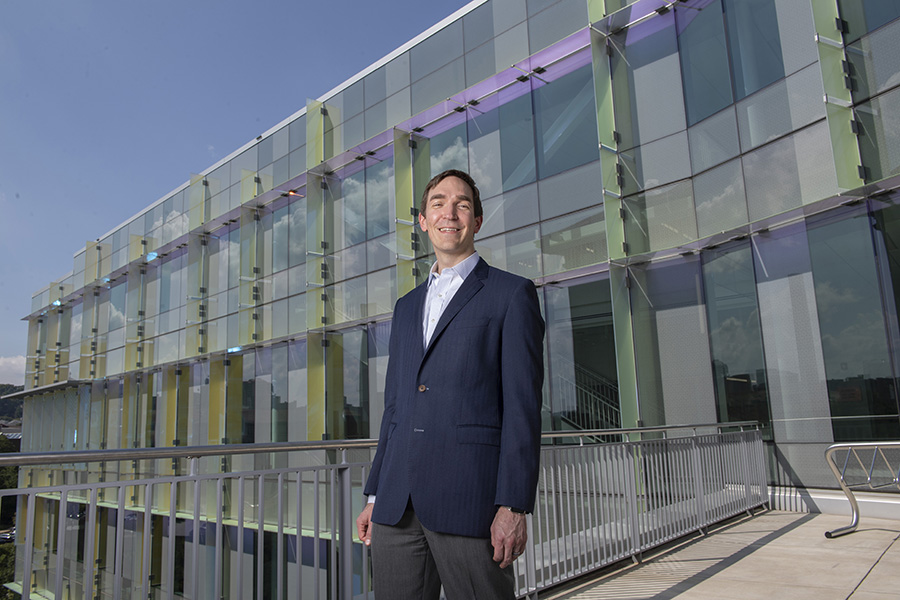 Volunteer Spotlight: 10 Questions with Bryon Krug
Carrying On the Tartan Legacy
Bryon Krug (E 1998) learned valuable lessons ― both academic and philanthropic ― during his Carnegie Mellon years that still guide his life. He balances a demanding business career with committed volunteerism for the university as president of the Andrew Carnegie Society.
Bryon double-majored in electrical and computer engineering and engineering and public policy at CMU and found success as an entrepreneur. He created an e-publishing firm and a vending machine business, and helped to launch a number of other companies. In 2008, he started CEG Solutions (formerly Clark Energy Group) and now serves as its president.
During his days at CMU, he also served as student body president and was an ACS Scholar. The program impressed him deeply because it celebrates outstanding undergraduate achievement while teaching the philanthropic principles that CMU co-founder Andrew Carnegie practiced. Bryon continues this tradition for future students by funding an ACS Legacy Scholarship.
To help the CMU community get to know Bryon better, we asked him 10 questions.
Who's your favorite Tartan?
There are too many great ones to choose just one. My favorites are those who helped to make CMU the special place that it is today. If I have to choose a single favorite, I'll go with Andrew Carnegie, since he got it all started.
What's the best meal you've had in Pittsburgh or at CMU?
I'd have to go with dinner at Monterey Bay Fish Grotto. I just love the views from Mount Washington.
In one sentence, describe your job.
I run a company that makes existing buildings more energy-efficient and sustainable.
What's the last show you saw starring a CMU graduate?
Whenever we see a show, my wife and I love to scan the playbill as soon as we're seated to spot all the actors who have a CMU connection. It seems like it's more notable when there isn't a CMU grad in the cast than where there is. But the show that stands out is "Newsies," with CMU alumni Corey Cott and Kara Lindsay in both lead roles.
Booth or Buggy?
Buggy (though I lacked the talent to do either).
Which Scotty: costume or canine?
Costume.
What's your most memorable volunteer experience?
I've had lots of great volunteer experiences with CMU as an alum. However, my most memorable volunteer experience would have to be my first time volunteering for Habitat for Humanity as a student. I was assigned a job painting a basement that had no ventilation. But I didn't notice that the basement lacked ventilation until after I had inadvertently breathed enough paint fumes to cause the world to start spinning. I think it was my first and only experience being high.
Self-driving cars: terrifying or terrific?
Terrific. Cannot wait.
Who is your biggest inspiration?
Benjamin Franklin.
What makes you a Tartan?
Love for CMU and appreciation for all the ways I've benefited from the school.