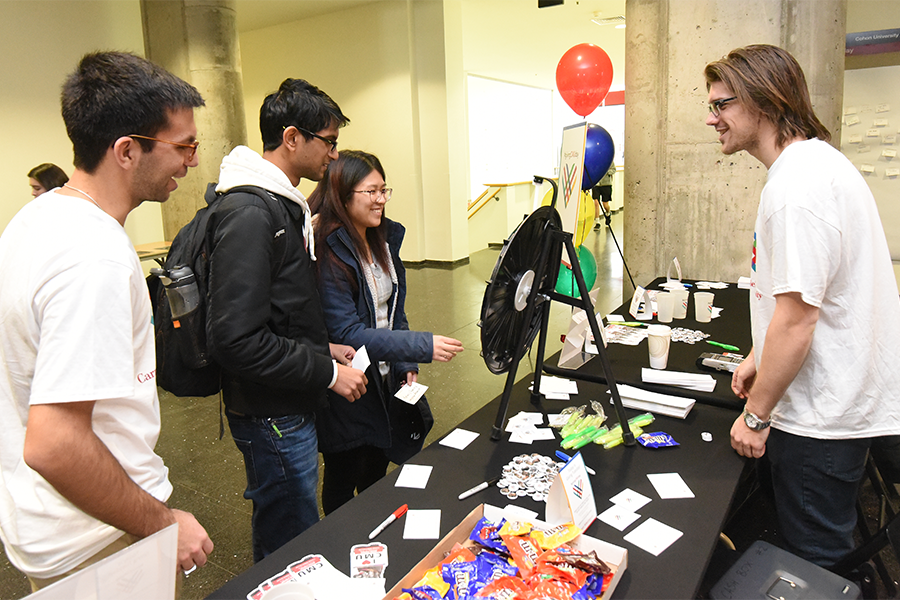 CMU Community Joins Together for Greatest #givingCMUday Ever
#givingCMUday 2018 Exceeds Goals and Enhances Student Experience
#givingCMUday 2018 was the most impactful day of giving in Carnegie Mellon University's history, thanks to CMU's generous alumni, students, parents, faculty, staff and friends.
As part of the November 27 initiative, 3,625 donors gave $740,958 to the CMU programs closest to their hearts and exceeded all goals, including the most important one — making a tangible difference to the CMU community.
Student organizations were one group that benefited from this powerful day of giving. The unprecedented community support empowers students to pursue their passions, from competitive model rocketry to cultural dance. 
CMU Bhangra, which has benefited from past #givingCMUday efforts, expressed their gratitude to donors with a live performance on Facebook. Fueled by $1,000 in funds from #givingCMUday last year, CMU Bhangra has had the chance to travel to elite competitions across the nation. 
"These guys are my family," said junior Riya Uppal. "It's been an awesome opportunity to be able to dance with them in competitions around the country and represent CMU." 
Gifts to colleges and schools, student organizations, crowdfunding projects, athletic teams, scholarships, fellowships and other CMU funds all counted for #givingCMUday. 
Senior Raghav Goyal, a #givingCMUday student host, gave to his fraternity, Delta Tau Delta, which he described as an invaluable academic and social support system. 
"#givingCMUday is our chance to give back to this community that has given so much to us," he said. 
Senior Quinn Zsido, a CMU football player and Student-Athlete Advisory Council member, said #givingCMUday donors provide the equipment, training and travel that gives student-athletes a competitive edge — but also much more. They inspire the sense of belonging and camaraderie that comes with being part of a close-knit team. 
"I just immerse myself in this world of incredible human capital and incredible minds," he said. 
For students like Abby Stevenson, an Andrew Carnegie Society Legacy Scholarship recipient, CMU donors offer transformative educational and leadership experiences.    
"My scholarship has made a huge difference to my family and helped us pay for books and tuition," she said.  "Even a small donation on #givingCMUday has a big impact."
To learn more about #givingCMUday 2018, visit cmu.edu/givingcmuday.
2018 #givingCMUday Challenge Highlights
There were so many great inspirational moments of the day. Here are a few worth noting: 
Our 3,265 donors unlocked a special $12,500 gift from an alumnus who challenged the CMU community to surpass last year's total of 2,597. 
The Office of the President matched all student gifts from $5 to $500, up to a total of $40,000.  
Two generous donors offered a #givingCMUday Parents Challenge and doubled all parent gifts from $5 to $500, up to a total of $20,000. 
The Tepper School of Business community unlocked a $25,000 gift from an alumnus by surpassing its goal of 750 #givingCMUday donors. 
More than 300 students kicked off #givingCMUday with Plaid Palooza at midnight in the Jared L. Cohon University Center. Delta Gamma and Camp Kesem received $500 awards through an exclusive Instagram check-in challenge.  
Students also had the chance to win additional $500 awards for their favorite CMU student organization by submitting nominations on campus posters and rallying the largest number of donors.