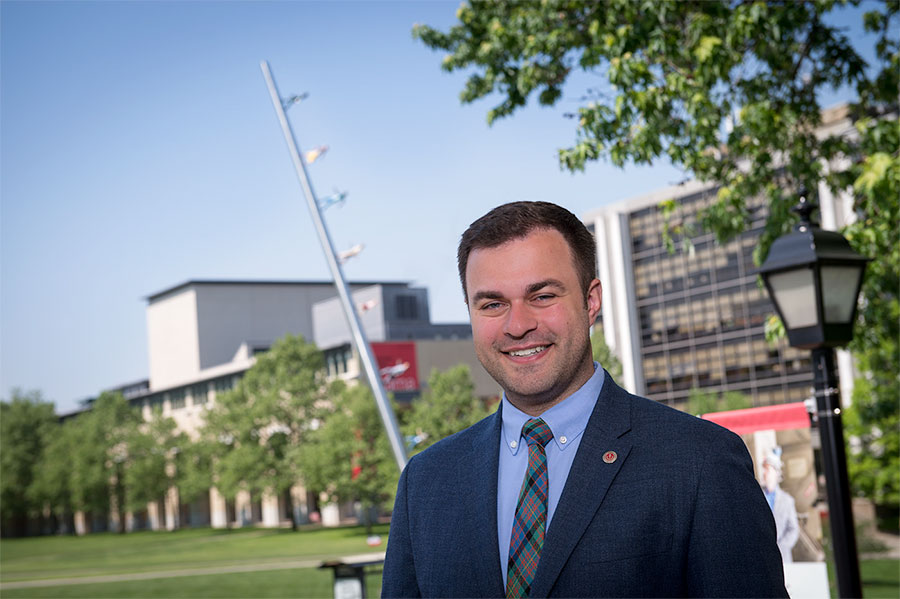 So CMU
Life keeps bringing incoming AAB President Alex DiClaudio back to Carnegie Mellon
What do popular web series "Pittsburgh Dad," an Irish company, a Pittsburgh-area school district and Alan Cumming's one-man version of "Macbeth" have in common? Incoming Alumni Association Board President Alex DiClaudio (DC 2009, HNZ 2011), who has forged an unconventional career path by seizing opportunities presented by his CMU connections.
"It's a very Carnegie Mellon thing, right? I came to CMU to study economics and then got involved in Scotch'n'Soda…I developed sort of a 'split personality,'" DiClaudio said. "If you look at everything I've done, it may look unconnected, but to me, they all follow logically because of either a personal connection I made or I was able to draw on an experience I had at Carnegie Mellon that allowed me to move onto the next thing."
DiClaudio, who holds a bachelor's degree in economics (a collaboration of the Tepper School of Business and Dietrich College of Humanities and Social Sciences) and a Master of Arts Management (a joint program between the Heinz College of Information Systems and Public Policy and College of Fine Arts), is a film, television and theater producer; freelance project management and pitch consultant; and president and CEO of a tech startup.
"In many ways producing a show is like running a startup — and now that I'm running a startup, I can say that definitively — it's largely about tackling a project and getting it done," he said.
After earning his graduate degree, DiClaudio headed to New York, where, thanks to his CMU connections, he started working for the Off-Broadway Atlantic Theater Company, first in the box office and then on the finance side. He returned to Pittsburgh to work for a private equity firm and started producing Broadway productions — serving as a junior producer for the "Annie" revival and 2012's "Grace" with Paul Rudd and Ed Asner, to name a few — through his own company DiClaudio Productions. He co-produced STARZ's first unscripted series, "The Chair," and took on the role of producer for "Pittsburgh Dad," to help creators with the business side.
In late 2017, he started working with HiUp, an Irish digital media and technology company, to launch HiUp USA, a Pittsburgh-based subsidiary that will focus on helping blue collar workers connect with job opportunities looking for their particular skillset. He also is a member of the Riverview School District School Board in his hometown of Oakmont, Pa.
On July 1, he takes the helm of the CMU Alumni Association Board. A member of the board since shortly after graduating, DiClaudio was inspired by the dedication and passion of his fellow board members to take on a leadership role.
"Every new connection that is made just strengthens the power of the network for all of us," he explained. "It couldn't be a more exciting time to be a part of CMU."
He sees the critical goal of the Alumni Board as increasing the connections between CMU's independent alumni community and the university and, most importantly, each other.
By using his and his board members' roles as ambassadors, he wants to encourage CMU alumni to engage with the global CMU network for support, inspiration and a sense of community, especially young alumni like himself.
"As alumni, we don't always leverage our CMU connections as well as we could. Look at the Ivy Leagues for example, their alumni organizations are amazingly strong networks," DiClaudio said. "Now, they've had centuries to figure that out, and we're just getting started. I like our odds."