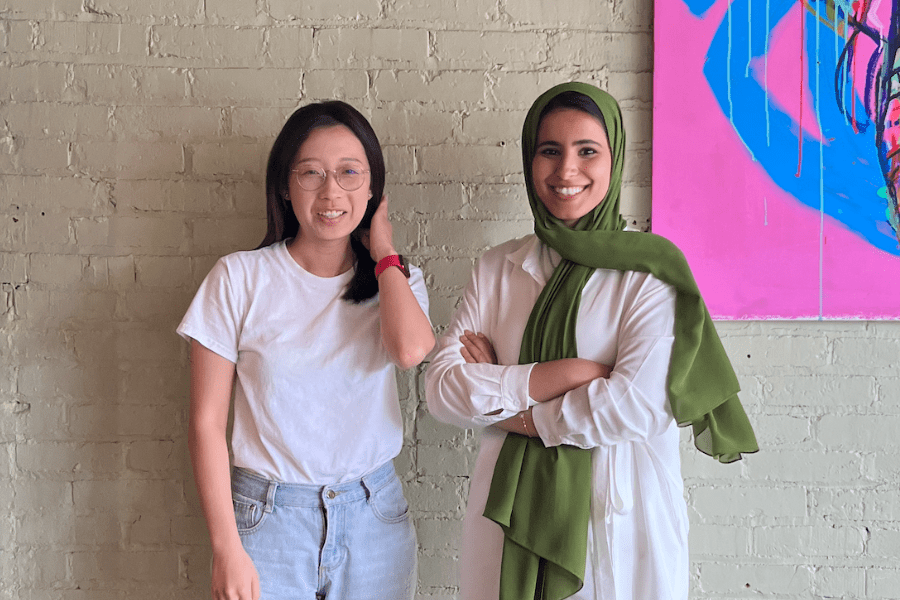 September 20, 2022
Global Communication and Applied Translation Students Discover New Perspectives on Translation
By KellyAnn Tsai kellyanntsai(through)cmu.edu
A summer internship has helped two students in Carnegie Mellon University's Global Communication and Applied Translation (GCAT) program discover new possibilities for their future careers.
The Master's in Global Communication and Applied Translation (GCAT) is a joint program offered by CMU's Department of Modern Languages and Department of English. The one and a half-year program provides students with training in the principles and practices of professional translation, localization, and global communication. 
To expand on their classroom training, graduate students Amani Alolayani and Yifan Fang spent eight weeks interning at Global Wordsmiths, a Pittsburgh-based social enterprise providing translation, localization and interpretation services. The company uses its profits to do social justice work focused on improving language access, such as helping hospitals develop outreach plans to communities with limited English proficiency and spreading awareness about the right to language accessibility.
During their internships, Alolayani and Fang worked in several areas of the business to learn how a language service provider operates. Beyond translating for clients, they also helped manage projects, schedule interpreters, conduct user research, and develop new client documentation. They even connected with the company's accounting team to better understand the financial side of the business. "We had a really nice experience working and learning with each team member," said Fang. 
"I think it was one of the more successful internships we've done to date, because they truly jumped right in and learned a bit of everything," said Mary Jayne McCullough, Founder and Director of Global Wordsmiths and adjunct professor in the GCAT program.
Thanks to the internships' broad scope, the students not only gained hands-on experience with different aspects of the translation industry, but also a new perspective towards their future careers.
Fang says her experience at Global Wordsmiths prompted her to reconsider a career as a freelance translator. "At first, many of us [in the GCAT program] wanted to have a nine-to-five job, because we weren't certain about the career paths as a freelance translator," she said. "But after working with so many translators and getting to know more about [Global Wordsmiths] this summer, I think I will try out this path after graduation," she said.
Alolayani says her internship experience gave her a greater understanding of the different roles involved in the translation industry.
"I see a future for myself, definitely, in the language industry. What specifically? I don't know yet. But I'm exploring and I'm willing to try new things," she said.
McCullough, whose company has provided several GCAT students with internships over the years, is proud to help new translators discover new ways to apply their skills.
"When people intern at Global Wordsmiths, they get practical skills and experience, which is great. But they also learn about the impact that language has on people in terms of language accessibility, and how they can help," she said. "The more people who know how to translate and interpret correctly, the more people who know about the social impact side of this work, the more equitable and just our world will be."
Both Alolayani and Fang agree that their studies in Carnegie Mellon's GCAT program are not just about translation, but about developing skills that will help them make an impact in the future.
"I think the greatest thing about the GCAT program [...] is that we have a lot of conversations about intercultural competency and the ethical parts of translation and interpreting in professional settings," said Fang. 
"It's a whole set of transferable skills," said Alolayani. "Those skills in communication, empathy, and writing are very valuable in whatever work you do." 
Learn more about the Master of Arts in Global Communication and Applied Translation