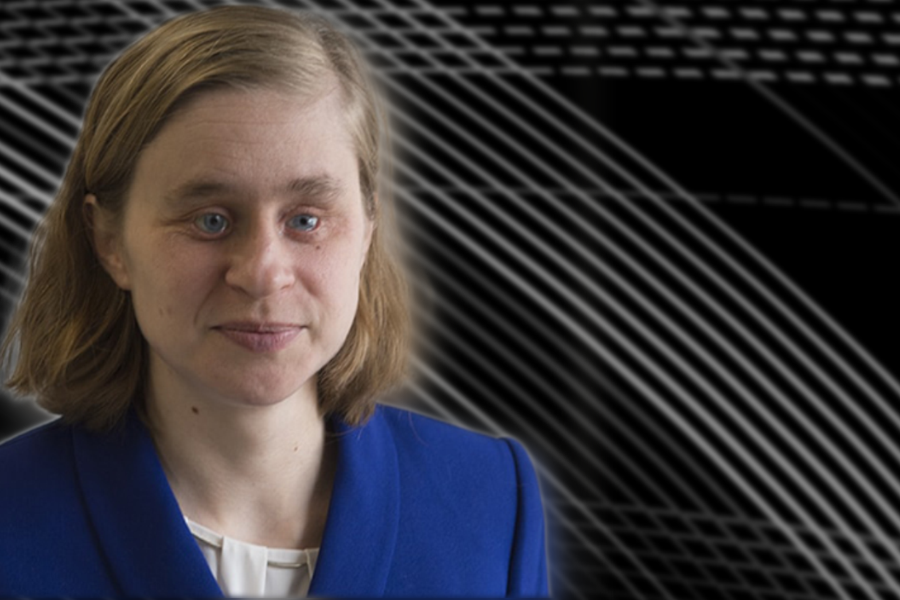 June 08, 2021
Director of Office of Disability Resources Merges Accessibility with Language Learning
By Meghan Marino meghanma(through)andrew.cmu.edu
How can language learning and a profession in disability services be fused to benefit not only students at foreign institutions but international students who are English language learners and may struggle with cultural barriers that make identifying as a student with a disability difficult? This is a question that Catherine Getchell has spent much of her time pursuing in her role as both the director of the Office of Disability Resources at Carnegie Mellon University and as a student taking Arabic courses at CMU.
Getchell joined CMU in 2016 where she would become the director of the Office of Disability Resources after having worked for twelve years at the Pennsylvania Office of Vocational Rehabilitation. As a part of her interview process, Getchell met colleagues from Carnegie Mellon University Qatar and within her first week on the job, she began working closely with CMU-Q students. "CMU-Q and other branch campuses don't have their own Offices of Disability Resources, so we coordinate accommodations for their students with disabilities," said Getchell.
During a trip to Carnegie Mellon University Qatar in the fall of 2019, Catherine Getchell visited the Qatar Social and Cultural Center for the Blind, where she would be handed a copy of the Arabic alphabet in braille. Getchell found YouTube videos of the Arabic alphabet and followed along with her braille copy. Having learned the alphabet, Getchell continued on to learn a few words in Arabic. "I might have gotten carried away with 'a few words' because I probably know over 3,000 now," said Getchell. 
The trip to Qatar sparked Getchell's admiration for Arabic language and culture and inspired her to enroll in Arabic courses focusing on culture, communication, and dialect.
Getchell has accredited her study of Arabic, specifically Nevine Abraham's Arabic for Global Exchange class, as an experience that has provided her with greater empathy for both students learning English as a second language as well as international students with disabilities. "I feel as though I have a keen appreciation and empathy for these students, and that has allowed me to relate to them better and develop the rapport that is so key in supporting them as they navigate the accommodations process," said Getchell.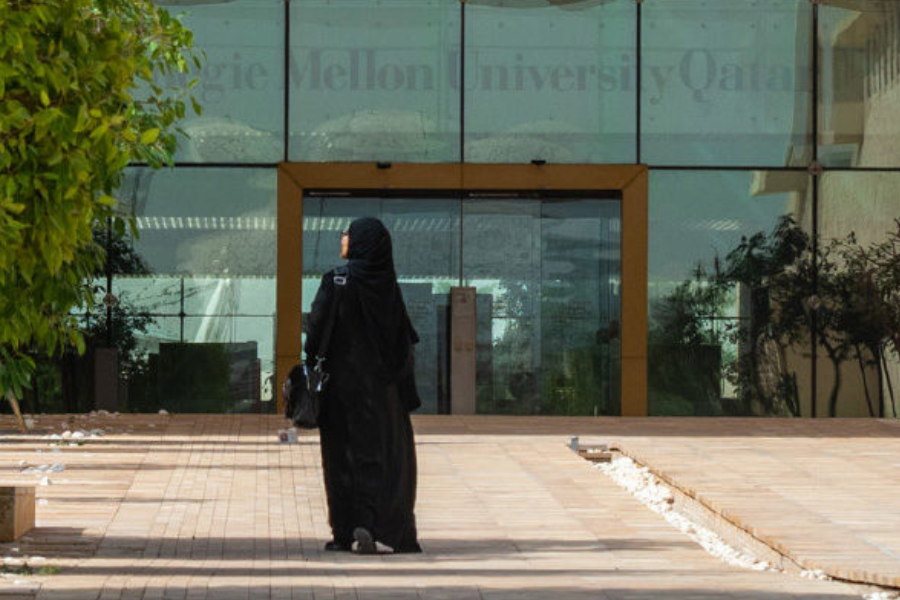 Getchell's Arabic learning journey at Carnegie Mellon University has progressed from introductory to intermediate level, completing an independent study and working with her friend Rami, a tutor from the Qatar Social and Cultural Center for the Blind, to reach an advanced level of Arabic. Getchell recently wrapped up Khaled Al Masaeed's Advanced Arabic class and is considering registering for the Topics in Arabic Media course in the Fall 2021 semester.
"He took a leap of faith and let me enroll in the course, even though the last official course I took before this one was Elementary Arabic last summer. I am so grateful to him as well as to Nevine Abraham, who gave me a really solid foundation in elementary Arabic and jump-started my journey," said Getchell.
Learning the language has not come without a set of challenges. "Arabic has twenty-eight letters, fourteen or so of which have rough counterparts in English in terms of pronunciation. So the other fourteen present some definite pronunciation challenges."
"Just because you can memorize lots of vocabulary and produce it on an exam, that doesn't mean you can rattle it off with ease and comfort when speaking, keeping in mind that you also have to focus on word order, correct conjugation of verbs, subject-verb agreement, pronunciation, and so much else," said Getchell.
What challenges are there for blind learners of foreign languages? Getchell mentioned that her biggest hurdle was obtaining accessible textbooks. "I use speech output software and a braille display to access electronic documents. One issue with Arabic is that Arabic reads right to left, whereas of course English reads left to right," said Getchell. "That presented some particular challenges, and the companies in the U.S. that typically work on remediating digital accessibility for textbooks aren't too familiar with Arabic or how to work around those challenges. But I found someone in Egypt who was able to help."
"So, in planning courses and in teaching in the moment, try to be as flexible as possible. Ask students what would help them learn best, and do what you can to incorporate their learning needs and goals into your teaching." - Catherine Getchell
Through the challenges, Getchell has admired the many benefits of learning a foreign language. "It has been a fantastic learning project during COVID times, when a lot of my normal activities outside of work have ground to a halt." 
Getchell recently combined her professional experience in disability resources with her newly-found language skills in Arabic in order to offer a webinar for the Qatar Social and Cultural Center for the Blind, on the topic of studying at American university as an international student with a disability. Getchell conducted a 24-minute presentation fully in the Arabic language, where she discussed Carnegie Mellon University's student population, including students with disabilities, the laws in the U.S. with regards to accommodations for students with disabilities, the most integral skills that students with disabilities should possess in order to succeed in a higher education setting, and more. "Honestly, being able to do this presentation felt like a huge accomplishment because I've only been studying Arabic for a year, and I never imagined a year ago that I would be able to do something like this," said Getchell. "I practiced for many, many hours in order to get ready for it, and I had a ton of help from several native speakers who helped me with wording, pronunciation, and flow."
"It is a pleasure to work with Catherine. I was blown away by her impressive CMU-Q presentation," said Khaled Al Masaeed, who is the coordinator of Arabic Studies and an associate professor of Arabic Studies and Second Language Acquisition. "Our Arabic Studies program is committed to helping students meet their personal goals. We offer a minor in Arabic Studies and our curriculum emphasizes oral proficiency as well as Arabic literacy," said Masaeed.
When discussing the topic of accessibility among a student population, Getchell stressed the importance of varied learning approaches to meet the needs of a diverse population of students. "One size will not fit all," said Getchell. "So, in planning courses and in teaching in the moment, try to be as flexible as possible. Ask students what would help them learn best, and do what you can to incorporate their learning needs and goals into your teaching."