About Us: Learn more about CaPS
For more than 70 years, CaPS has been addressing the mental health needs of the university community by providing confidential treatment to students and collaborating with staff, faculty and family members. CaPS helps students improve their psychological health by facilitating insight and fostering deeper understanding of their personal struggles needed to make better choices for themselves. Services at CaPS are developmental in nature, aimed at supporting students in the moment and in their personal growth and maturation over time.
CaPS is attentive to issues of diversity and equality. We respect and value each person as a unique individual. We offer a safe and supportive space for students who identify as LGBTQ+ to navigate the challenges of exploring and integrating their gender and sexual identities.
Keep up with the latest events, announcements and programs at CaPS by subscribing to the CaPS Event d-list. You can also follow us on Instagram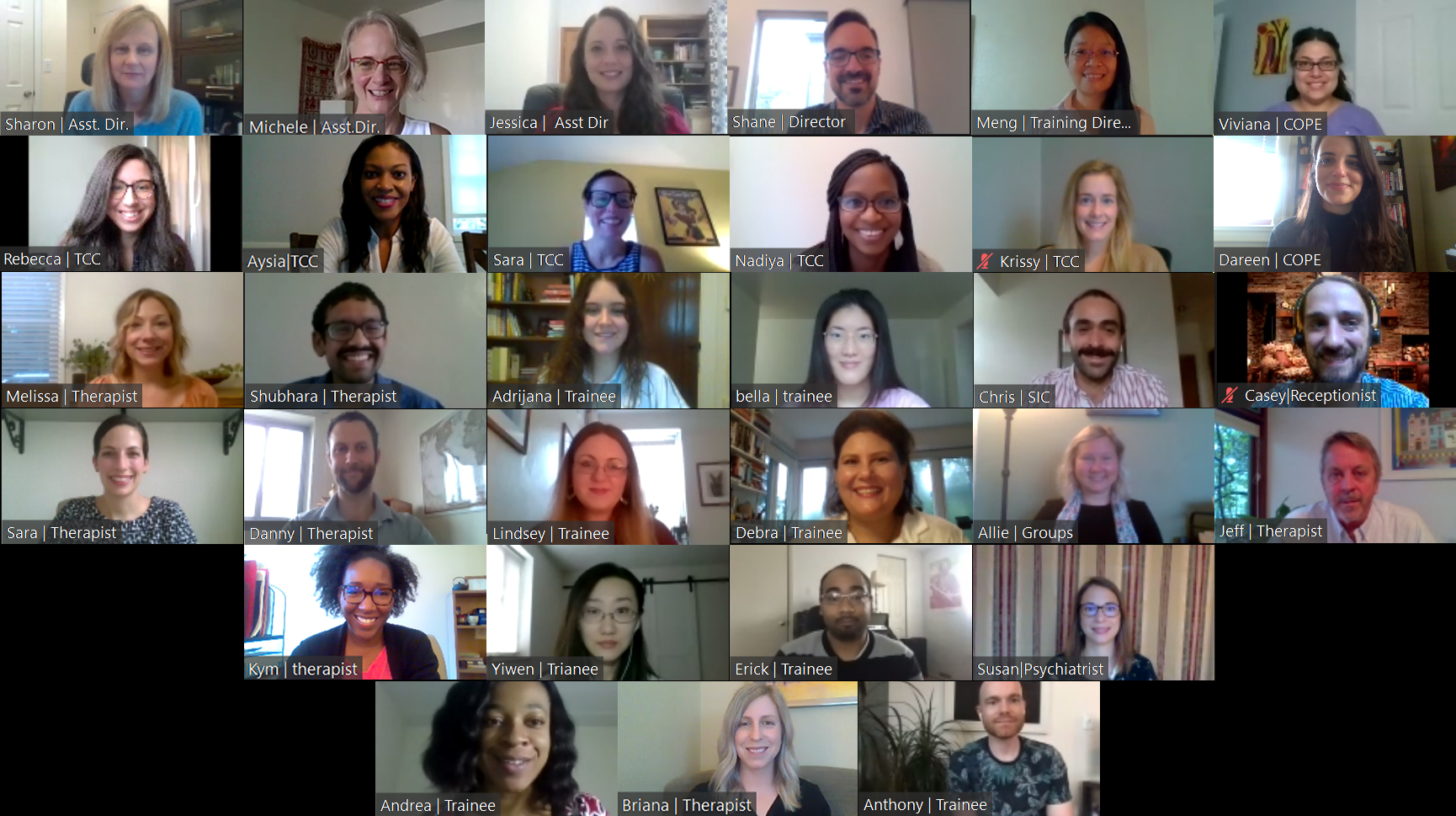 Our Staff
At CaPS, we are dedicated to the psychological growth and emotional well-being of all Carnegie Mellon students. Our team is made up of highly qualified:
mental health professionals
advanced-level doctoral trainees
support staff
---
Angelito Aya, BA (University of Pittsburgh)
TCC Intern

---
Dareen Basma, Ph.D., LPC (University of Tennessee)
DEI Initiatives & Research Coordinator | Psychotherapist | Licensed Professional Counselor

---
Shacoya Bates, M.A. (Point Park University)
Practicum Trainee | Doctoral Candidate

---
Kalila Beehler, M.S. (Texas Woman's University)
Psychology Intern

---
Jeff Beyer, Ph.D. (Duquesne University)
Psychotherapist

---
Shubhara Bhattacharjee, Psy.D. (Chicago School of Professional Psychology) Psychotherapist
---
Melissa Bilski, Psy.D. (Argosy University)
Psychotherapist, Practicum Training Coordinator | Licensed Psychologist

---
Kristine Cannata, L.C.S.W. (University of Pittsburgh)
Triage, Consultation, and Case Management Clinician|Licensed Clinical Social Worker

---
Christian Carey, M.A. (West Virginia Univerity)
Practicum Trainee

---
Abigail Cruz, Ph.D. (Texas Tech University)
PsychotherapistViviana Ferrer-Medina, Psy.D. (Chicago School of Professional Psychology)
Psychotherapist and Outreach Coordinator
---
Stephanie Golden, M.A. (Alliant International University)
Psychology Intern

---
Kaitlyn Herron, B.A. (Susquehanna University)
TCC Intern

---
Aysia Hunter, M.Ed. , L.P.C. (Indiana University of Pennsylvania)
Triage, Consultation, and Case Management ClinicianAllison Jedinak, Psy.D. (Chatham University)
Psychotherapist | Group Coordinator
---
Kym Jordan Simmons, Ph.D. (University of Pittsburgh)
Psychotherapist|Licensed Psychologist

---
Rebecca Kallis, M.S.W., L.I.C.S.W. (University of Pittsburgh)
Triage, Consultation and Case Management Clinician | Licensed Clinical Social Worker

---
Geoffrey T Keller, M.A. (Carlow University)
Practicum Trainee

---
Brad Landry, M.A. (Duquesne University)
Practicum Trainee

---
YiWen Ma, MS (Carlow University)
Practicum Trainee

---
---
Sara Mark, M.S., L.P.C. (Chatham University)
Triage, Consultation and Case Management Clinician| Licensed Professional Counselor
---
Susan Morine, MD (University of Pittsburgh School of Medicine)
Psychiatrist
---
Neha Rajan, M.A. (Indiana University of Pennsylvania)
Practicum Trainee I IUP PsyD Third-Year Student
---
Debra Reich, M.A. (Chatham University)

Post-Doctoral Fellow
---
Briana L. Root, Ph.D. (Case Western Reserve University)
Psychotherapist | Licensed Psychologist
Chris Romagni (Penn State University)
Screening and Information Coordinator
---
Casey Schall (Univerity of Pittsburgh)
Administrative Assistant
---
Ife Sinclair, Ph.D. (Purdue University)

Psychotherapist
---
Nadiya Tucker, LCSW, BC-TMH (University of Maryland, Baltimore)
Triage, Consultation and Case Management Clinician|Licensed Clinical Social Worker
---
Sara Troupe, Psy.D. (Indiana University of Pennsylvania)
Psychotherapist | Licensed Psychologist
---
Romy-Michelle Unger, M.A. (Wright Institute)
Psychology Intern
---
Erin Unkefer, Ph.D. (University of Georgia)
Psychotherapist
---
Adrijana Vukelic, MSCP (Chatham University)
Triage, Consultation, and Case Management Clinician
---
---
CaPS Leadership Team:
Shane Chaplin, Ph.D. (Duquesne University)
Executive Director | Licensed Psychologist
---
Mengchun Chiang, Ph.D. (Duquesne University)
Psychotherapist | Program Director of the CaPS Doctoral Intership in Health Service Psychology | Licensed Psychologist
---
Michele Keffer, Ph.D. (SUNY Buffalo)
Assistant Director of Psychotherapy Services|Psychotherapist | Licensed Psychologist
---
Jessica R. Maga, M.A., L.P.C. (Towson University)
Assistant Director of TCC Service | Licensed Professional Counselor
---
Sharon L. Mannella, Psy.D., L.P.C. (Capella University)
Assistant Director of Administration | Licensed Professional Counselor | Certified Advanced Alcohol and Drug Counselor
---