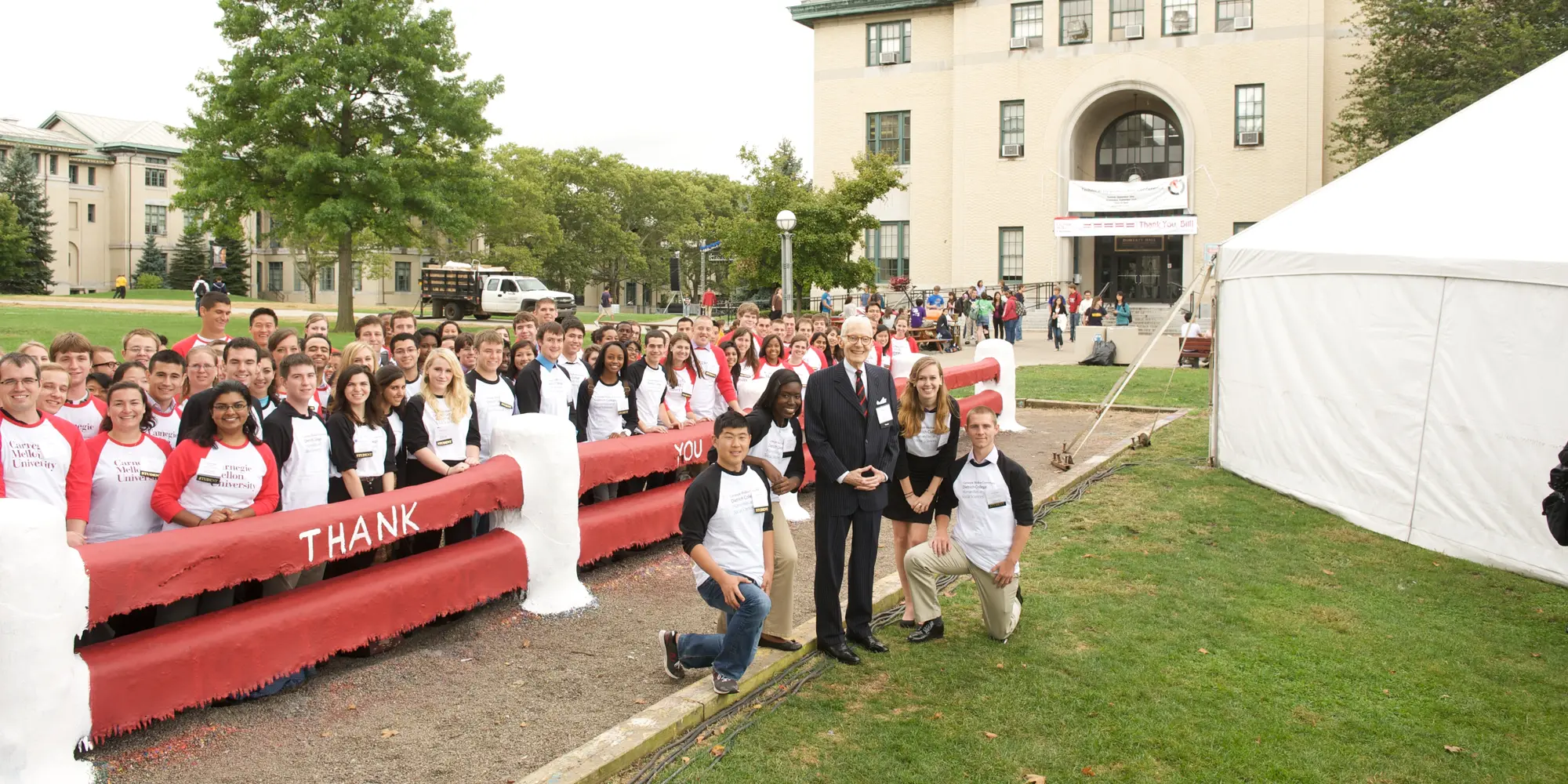 September 12, 2023
Celebrating 10 Years of Dietrich Foundation Support
Gift has "enhanced every facet of the Carnegie Mellon experience"
Media Inquiries

Name

Peter Kerwin

Title

University Communications & Marketing
In September 2011, Trustee William S. Dietrich II stunned the Carnegie Mellon University community by announcing his intent to create a foundation(opens in new window) upon his death that would direct over half of its annual philanthropic support to the university. The nature of the plan for perpetual annual support, which was then valued at $265 million, was truly extraordinary. At the time, it was both the largest gift to CMU and one of the 10 largest to any U.S. university.
While Dietrich tragically passed away from cancer just one month later, his legacy as a visionary philanthropist and seminal force in Carnegie Mellon's success story lives on. Today, the campus community reflects on how 10 years of Dietrich-funded investments have shaped the university and strengthened its future.   
A Visionary Bequest
Decades before his passing, Dietrich already had begun to think about philanthropy, and had committed to using his wealth for the public good. He was inspired by the words of CMU's founder, Andrew Carnegie: "The man who dies thus rich dies disgraced." Dietrich also was inspired by Carnegie Mellon's mission and achievements, both of which he witnessed firsthand as a Pittsburgh resident and university trustee.
"This university puts Pittsburgh on anybody's world map of great research cities. Brilliant people come here as students and faculty, and their presence in our community adds something extraordinary," Bill Dietrich replied when asked why CMU was such a special place. These superstar talents, he noted, "attract firms like Google and Intel, they create new companies and new ideas. They add to the city's vibrant artistic and cultural life. They win Tonys and Oscars and Nobel prizes. They never stop exploring. They never stop looking for a better way to do something, and they never stop working to make things better tomorrow than they are today."
In 1996, Dietrich donated the proceeds from the sale of his company, Dietrich Industries Inc., to fund a charitable trust. When he died 15 years later, Dietrich's trust had grown to $500 million and ultimately funded The Dietrich Foundation, which today supports 15 organizations including CMU. These organizations are, for the most part, based in the businessman's home region of Western Pennsylvania. 
"Bill put as much thought and effort into giving away his wealth as he did in creating it in the first place," said Ed Grefenstette, CEO and president of The Dietrich Foundation. "And for him, there was no greater opportunity than at CMU, which he wisely saw as a remarkable engine for the region that only needed more fuel to go faster and farther." 
Since the first disbursement in 2013, Carnegie Mellon has received nearly $162 million in distributions from The Dietrich Foundation — funds that have since grown to nearly $200 million within the university's endowment, with 5% typically distributed for university programs each year. At the same time, the remaining assets held at The Dietrich Foundation have grown to approximately $1.5 billion. In total, through the structure of Dietrich's bequest and the foundation's investments, CMU will receive far more than the original, estimated value of the gift and Dietrich's generosity will have shaped the Tartan experience in innumerable ways.   
"Bill's gift has amplified our status as a world leader in higher education and innovation," said CMU President Farnam Jahanian(opens in new window). "Two defining aspects of his gift — the sheer size of it and the wide latitude we've been given to use it within our institution — have enabled us to enhance every facet of the Carnegie Mellon experience. And, by Bill's intentional design, it's an investment with an impact that will only widen and deepen in the decades to come." 
Impacts Felt Across the University
Each year, Carnegie Mellon and The Dietrich Foundation collaborate to determine how new funds will be allocated to advance the university's strategic priorities. To date, the Dietrich College of Humanities and Social Sciences(opens in new window) — named after its benefactor's mother, Marianna Brown Dietrich — has received the largest share of the gift and prioritized these funds for recruiting and retaining faculty members, catalyzing innovative and interdisciplinary research, and building and sustaining cutting-edge educational programs.
Over the past decade, multiple Dietrich College faculty members have received professorships or research support from the endowment. Currently, three Dietrich College faculty receive professorship support and four faculty receive early career professorship support courtesy of The Dietrich Foundation. Recently, the school welcomed its third cohort of Dietrich Scholars(opens in new window), who are graduate students on fellowships funded by The Dietrich Foundation endowment. The fund also supports interdisciplinary research in Dietrich College — through initiatives like the Institute for Complex Social Dynamics(opens in new window) and the Neuroscience Institute(opens in new window) — and across the university.   
"Dietrich College has been able to adapt to a rapidly changing landscape and innovate to push forward the leading edge of humanities and social science education thanks to Bill Dietrich's visionary bequest," said Richard Scheines, the Bess Family Dean of Dietrich College. "We are grateful that, with his generosity, we are able to create an environment through which our students and faculty are pursuing their passions, forging new pathways for research and scholarship, and transforming education in thrilling ways."
Student financial aid has received the second largest share of Dietrich Foundation funding, which has supported and sustained endowed scholarships and fellowships across all colleges and schools. To date, these scholarships and fellowships have made a life-changing CMU education more accessible and affordable for 206 students — and counting. 
Bill Dietrich, in his own words
Speaking in 2011 when he announced his transformational gift, Dietrich had this to say about his philanthropy and special connection to Carnegie Mellon.
"Pittsburgh has many wonderful institutions which enrich our lives, but Carnegie Mellon University has a special place on this list for me."
"I've always valued education and never stopped learning, and it's hard not to be aware of what goes on at (Carnegie Mellon). This university puts Pittsburgh on anybody's world map of great research cities."
"Serving as a trustee of Carnegie Mellon convinced me that Carnegie Mellon is not only a great university, but that it is an important driver of the future success of this region and its citizens."
"I have seen firsthand how Carnegie Mellon has maintained the same 'can-do' spirit and multidisciplinary approach to problem-solving that was part of its founding, and that it is one of a handful of universities in the world that has the potential to become a truly global institution. All of this makes Carnegie Mellon a great investment."
"My mother's life centered around her family and her unconditional love for her family. … The happiness of her little family, my father, my sister and myself took precedence over all else. … My mother would be thrilled to have her name associated with this wonderful school, and it is my hope that in naming this college for her you will remember some of the values that made her life so meaningful."